Panthers v Steelers

The Nottingham Panthers
Sheffield Steelers
Match Report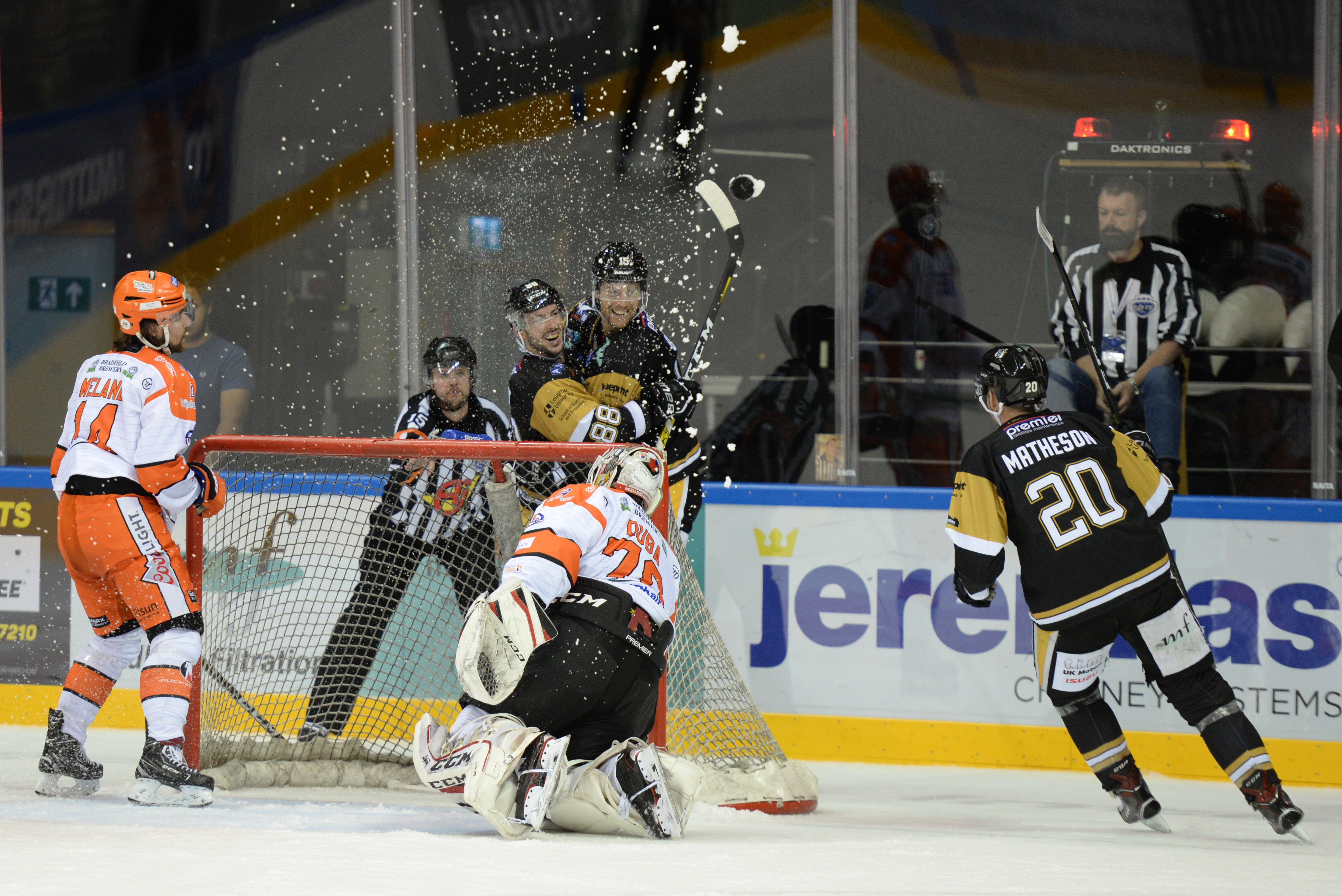 Under 24 hours after their first meeting of the 2019-20 season in Yorkshire THE NOTTINGHAM Panthers and Sheffield Steelers once again locked horns, this time inside the Motorpoint Arena in Nottingham.
Jackson Whistle got the start in goal for the Panthers, who were once again without Danny Fick (lower body) but did welcome back Brett Bulmer from suspension, opposite Tomas Duba for the Steelers.
The Panthers' netminder was forced into an early save before the Panthers took the lead. Jon Rheault slipped Brett Perlini (3.35) in behind the Steelers' defence and the GB international roofed the puck high over the glove hand of Duba on the backhand.
Robert Lachowicz forced an awkward save from Duba as the home side pressed for a second, the testimonial man then saw his follow up effort deflected out of play.
Sheffield tied the game after a scramble around Whistle's goal, Michael Davies applying the finishing touch. There was a quick video review but the goal stood.
Just as in the first period the Panthers struck early in the second frame. Georgs Golovkovs (22.35) took advantage of a turnover on the Steelers blue-line using his speed to skate in two-on-one with Dylan Malmquist and, using the first-year pro as a decoy, he ripped a shot into the back of Duba's goal.
Sheffield pressed for an equaliser but found Whistle in obdurate form, the former Sheffield Steeler turning aside a shot from the shot before flashing the leather to bring the Nottingham Arena to it's feet.
Nottingham failed to convert on two powerplay chances, but it was third time lucky when a Steeler was sent to the box at 38.03. Jackson Whistle fired the puck up ice to catch the Steelers on a line-change and William Quist (39.10) applied the finishing touch on the doorstep to send the Panthers into the second intermission with a two-goal lead.
The Panthers killed an early third period five-on-three for the Steelers before going on a powerplay of their own when Georgs Golovkovs was tripped up by Brendan Connolly.
That powerplay bore no fruit, however, and the visitors went on a powerplay of their own. They couldn't beat Jackson Whistle and the home team returned to full strength.
Brett Perlini found a puck that bounced kindly off the glass behind Duba's goal (52.57) and slid by the Steelers' netminder before William Quist ripped a shot through the five-hole (54.00) to seal the game for the Panthers.
Tempers flared as the game drew to a close with both Adam Deutsch and Brendan Connolly ejected but it was The Nottingham Panthers who came out victorious on the back of Jackson Whistle's 32 saves.