Flames v Panthers

Guildford Flames

The Nottingham Panthers
Match Report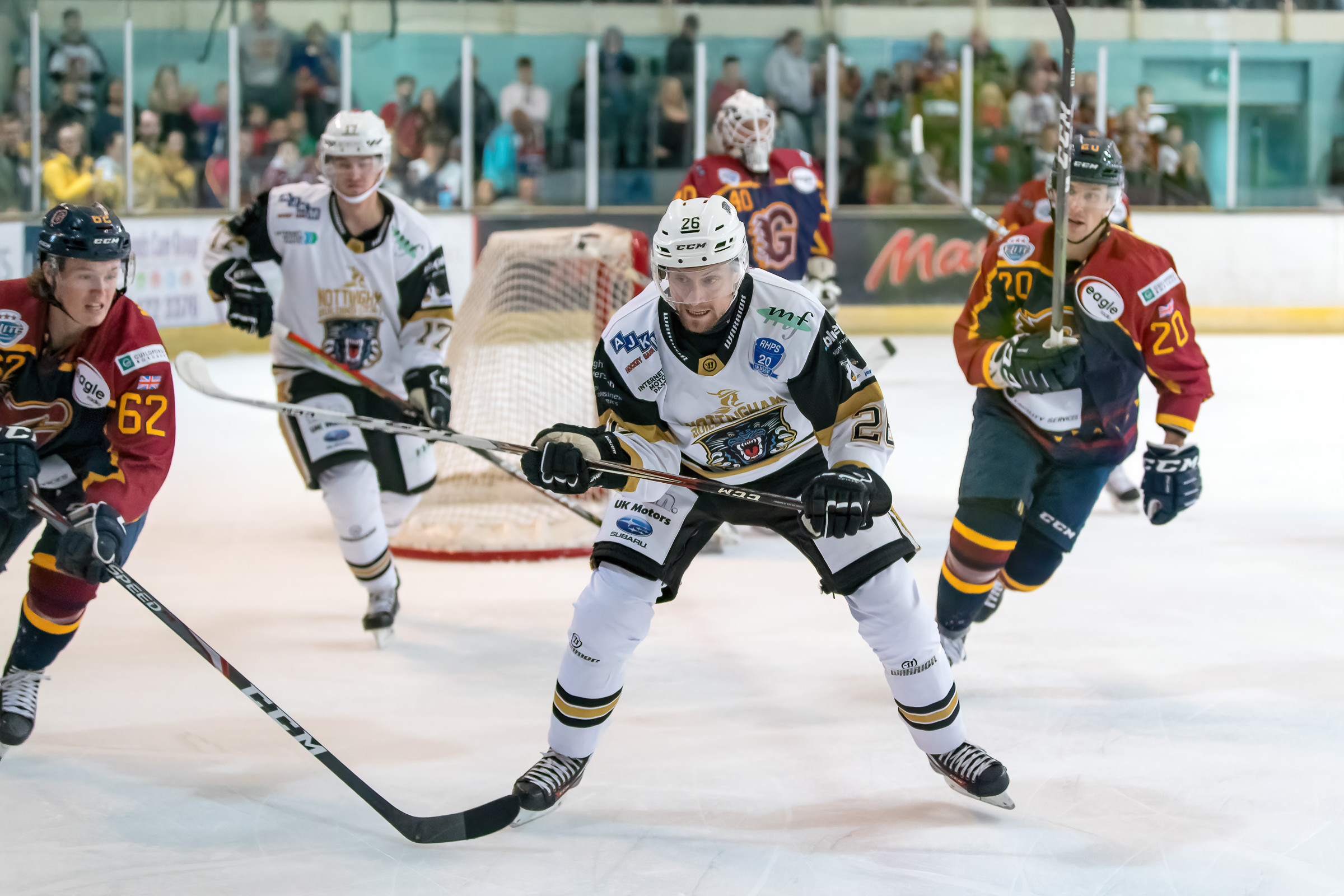 Jens Jakobs third period coast-to-coast goal put the icing on a fine win in The Nottingham Panthers 2019-20 regular season opener down in Guildford against the Flames.
Kevin Carr got the start in goal for the Panthers opposite Travis Fullerton for the Flames.
Nottingham had the chance to get off to a quick start when Ben Davies was sent to the box (3.04) but the Flames penalty kill unit stood firm and when the home side went onto a powerplay of their own (6.21) they made no mistake, Calle Ackered firing a quick snap shot by Carr and into the back of the Panthers' goal just 12 seconds into the man advantage.
A little over two minutes later (8.35) the Flames found themselves back on the powerplay but couldn't find another route past Carr despite having a truncated five-on-three opportunity (9.47) and the Panthers returned to full strength.
A late Panthers powerplay came to nothing and the Flames went into the first intermission with the lead.
Georgs Golovkovs and William Quist capitalised on a trip on the Guildford blueline early in the second period. Skating in two-on-one the former fed the latter at the backdoor and his quick release beat Fullerton (25.57) to tie the game at one.
Guildford killed another penalty shortly after the goal (26.54) but the Panthers would not squander their next chance with the man advantage (29.25). After some relentless pressure, in which the Panthers kept the Flames hemmed in their own zone for over a minute, the puck found it's way to Jason DeSantis at the top of the left wing face-off circle and his wrist shot through heavy traffic (31.21) found nothing but net to put the visitors into the lead.
Nottingham killed a late penalty (37.49) and went into the second intermission with the lead with Kevin Carr turning aside all eleven shots on his goal in the period.
Another powerplay opportunity came the Panthers way early in the third period (40.49) but Fullerton and the Flames penalty killers stood firm and the home side returned to full strength.
Jens Jakobs scored his first Panthers' goal just prior to the halway point of the final period to make it 1-3. With Nottingham on their final powerplay of the night (45.18) the experienced Swede picked the puck up in the defensive zone before skating the length of ice and firing low past Fullerton (47.22) four seconds after the expiration of the powerplay.
Guildford pressed for an equaliser but Kevin Carr (31 saves) could not be breached and the Panthers returned north with the two Elite League points on offer.
Photo credit: Andy Burnham