Stars v Panthers

Dundee Stars

The Nottingham Panthers
Match Report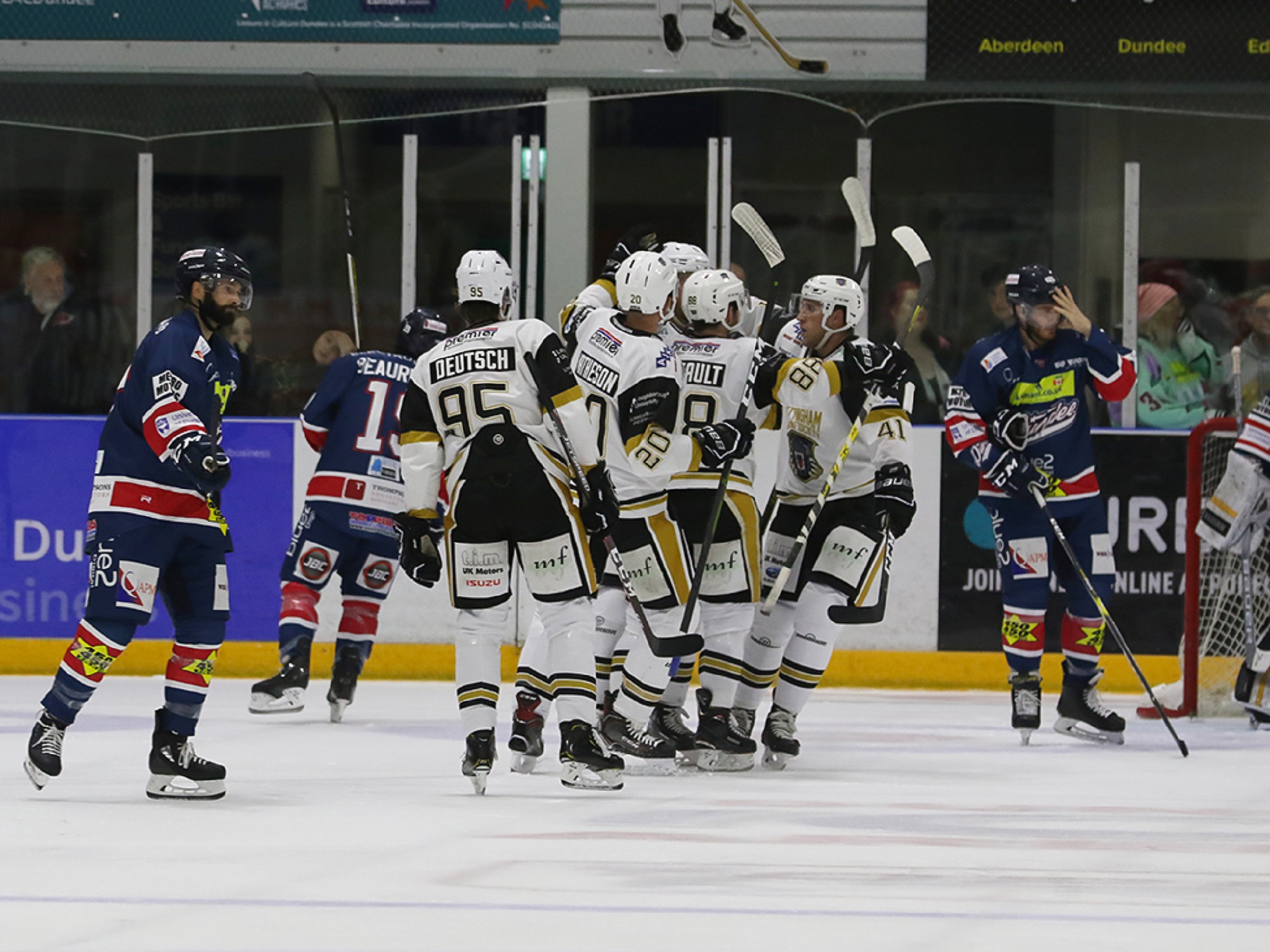 THE NOTTINGHAM Panthers started their Scottish double header with a 1-5 victory in the Dundee Ice Arena on Saturday night.
Kevin Carr got the start in goal for the Panthers opposite Alex LeClerc for the Stars.
Lachowicz and Jakobs both went close as the visitors pressed early before Joe Hazeldine thought he'd scored his first Panthers' goal. Picking up his own rebound the future GB star spun and shot the puck on goal but after a video review it was determined he was denied by a quite remarkable glove save by LeClerc.
Kevin Carr had to stand tall to deny the Stars three times in quick succession and the Panthers used that momentum to take the lead.
Jon Rheault and Sam Herr forced a turnover behind the Stars' goal and the puck found it's way to Brett Perlini between the face-off circles (11.23) and he beat LeClerc to bring the travelling fans to their feet.
It didn't take long for the Panthers to double their lead. Adam Deutsch was given the freedom of the Dundee Ice Arena and he ripped a wrist shot from the right wing face-off circle (14.17) by LeClerc to send the Panthers into the first intermission with a 0-2 advantage.
Carr made a smart save early in the period to deny Dundee as the teams went back and forth early in the period but as the game approached the halfway mark the Panthers extended their lead.
Jon Rheault cut in from the right wing and fed Sam Herr all alone at the backdoor (29.01) and he tapped the puck into the yawning cage to make it 0-3.
The teams traded powerplay opportunities throughout the rest of the period, the Panthers having to kill off two five-on-three opportunities for the home side, but both netminders stood firm and Herr's tally was the only one of the second period.
Dundee took advantage of a turnover in the neutral zone and Egils Kalns (44.19) fired over the glove of Carr to give the Stars hope of third period comeback.
The home side continued to press but found Carr (34 saves) in imperious form between the pipes for the Panthers.
Sam Herr hit the post on the powerplay and shortly after the Stars returned to full strength testimonial man Robert Lachowicz (49.42) restored the Panthers' three goal lead, the GB international redirecting Georgs Golovkovs' slap pass into the back of LeClerc's goal.
Man of the match Adam Deutsch (54.08) added Nottingham's fifth goal, his second of the night, late on on another powerplay when he shot through heavy traffic.
There was no further scoring and the Panthers took the two Elite League points on offer with a 1-5 victory.