Flyers v Panthers

Fife Flyers

The Nottingham Panthers
Match Report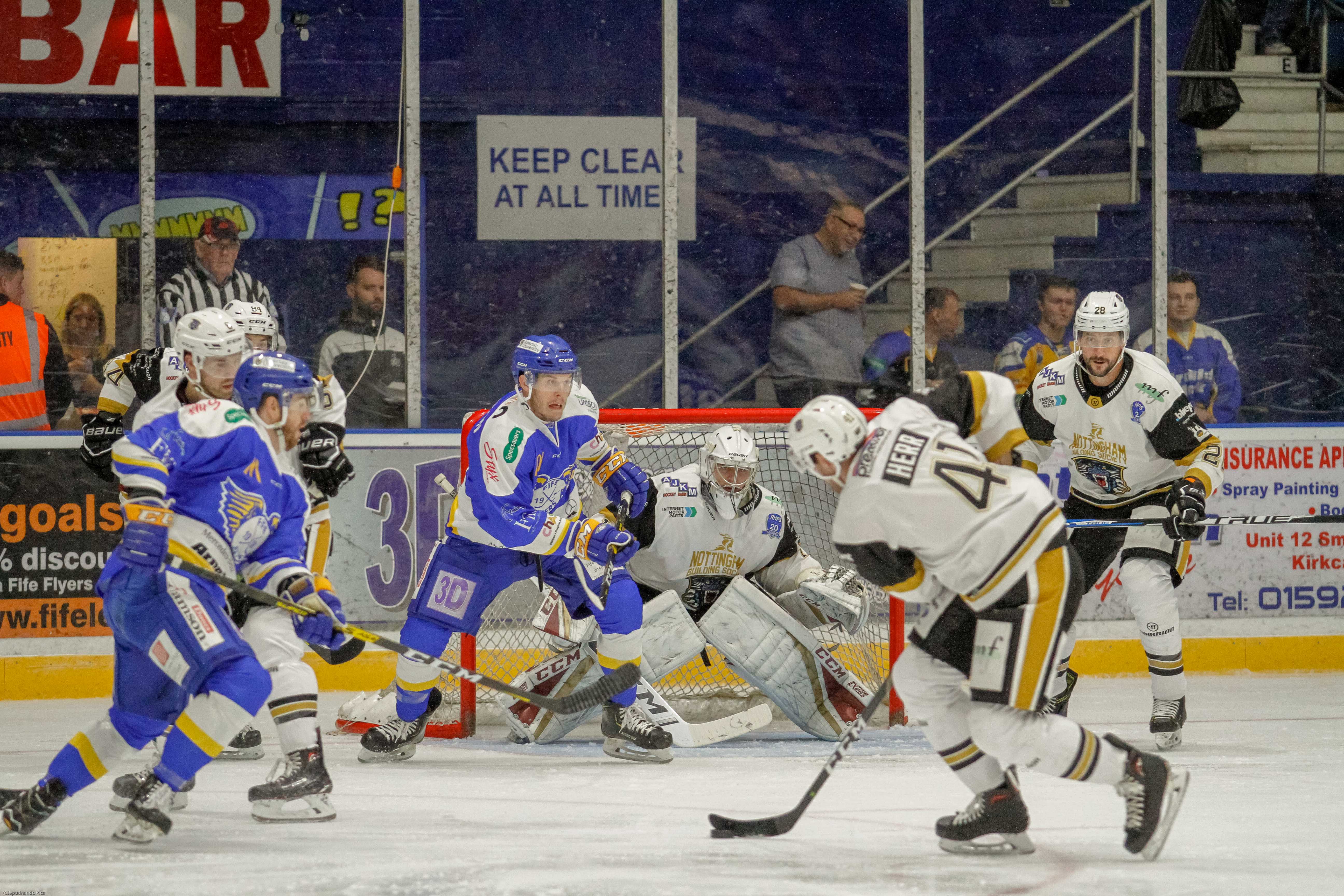 THE NOTTINGHAM Panthers travelled to the auld barn in Kirkcaldy to take on the Fife Flyers in the second game of their Scottish double header on Sunday night.
Jackson Whistle got the start in goal for the Panthers, who welcomed Brett Bulmer back to the line-up but were without the services of Dylan Malmquist (illness), opposite Adam Morrison for the Flyers.
Fife pressed early but found Whistle and the Panthers defence up to task as Gui Lepine, returning after not dressing in Saturday's win over Dundee, deflected Gauthier's effort from the slot out of play with a well placed stick.
Golovkovs and Perlini went close before Sam Herr was denied on a partial breakaway by Morrison to send the teams into the first intermission tied at zero.
The home side took the lead when Chase Schaber (26.51) got the last touch on a goal mouth scramble. Golovkovs had two chances in quick succession as the Panthers looked to respond but it was the Flyers who hit the back of the net next.
With Whistle unsighted by a battle in front Gauthier's seeing-eye shot (36.53) from the blue-line found nothing but twine to bring the home fans to their feet and send the Flyers into the second period break with a 2-0 lead.
Things went from bad to worse for the Panthers in the third period. Gauthier got his second of the game (47.41), just after the Panthers had killed off a Fife powerplay, and a turnover in the neutral zone saw Mike Cazzola (50.53) skate in alone and score high over the glove of Whistle to make it 4-0 to the hosts.
Nottingham did not die wondering though. First Sam Herr collected a pass from Georgs Golovkovs, who stripped a Flyer of the puck below the goal line, and his shot on the spin (53.55) found it's way past Morrison to make it 4-1.
Jackson Whistle was pulled in favour of the extra attacker but despite Ollie Betteridge (58.22) capitalising on a rebound on the doorstep to halve the deficit their was to be no miracle comeback and the Flyers took the two Elite League points on offer.