Flyers v Panthers

Fife Flyers

The Nottingham Panthers
Match Report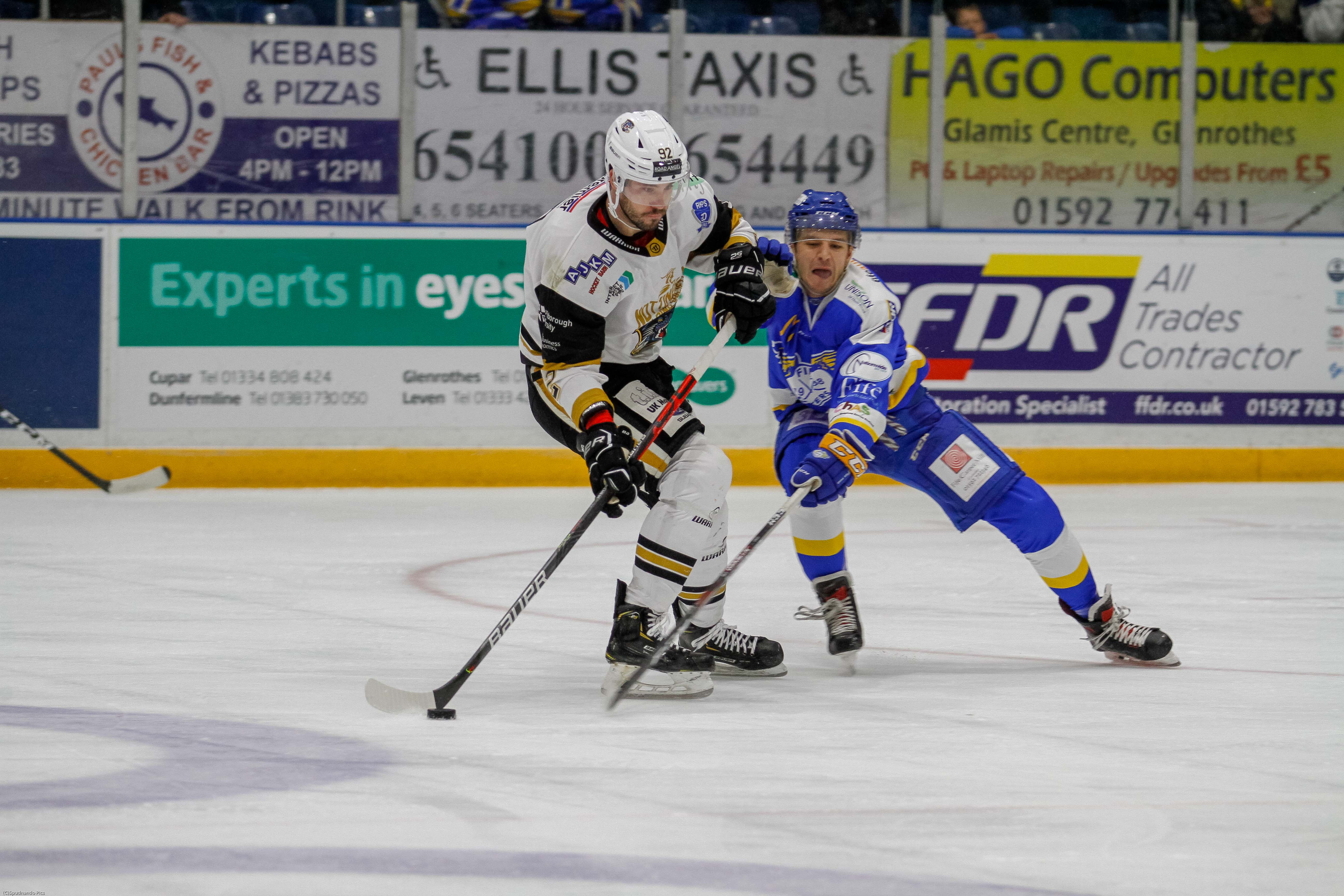 THE NOTTINGHAM Panthers travelled north of the border for an Elite League game against the Fife Flyers on Sunday night.
Jackson Whistle got the start in goal for the Panthers, who were without Adam Deutsch (lower body) once again, opposite Adam Morrison for the Flyers.
Fife went to an early powerplay (0.31) and made the Panthers pay, Danick Gauthier (1.54) applying the finishing touch on a goal mouth scramble.
Just 59 seconds later the home side doubled their lead, Tim Crowder (2.53) finding the back of the net in close.
Sam Herr was denied at the back door by Morrison before the Panthers captain got the puck into the Flyers' net only for it to be washed out due to the goal being off it's moorings. Despite the no goal call the Panthers did pick up a powerplay opportunity (11.24) but it came to no avail as the home side's penalty kill unit stood firm and they returned to full strength.
Morrison turned aside a Matheson slapshot from the blue line just prior to the first intermission and the Panthers went into the break looking to overcome a two goal deficit.
Ollie Betteridge and Brett Bulmer forced Morrison into saves early in the second period before Jackson Whistle had to stand tall to deny the Flyers as they broke in two-on-one.
Both sides traded powerplay opportunities throughout the middle part of the period but whilst the Panthers struggled to create any clear opportunities the Flyer's extended their lead, Dylan Quaile's shot (38.27) finding it's way by Whistle after a deflection in front.
Just prior to the conclusion on the period Nottingham went to another powerplay (39.17) and whilst they didn't score on their initial 47 seconds with the man advantage they struck early in the third.
Georgs Golovkovs found Brett Perlini (41.07) all alone in the slot and he one-timed the puck into Morrison's net to give the Panthers hope of a third period fightback.
The home side found themselves on a powerplay 30 seconds after the goal but the Panthers' penalty kill unit stood firm only to be put right back to work (44.22). They again killed the penalty before going on a powerplay of their own when William Quist (50.53) was hauled down clean through on goal.
Fife killed the penalty and extended their lead to 4-1 when Mike Cazzola (56.39) took advantage of a turnover in the neutral zone to seal the two Elite League points for the Flyers.