Panthers v Storm

The Nottingham Panthers
Manchester Storm
Match Report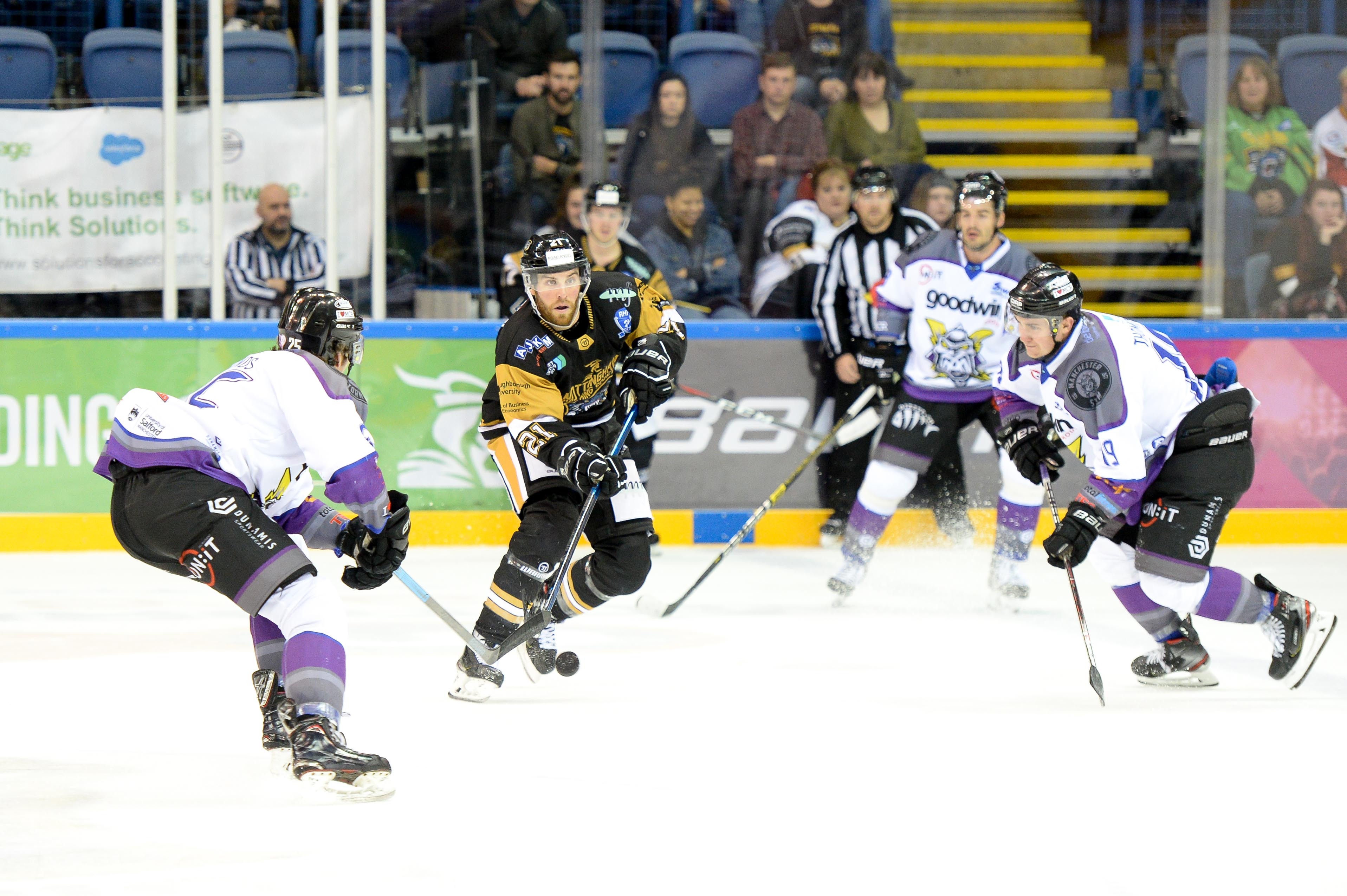 THE NOTTINGHAM Panthers clashed with the Manchester Storm on Wednesday night inside the Motorpoint Arena.
Kevin Carr once again got the start in goal for the Panthers opposite Matt Ginn for the Storm.
The home side got off to the perfect start when Sam Herr powered to the net and put the puck on a plate for Jon Rheault (0.54) at the back door to make it 1-0.
The lead, however, didn't last long. Adam Hughesman (2.16) took advantage of a fortuitous bounce in front of Carr and slid the puck into the goal, with the netminder stranded, to make it 1-1.
The Panthers had to kill a hooking penalty assessed to Danny Fick (9.00) before forcing Ginn to be at his best to deny Perlini with the blocker before turning aside Bulmer's one-timer from between the face-off circles.
Dallas Erhardt pinched down from the blue line only to be denied by Carr before the Panthers were once again denied by Ginn, this time the Storm netminder went from post-to-post to slam the right pad down on Hansen's effort and send the teams into the first intermission tied at one.
Nottingham went to an early powerplay in the second period (21.47) but couldn't find a way through a determined Storm penalty kill unit and the visitors returned to full strength unscathed.
Jake Hansen hit the pipes on a deflection out in front before the Panthers went onto a penalty kill of their own (29.17). That penalty kill quickly transpired into a five-on-three opportunity and the away side took their first lead of the night, Mario Puskarich (30.39) firing into the goal.
Just as the Panthers returned to five skaters they swept up the ice and Jake Hansen (32.28) caressed the puck over the line to tie the game at two going into the third period.
An early third period powerplay for the Panthers (40.40) went by the wayside but just over a minute after the man advantage's conclusion the home side took the lead. Georgs Golovkovs skated from the neutral zone into the Storm end and after drawing two Manchester players to him he left the puck behind for Jake Hansen (43.45), arriving late into the zone, and he sniped an effort over the glove of Ginn and into the back of the goal.
The Panthers had to kill two Storm penalties in the third period (45.31 & 51.48) to preserve their lead, netminder Carr taking a starring role by tracking, locating and securing the puck through traffic on numerous occasions.
Manchester got a late equaliser when Kyle Hope (58.26) scored on an odd-man rush after the Panthers failed on one of their own moments earlier and the game went to overtime.
Jared Aulin hit the game winner in overtime and the Storm took the two Challenge Cup points on offer.