Blaze v Panthers

Coventry Blaze

The Nottingham Panthers
Match Report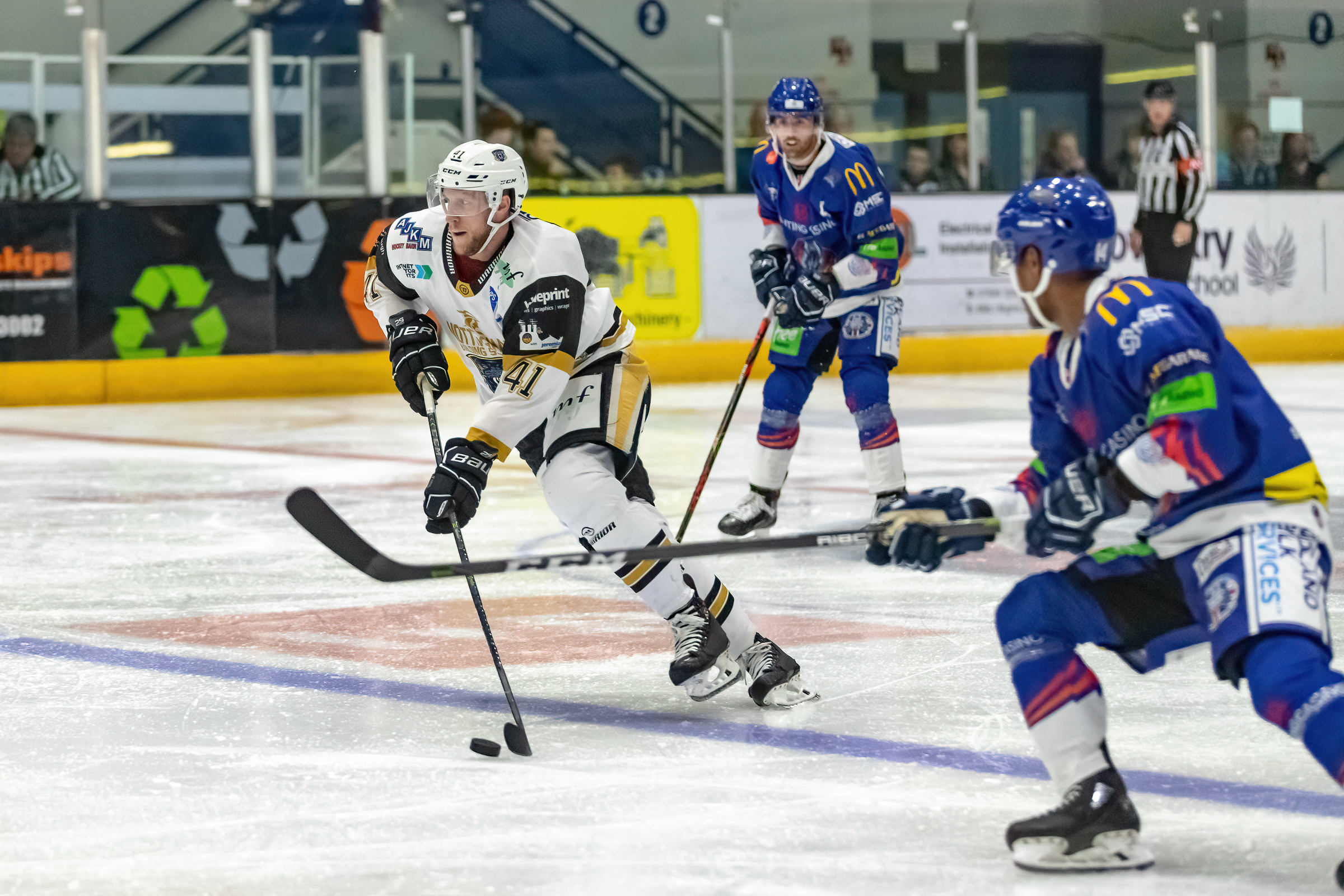 THE NOTTINGHAM Panthers returned to Elite League action less than 24 hours after Saturday's win over the Fife Flyers as they made the short journey to Coventry on Sunday evening.
Jackson Whistle got the start between the pipes for the Panthers opposite Jamie Phillips for the Blaze.
It was a dream start for the visitors when Adam Deutsch (4.18) scored on an early powerplay (2.37) to make it 0-1.
Despite dominating possession and scoring chances the Panthers couldn't find a way through Phillips and after surviving the onslaught the home side went to their first powerplay of the night (10.16). Whistle and the Panthers' penalty killers stood firm, however, and sent the visitors into the first intermission holding a one goal lead.
Whistle had to be alert early in the second period with the Panthers on their second penalty kill (21.13) of the night, the GB netminder making a strong save on a shot from the slot with his right pad.
Nottingham then got another chance on the powerplay (25.07) but it was Whistle who needed to come up big once again. A bobbling puck sprang a Blaze penalty killer and the Panthers' netminder showed tremendous patience to stay big and flash the leather to preserve the lead.
Three goals inside the final five minutes of the second period saw the teams go into the second intermission tied. First Evan Bloodoff (35.43) applied the finishing touch to a superb assist from below the goal line, breaking Whistle's shut-out bid, before Ollie Betteridge (39.11) restored the lead with a short-handed marker off of a tremendous cross-ice pass from Captain Sam Herr after Gui Lepine sent him in down the left wing.
Coventry had the last word of the period though when Andrew Johnston (39.53) got the final touch on a bouncing puck in the goal crease.
The home side used the momentum of the late second period goal to take their first lead of the night when Luke Ferrara (43.39) saw his wrist shot elude Whistle and hit the back of the net.
Less than two minutes later though the Panthers had the game tied back up when Brett Bulmer (45.45) found a loose puck at the top of the crease and swept it by Phillips.
Shortly after the goal a too-many-men penalty (47.54) sent the Blaze to another powerplay and they hit the game-winner. Ferrara (48.12) deflecting a shot from the blue line into the back of the Panthers' goal.
Despite pulling Whistle for the extra attacker the visitors couldn't find another goal and had to settle for a two point weekend after Saturday's win over Fife.