Storm v Panthers

Manchester Storm

The Nottingham Panthers
Match Report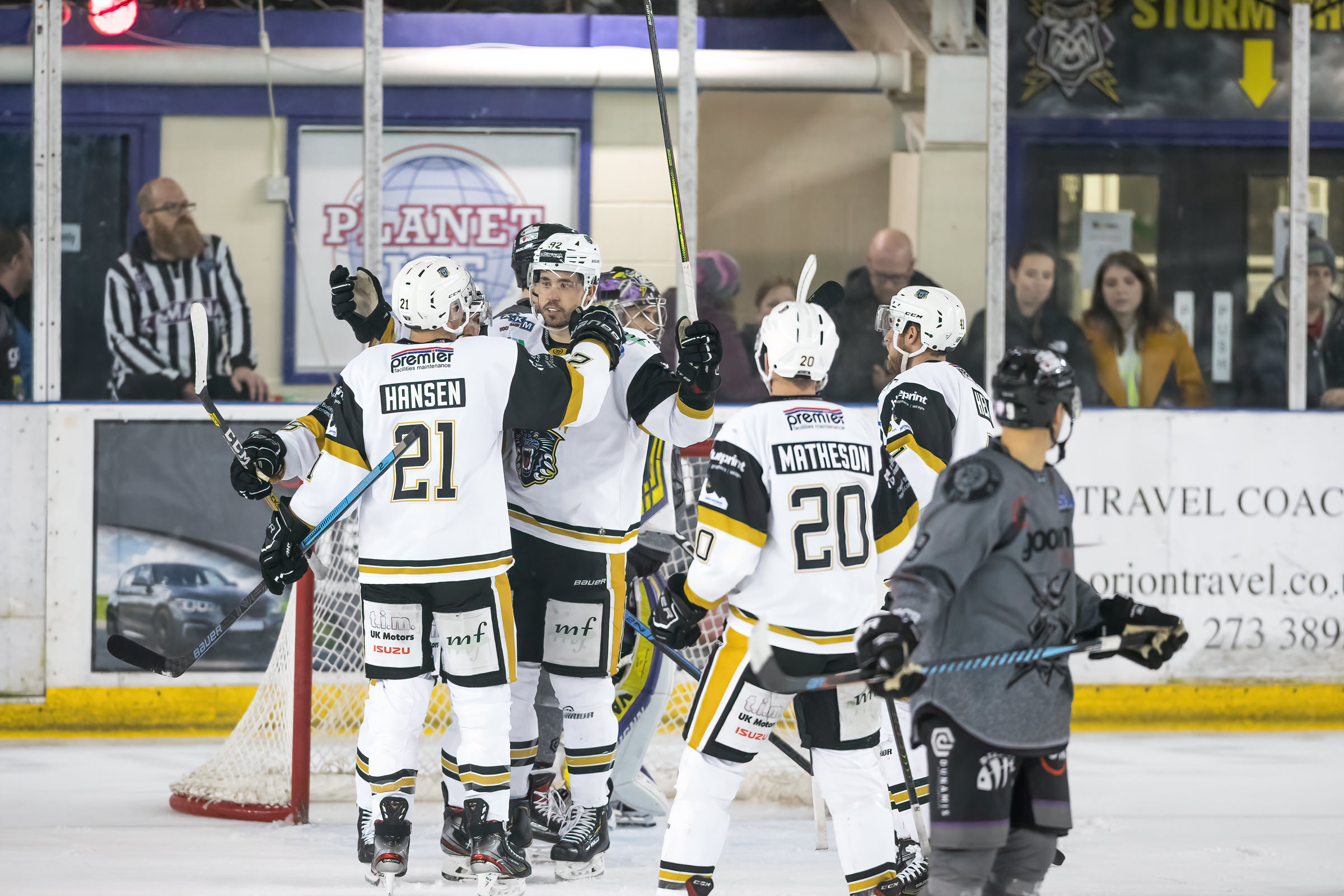 THE NOTTINGHAM Panthers made the trip to Altrincham on Sunday evening knowing that a single point would confirm their spot int Challenge Cup quarterfinals.
Kevin Carr got the start between the pipes for the Panthers opposite Matt Ginn for the Storm.
Sam Herr had the Panthers best two chances early in a sedate first period but Ginn kept the captain at bay. Ginn was once again in the thick of things when he denied Jullian Talbot his first goal for the club, the new signing seeing his shot from the slot deflected out of play.
A combination of man of the match Kevin Carr and the Panthers' defence somehow prevented the Storm taking the lead on a goal mouth scramble, but the home side did forge ahead before the period concluded. Dallas Ehrhardt (19.30) scoring with a booming slapshot just as a late period powerplay was coming to a close to send Nottingham into the first intermission trailing.
Kevin Carr had to be alert just 18 seconds into the second period, as Tyson Fawcett found a soft spot in the slot, to keep the deficit at one. Bulmer, Hansen and Fick all went close for the Panthers but Ginn was in ominous form for the hosts.
After killing a penalty to Georgs Golovkovs (27.01) the Panthers tied the game. Brett Bulmer (31.17) picking the puck up in the neutral zone before drifting into the high slot and firing high into Ginn's goal.
Jason DeSantis, despite not dropping the gloves, and Kyle Hope were both given five minutes each for fighting but crucially the Storm also picked up an extra two plus ten instigator penalty and on that powerplay the Panthers took the lead. Jullian Talbot (38.40) controlled the puck inside the left wing face-off circle before firing high past Ginn, the puck potentially taking a deflection off Brett Bulmer on the way into the back of the net, to send the visitors into the second intermission holding a one goal lead.
A quiet third period exploded into life when Kevin Carr was forced into three saves in quick succession just prior to the Panthers heading to a late penalty kill (53.27).
Nottingham killed the penalty and then Carr had to once again stay strong as he denied the Storm on the doorstep as they attempted to jam the puck home.
Manchester, needing a regulation win to advance to the Challenge Cup quarterfinals, pulled their netminder with over three minutes remaining but it was Jake Hansen (58.10) who found the back of the net to seal the points for The Nottingham Panthers.
Photo credit: Andy Burnham