Blaze v Panthers

Coventry Blaze

The Nottingham Panthers
Match Report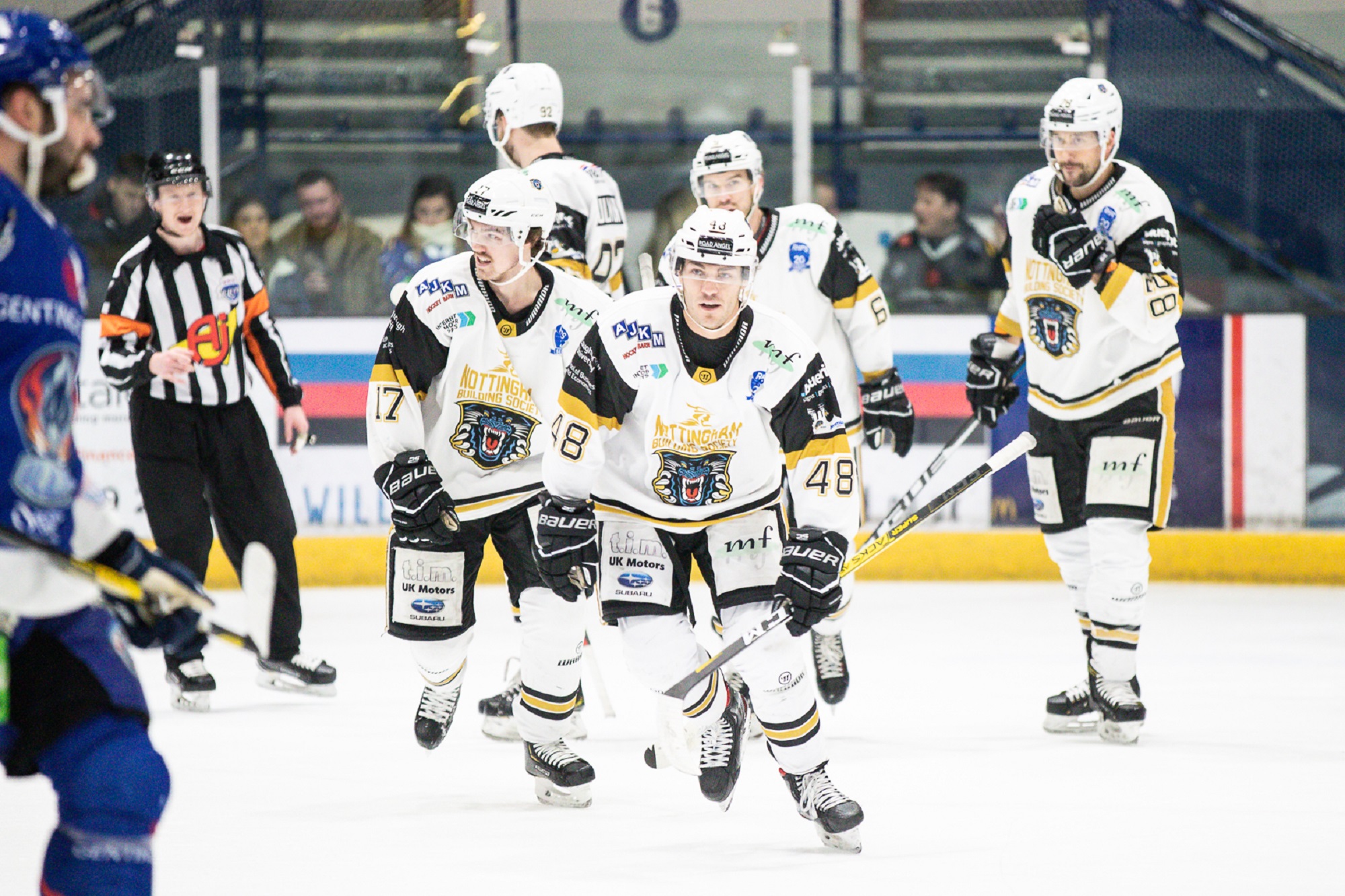 It was a goal fest inside Coventry's Skydome when THE NOTTINGHAM Panthers and Blaze clashed in Elite League action on Saturday night.
Jackson Whistle got the start between the pipes for the Panthers opposite Jamie Phillips for the Blaze.
Luke Ferrara (4.31) gave the hosts the best possible start as he beat the Panthers' netminder but it didn't take long for Brett Bulmer (6.57) to cut inside, after a lovely pass from Ryan Horvat out of the corner, and beat Phillips to tie the game back up.
Horvat delivered a big hit to Curran, sending the Blaze man to the ice, and the Panthers started to build momentum on the back of Bulmer's goal and the former Minnesota Wild forward was instrumental in the Panthers taking the lead, threading a cross-ice pass to Jullian Talbot (12.11) who had been left all alone at the backdoor and his quick shot hit the back of the net.
Less than a minute later the Panthers were up by two when Ollie Betteridge (12.57), who had no other options available to him, threw a shot on net from the tightest of angles and it somehow found a hole in Phillips and snuck over the line.
Andrew Johnston (14.55) pulled the Blaze back within one going into the first inermission when he beat Whistle blocker side when he stole in behind the Panthers' defence.
Inside the first two minutes of the second period the Panthers restored their two-goal advantage when Dylan Malmquist (21.19) crashed the net to finish off Jullian Talbot's pretty backhand feed.
Just over a minute later the Panthers were back up by three. Great work from Sam Herr pulled netminder Phillips out of position and Robert Lachowicz (22.21) was on hand to sweep into the gaping cage.
A turnover in the defensive zone allowed Evan Bloodoff (31.08) to pull a goal back for the hosts but Whistle, who made 27 saves on the night, turned aside everything else thrown on his net in the period and the Panthers went into the the final frame holding a two-goal lead.
Nottingham killed a penalty to Mark Matheson (46.46) early in the third period and Brett Bulmer (59.19) scored into the empty-net, after Coventry had pulled Phillips in favour of the extra attacker, to seal a 6-3 road victory and secure two Elite League points for the Panthers.