Flames v Panthers

Guildford Flames

The Nottingham Panthers
Match Report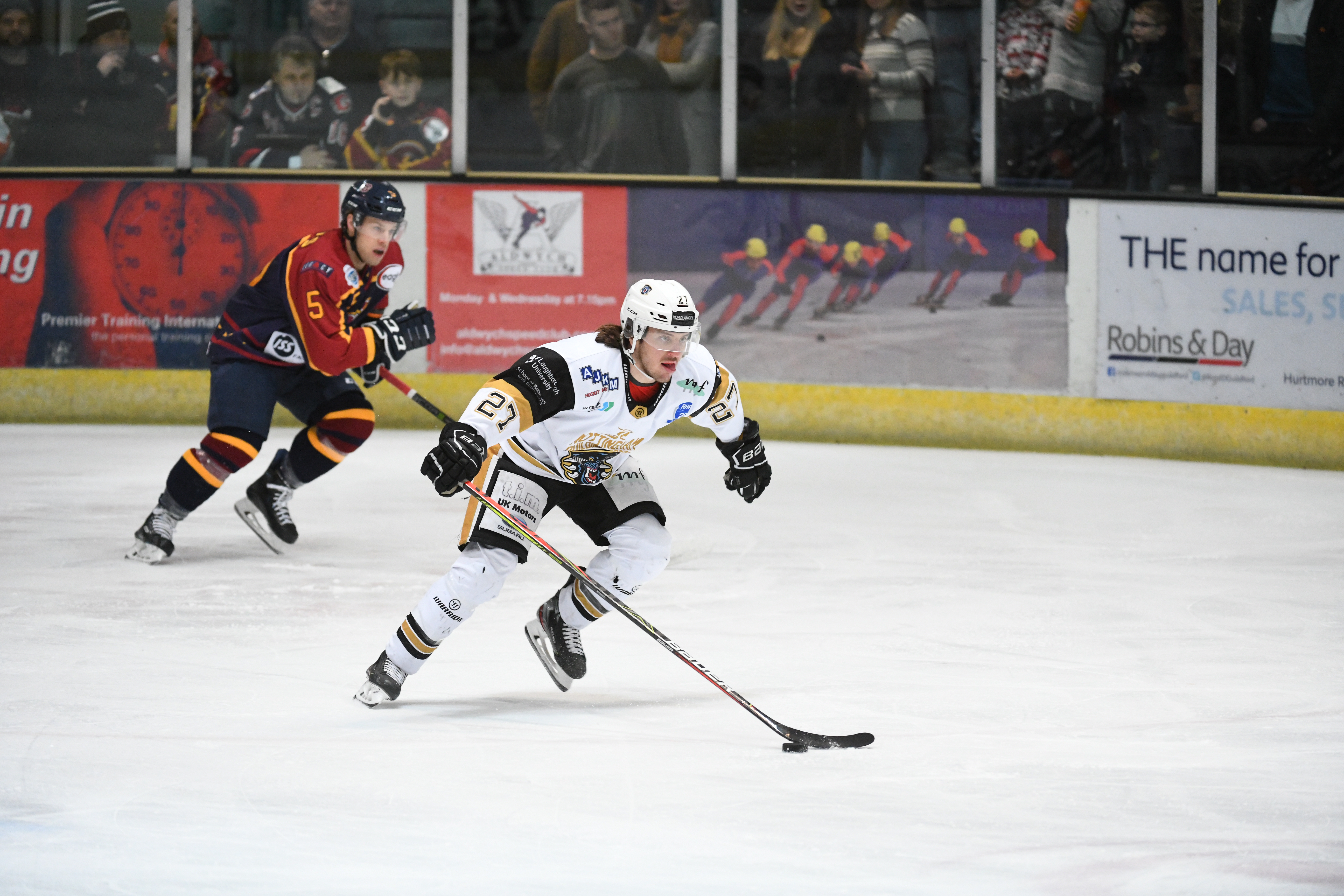 THE NOTTINGHAM Panthers travelled to Guildford on Wednesday night holding a healthy four-goal advantage in their Challenge Cup quarterfinal tie after last week's 5-1 victory over the Surrey based side.
Kevin Carr got the start in goal for the Panthers opposite Wouter Peeters for the Flames.
The home side opened the scoring through Jesse Craige (9.45) after his shot through a pair of legs escaped the grasp of Carr and the Flames' fans sensed a memorable comeback.
Carr had to be at his best to dash the hopes of the home crowd, first denying Calle Ackered as he powered a trademark slapshot towards goal then making himself big on the doorstep to deny the dangerous Kruise Reddick.
The period ended with Brett Bulmer and Corbin Baldwin exchanging words after a battle along the board and the Panthers went into the first intermission holding a three-goal lead on aggregate.
Dylan Malmquist (21.47) arrived late into the slot on a line-change and Ryan Horvat, who forced a turnover below the goal line, hit the Notre Dame alum's tape and he made no mistake in tying the game at one with a quick shot under the blocker of Peeters.
On their second powerplay of the game the Panthers took the lead on the night when Sam Herr sprang Mark Matheson (27.09) down the right wing and his wrister overpowered Peeters, on the blocker side once again, to give the Panthers a five-goal aggregate lead going into the third period.
Reddick (41.21 & 49.44) scored two goals inside the first ten minutes of the period to re-ignite the home side's hopes of a famous comeback.
Jon Rheault (54.04) all but ended those hopes though after he broke in two-on-one with Ryan Horvat, the latter fed the former and his wicked wrist shot beat Peeters high on the blocker side to tie the game on the night.
Guildford scored two goals inside the last two minutes of the game to take the game on the night, Ackered (58.27) and Craige (59.43) both hitting heavy shots into the back of Carr's goal, but it was the Panthers who advanced to the Challenge Cup semifinals where they face a date with the Cardiff Devils.