Panthers v Stars

The Nottingham Panthers

Dundee Stars
Match Report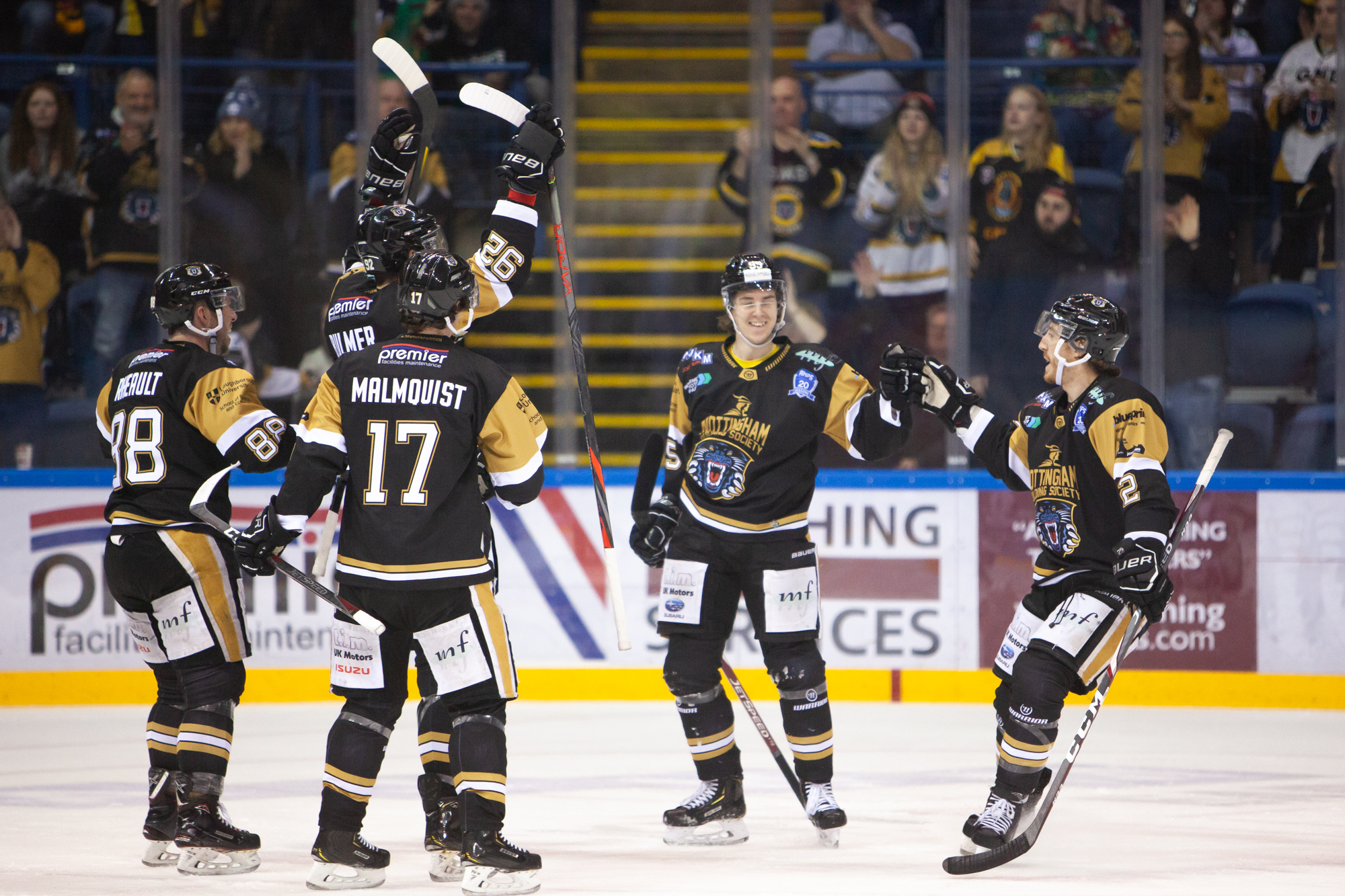 It was back to Elite League action for THE NOTTINGHAM Panthers on a black and gold Saturday night in Nottingham as they welcomed the Dundee Stars to the Motorpoint Arena.
Kevin Carr got the start in goal for the Panthers opposite Alex LeClerc for the Stars.
Gui Lepine set the tone early as he delivered a crunching hit behind Carr's goal and just after the home side's second powerplay opportunity came to a close they took the lead. Adam Deutsch (8.43) finding a loose puck in the slot and firing it into a gaping cage.
Dundee tied the game on their first powerplay opportunity of the night when Anthony Beauregard (11.13) batted the puck out of the air and into the net, the goal standing despite Tim Wallace using his coaches challenge to contest the play.
Jullian Talbot (19.24) restored the Panthers' lead inside the last minute of the period when he diverted a slap pass from the point beyond LeClerc.
Nottingham's lead grew just 28 seconds into the second period when Jake Hansen broke in two-on-one with Dylan Malmquist, the Notre Dame alum finishing high on the glove side to make it a two-goal spread.
Things got even better for the Panthers when Jake Hansen threw the puck into the slot and it deflected beyond the grasp of LeClerc after taking a diversion off of Captain Sam Herr (25.49).
The home side killed a penalty to Georgs Golovkovs before Brian Connelly (33.29) picked a pocket and skated in all alone on the Stars' netminder, the smooth-skating defenceman making no mistake as he beat LeClerc through the five-hole to send the Panthers into the second intermission leading 5-1.
Jon Rheault and Robert Lachowicz came close for the Panthers early in the third and Stovin had two chances of his own on Carr but neither team could add to their tally.
Nottingham scored a late powerplay goal through Jake Hansen (56.24) to pad their score and they took the two points on offer with a resounding 6-1 win.