Panthers v Blaze

The Nottingham Panthers

Coventry Blaze
Match Report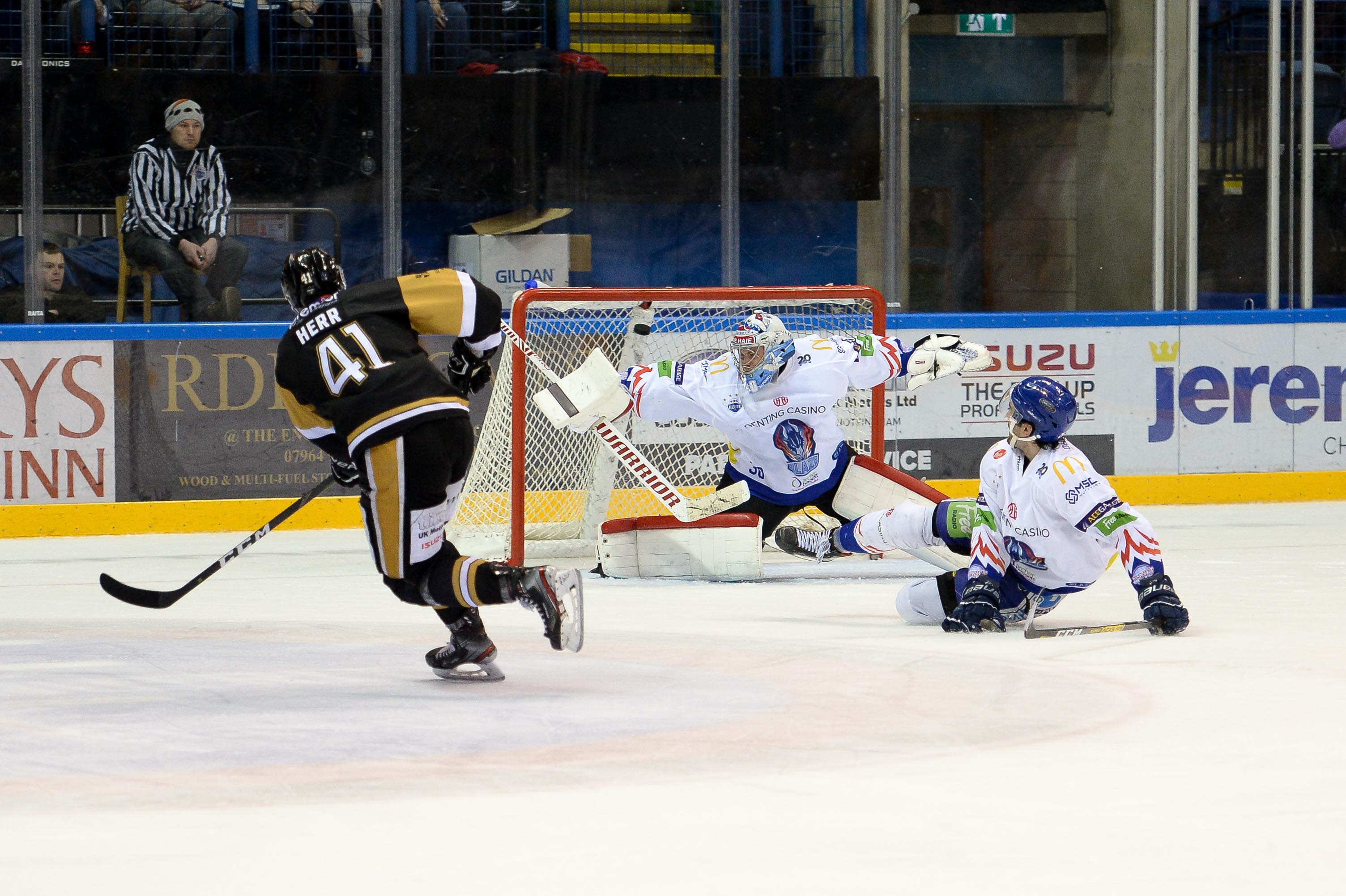 Boxing Day delivered a sell-out crowd to the Motorpoint Arena as THE NOTTINGHAM Panthers and Coventry Blaze clashed on Thursday afternoon.
Kevin Carr got the start in goal for the Panthers opposite C.J. Motte for the Blaze.
The Panthers got off to the perfect start when Jullian Talbot (1.50) beat Motte high on the blocker side, with a wicked wristshot, inside the first two minutes of the game.
It didn't take long for Coventry to tie the game though, the EIHL's leading scorer Luke Ferrara (4.18) crashing the net and applying the finishing touch.
Nottingham had two chances on the powerplay to to close out the period but couldn't deliver the killer touch and the teams went into the first intermission tied at one goal a piece.
The home side had to kill a penalty to Danny Fick early in the second period before Brett Bulmer delivered a crunching hit in the corner.
Captain Sam Herr was sent to the box for hooking, after cleanly lifting the stick of a Blaze forward in the slot, and the Blaze took advantage on their second powerplay of the afternoon. Matt Pohlkamp (28.56) taking advantage of a fortunate bounce.
The Panthers went to a powerplay of their own as the period crossed the halfway mark but the Blaze survived and sprang Ross Venus (33.31) out of the penalty box, the GB forward making no mistake finishing low on Carr and giving his side a two-goal lead going into the third period.
Captain Sam Herr (51.13) pulled the Panthers back into the game just after the final period ticked over the halfway point, finishing high over the blocker of Motte after capitalising on a Blaze turnover.
Just 43 seconds later the Captain pulled the Panthers level, this time converting Jake Hansen's feed after they broke in two-on-one.
Coventry scored on a late powerplay to re-take the lead, Luke Ferrara (57.42) finishing off a pretty passing play in close but the Panthers weren't done.
Chris Pohlkamp was sent to the box for delaying the game (58.38) and Head Coach Tim Wallace called his time-out to draw up a play. With the draw in the offensive zone he lifted netminder Carr in favour of the extra-attacker and Sam Herr (59.14) completed his hat-trick with a one-timer from between the circles to being the sold-out crowd to it's feet and send the game to overtime.
32 seconds into overtime that man Sam hit the back of the net again, finding a gap low on Motte to secure a famous Boxing Day comeback for The Nottingham Panthers.