Blaze v Panthers

Coventry Blaze

The Nottingham Panthers
Match Report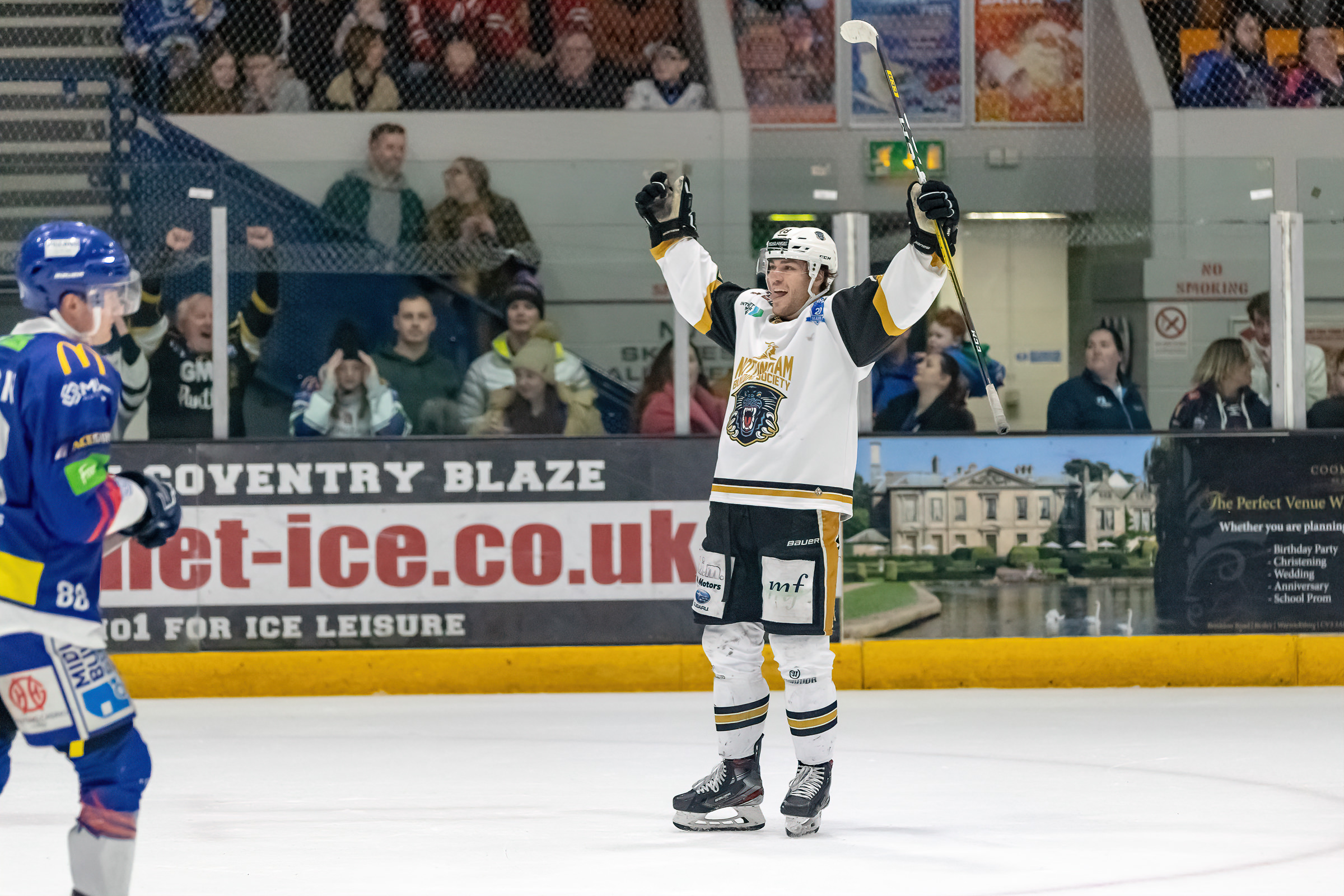 THE NOTTINGHAM Panthers and Coventry Blaze met in the second half of their festive back-to-back, after the dramatic clash in Nottingham on Boxing Day, this time at the Skydome.
Kevin Carr got the start in goal for the Panthers, the first time this season the Panthers' number one had started in Coventry, opposite C.J. Motte for the Blaze.
The home side got off to the perfect start when Janne Laakkonen (05.49) tapped in the back door after the Blaze had killed an early Panthers' powerplay.
Nottingham responded with two quick goals just after the halfway mark of the period as Jullian Talbot (13.39), after a brilliant no-look through the legs pass from Brett Bulmer, fired in a one-timer and Ollie Betteridge's (14.53) wrist shot from the point foxed Motte to bring the travelling Panthers' fans to their feet.
Coventry equalised before the end of the period though, Matt Pohlkamp (16.37) converting on the powerplay to send the teams into the first intermission tied at two a piece.
Kevin Carr (22.20) had to save a Charles Corcoran penalty shot early in the second period, after Ryan Horvat had impeded Evan Bloodoff who was clean through on goal.
Nottingham killed the first half of a two-plus-two penalty to Jake Hansen (32.01) but, with a tired Panthers' penalty kill unit hemmed in their own zone, Corcoran (35.33) cut inside and finished high on Carr to send the hosts into the second intermission leading by one.
Both sides traded scoring chances in a fast and furious third period but the Panthers' relentless pressure inside the final ten minutes finally told when Georgs Golovkovs (56.15) picked up the scraps of Mark Matheson's wrap-a-round attempt to tie the game.
Coventry opted to review the goal but the call on the ice stood and the game went to overtime.
Nottingham began the extra period short-handed, due to a late third period two-plus-two high-sticking call on Captain Sam Herr, but Ollie Betteridge drew a penalty out of Luke Ferrara and when the Panthers went to a powerplay of their own they took the extra point.
Brett Bulmer fizzing a pass cross-ice to Jullian Talbot who hit the back of the net with a one-timer to seal the win for The Nottingham Panthers, Captain Sam Herr picking up the second assist on the play to extend his point streak to nine Elite League games.
Photo credit: Andy Burnham