Storm v Panthers

Manchester Storm

The Nottingham Panthers
Match Report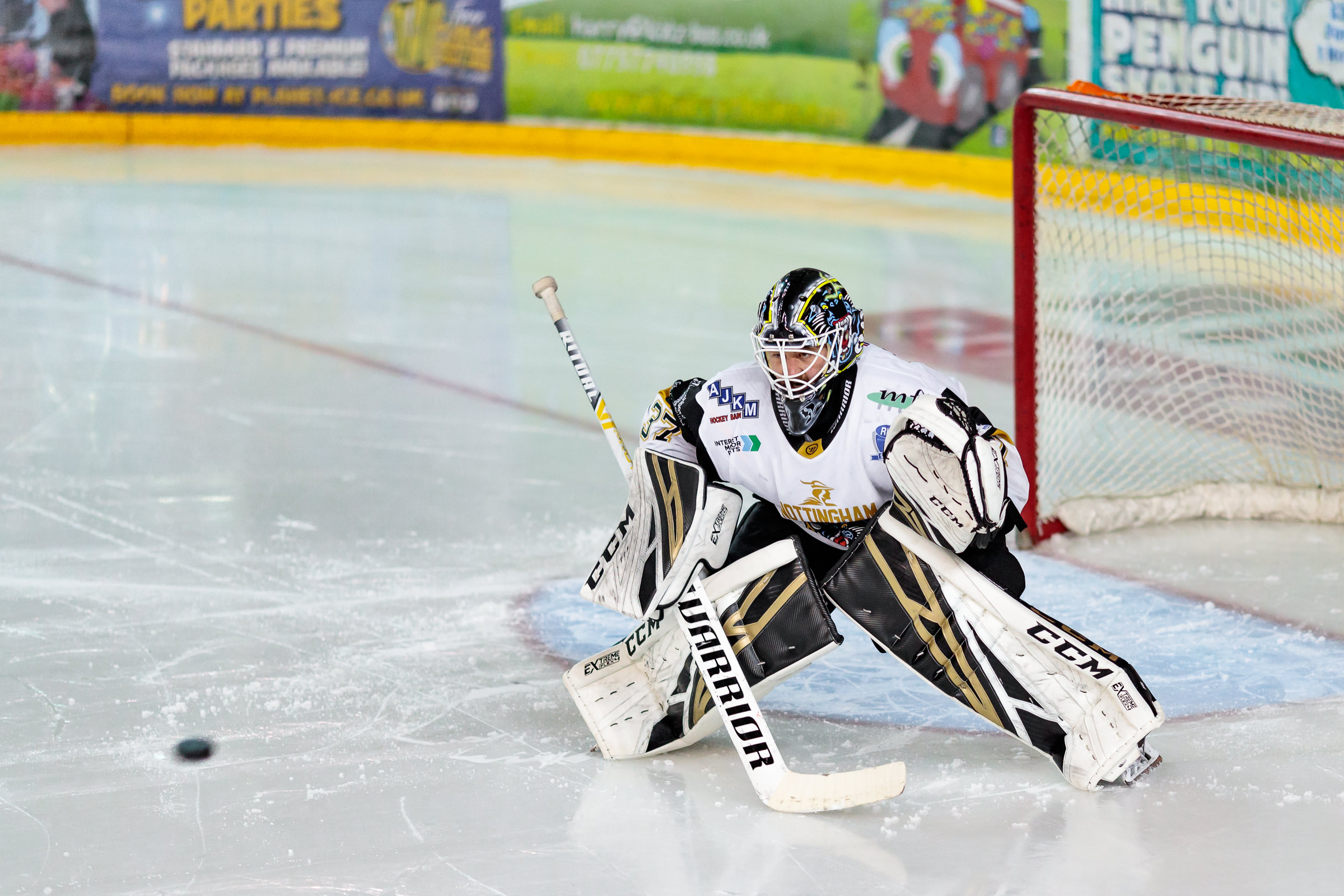 THE NOTTINGHAM Panthers were on the hunt for a four-point weekend as they headed north to Manchester to do battle with the Storm on Sunday evening.
Kevin Carr returned between the pipes for the Panthers, after having last night off, opposite Matt Ginn for the Storm.
Jon Rheault and Ollie Betteridge both came close to opening the scoring early doors for the Panthers before the away side started to ramp up the physicality, Brett Bulmer and Gui Lepine delivering big hits along the boards.
With Nottingham on the powerplay Carr, who made 29 saves on the night, had to be alert to deny the Storm as they broke in two-on-one short-handed prior to killing the penalty to Samuelsson.
Rheault, Betteridge and Lepine all had good looks at goal but Ginn stood tall and the game remained tied as the first period entered it's final five minutes.
Another powerplay came and went for the Panthers and the teams went into the first intermission locked at zeroes.
Early in the second period Jason DeSantis (24.37) opened the scoring. The defenceman firing from way downtown and the puck finding it's way past Ginn, via a deflection off of a Storm defenceman en route to goal, to put the visitors into the lead.
Nottingham had to kill a penalty to Ollie Betteridge and shortly after returning to full strength Carr had to make his best save of the game, standing tall to deny the Storm as they crashed his goal.
The Panthers squandered another powerplay and then Ginn took a starring role to close out the period. The Storm netminder going post-to-post to flash the leather and prevent a wide-open Jullian Talbot hitting the back of the net before making an incredible diving stick save on GB international Robert Lachowicz, as the away side broke in short-handed, to send his team into the second intermission trailing by only one goal.
Carr had to be at his best to preserve his shutout bid early in the third period, making himself big at his near post before finding a bobbling puck and covering it up to get his team a line change with the Storm pressing heavily for an equaliser.
Sam Herr (46.13), the EIHL's leading point scorer, doubled the Panthers' lead against the run of play when he broke in down the left wing, took the puck below the goal line and at the third attempt banked the puck in off of Ginn and over the line.
Nottingham saw out the final ten minutes without much incident and Herr (55.52) broke in down the left wing again, this time firing a laser over the shoulder of Ginn to pop the water bottle and give the Panthers a three-goal lead.
Carr kept out any attempts Manchester threw on goal to close out the game and the Panthers secured a four-point weekend.