Grodno v Panthers

Neman Grodno

The Nottingham Panthers
Match Report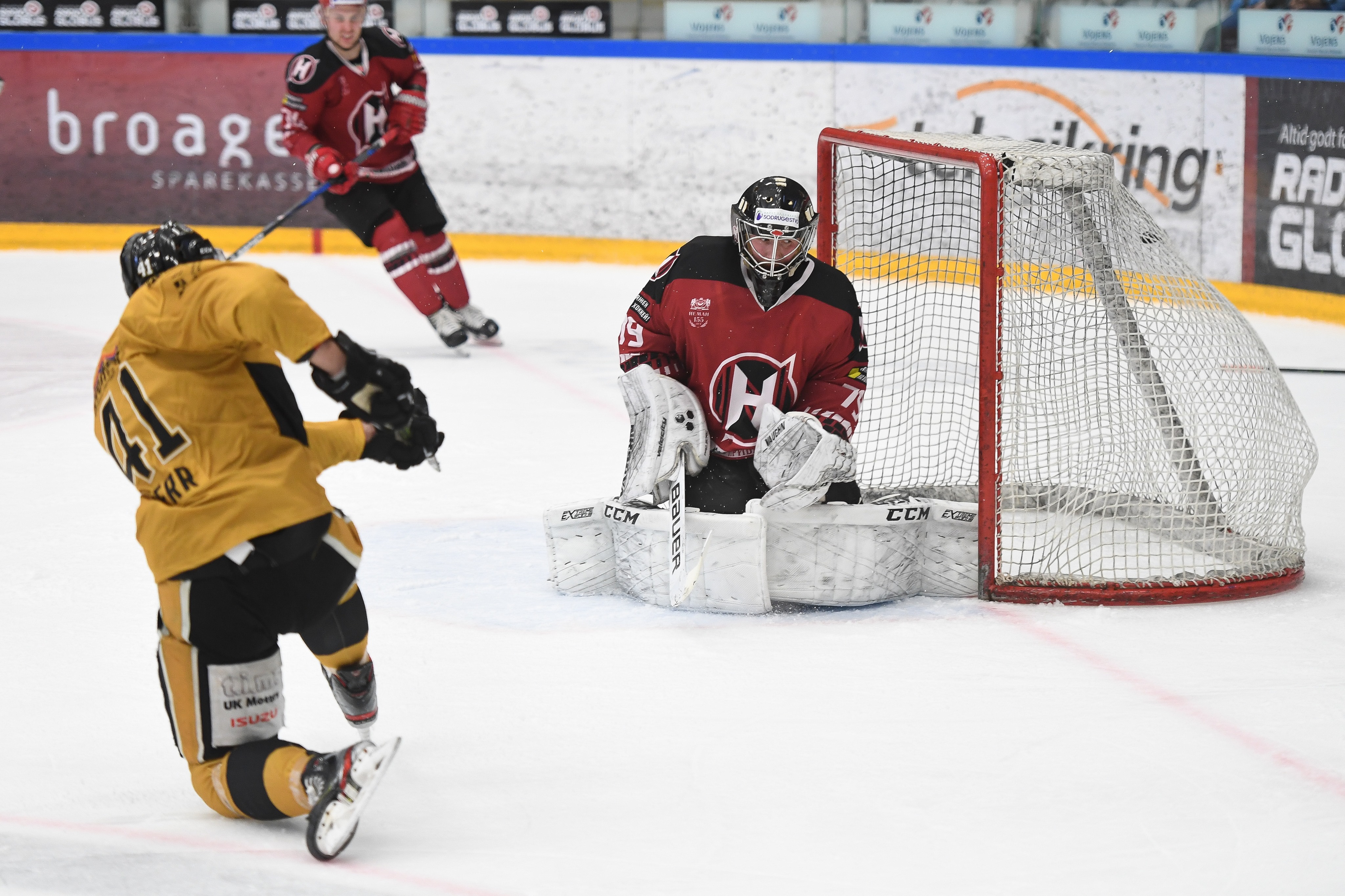 THE NOTTINGHAM Panthers took on Belarusian side Neman Grodno in Sunday's late game in a battle for second place after host's SonderjskE claimed the 2020 Continental Cup in the early game with a 3-1 win over Cracovia Krakow.
Jackson Whistle got the start in goal for the Panthers opposite Vitali Trus for Grodno.
Grodno got off to the perfect when Artyom Kisly (1.31) beat Whistle on a partial breakaway early on, the Panthers' netminder was in the thick of things soon after as, after a crunching hit by Gui Lepine along the boards, he had to be alert to make a good save with his right pad.
Malmquist and Hansen almost combined for an equaliser before the Panthers went on their first powerplay of the game, Sam Herr almost hitting the back of the net before Whistle had to make a big short-handed breakaway save.
Grodno killed the penalty and then went on three consecutive powerplay's of their own, Nottingham killing 18 seconds of five-on-three powerplay time for the Belarusian's before they found the back of the net with the teams sakting five-onf-our. Roman Malinovski (15.10) getting the final touch to send his side, who killed a late period Panthers' powerplay, into the first intermission with a two goal lead.
Nottingham killed two more Grodno powerplay's to begin the second period before Jake Hansen (26.38) found the top shelf of the net with a wicked slapshot from between the face-off circles.
Grodno restored their two goal advantage, just after Mark Matheson has stepped out of the box after another successful Panthers' penalty kill, when Artyom Kisly fired in at the back door, Jackson Whistle almost made an incredible save on the play but the puck just trickled over the line.
Ryan Horvat (33.33) jammed the puck through the legs of Trus on a Panthers' powerplay to make it one goal game once again and before the period came to a close Captain Sam Herr (37.01) hit the back of the net with a one-timer, following a tremendous cross-ice tape-to-tape backhand pass by Robert Lachowicz, to tie the game up going into the second intermission.
Nottingham killed an early penalty to Ryan Horvat in the third period and after the Panthers returned to full strength the teams felt each other out, neither side wanting to give an inch.
Gui Lepine had to make a game-saving sliding block to deny Grodno when they broke in three-on-one and Georgs Golovkovs (58.50) hit the back of the net inside the final two minutes of the game to seal the win, and second place, for The Nottingham Panthers.