Panthers v Devils

The Nottingham Panthers

Cardiff Devils
Match Report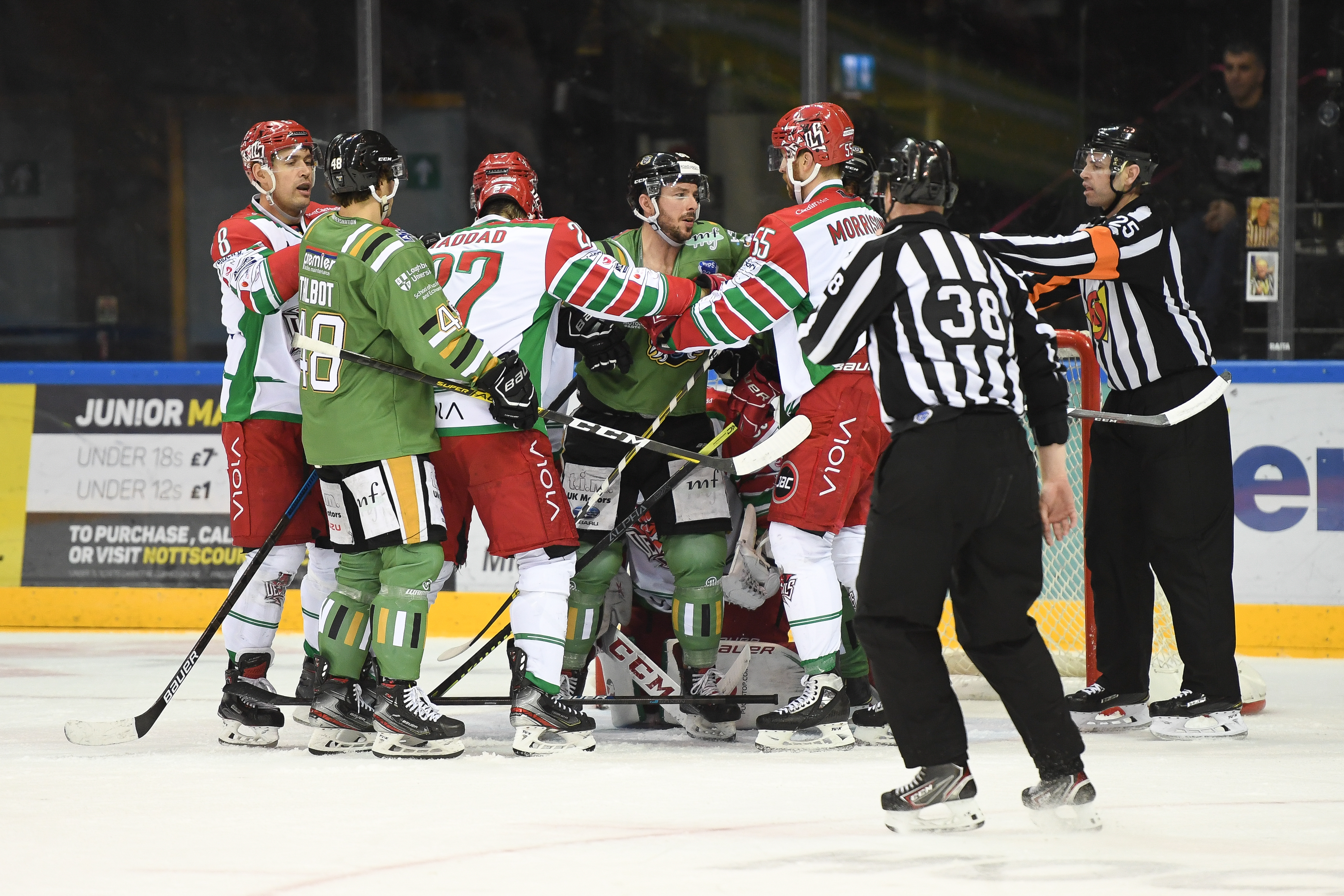 THE NOTTINGHAM Panthers and Cardiff Devils clashed for the third time in seven days on Wednesday night, this time it was a do-or-die Challenge Cup semi-final second leg after last week's 5-5 tie in South Wales.
Kevin Carr, Nottingham, and Ben Bowns, Cardiff, got the starts in goal for their respective teams.
Just after the five-minute mark the returning Brett Bulmer (5.39) hit the back of the net, the burly forward finding a loose puck and beating Bowns through traffic to give the home side the lead on the night and in the tie.
Things got even better for the Panthers when Shaone Morrisonn (11.55) was sent to the box for cross-checking and that man Bulmer (13.44) was on hand to double the lead with the man-advantage, picking up a rebound on the doorstep after Bowns couldn't hold onto Brian Connelly's soft shot from the point.
Cardiff pulled a goal back late in the period when Joey Haddad (16.37) beat Carr with a wicked one-timer on the powerplay and it was all to play for as the game went into it's first intermission with the Panthers leading by one on the night and in the tie.
The Devils killed an early Panthers' powerplay when Blair Riley (20.57) was sent to the box for cross-checking but it wasn't long before the home side restored their two-goal advantage. Ollie Betteridge's shot from a tight angle proving too hot to handle for Bowns and Ryan Horvat (24.09) powered to the crease to force the loose puck into the back of the net.
The teams exchanged powerplay opportunities throughout the remainder of the period but both the penalty kill units, and netminders, were in stubborn form and there was no further scoring in the second period and only 20 minutes stood before the Panthers and a berth in the Challenge Cup Grand Final.
Special teams came to the fore early in the third period but it was, once again, the penalty kill units that came out on top and the home side's two-goal lead remained intact.
Two goals in just over two minutes for the Devils levelled the tie just after the ten minute mark of the third. Joey Haddad (50.07) just squeezing the puck over the link before Masi Marjamaki (52.13) took advantage of a collision between Carr and one his defencemen to fire into an empty net.
Cardiff used the momentum of those two quick goals to take their first lead of the night, Matt Pope (54.30) hitting the back of the net.
With no further scoring in the tie it was the Devils who advanced to March's Challenge Cup Grand Final.