Panthers v Flyers

The Nottingham Panthers

Fife Flyers
Match Report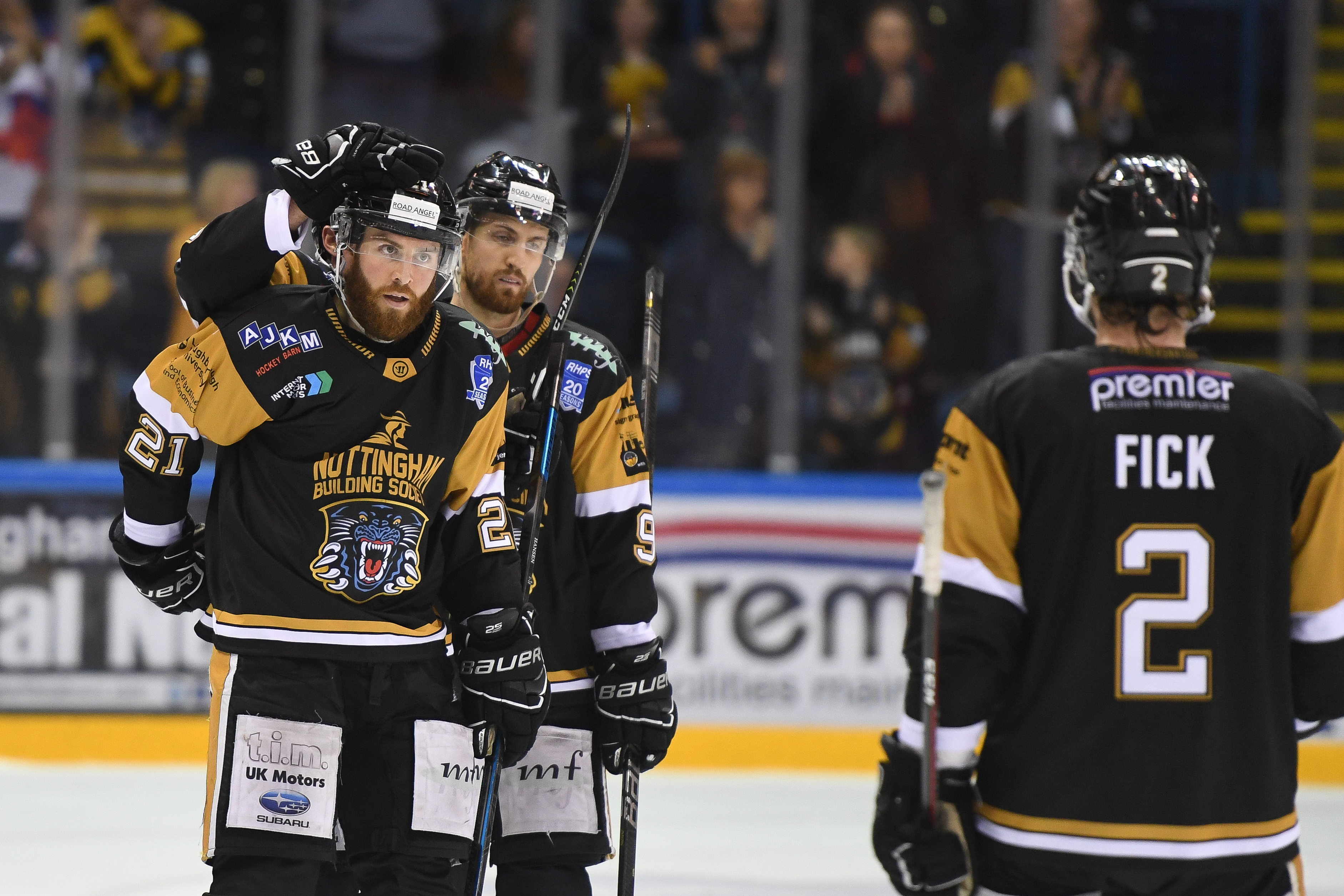 THE NOTTINGHAM Panthers took on the Fife Flyers inside the Motorpoint Arena on Sunday afternoon in hope of building on their 5-1 demolition of the Steelers in Sheffield on Saturday night.
Jackson Whistle got the start in goal for the Panthers opposite Adam Morrison for the Flyers.
The opening period saw the Panthers outshoot their Scottish opponents (12-6) but without breaking through on the scoresheet.
Latest signing Mathieu Tousignant, making his home debut, made himself known to the Panthers Nation when he dropped the gloves (13.53) with Sam Jones, after the Flyers' forward delivered an unceremonious hit along the boards, to bring the bumper Sunday afternoon crowd to it's feet.
Tetlow had the puck of the opportunities for the Panthers in the period but Morrison flashed the leather to keep his quick shot out and send the teams into the first intermission locked at zeroes.
Ryan Horvat and Danny Fick had early second period shots turned aside by Morrison before the Flyers went to the powerplay, Jackson Whistle tracking their best effort through traffic and gloving it down just as Gui Lepine stepped out of the box.
A scrappy middle part of the period saw neither team generate any chances until Whistle was forced into his best save of the game, the Flyers breaking in two-on-one but when the forward decided to shoot instead of pass he was stopped by the glove of the GB international.
Ryan Horvat crunched a Flyers' defenceman behind the Fife net and then the Panthers went onto a late period powerplay, they couldn't break down the Fife penalty kill unit though and the Flyers returned to full strength seconds before the period came to a close.
Morrison and Whistle exchanged big saves to begin the third period but just after the halfway point of the third the Flyers' netminder came out of his net, to play the puck below the goal line, only to be stripped of the biscuit by Georgs Golovkovs who fed Jullian Talbot (50.10) out in front and he tapped into the empty.
Nottingham had to kill a late Fife powerplay, including a short spell of six-on-four for the visitors after they pulled Morrison in favour of the extra attacker, before Jake Hansen picked a pocket and fired into the empty net to seal a 2-0 win, and a four point weekend, for The Nottingham Panthers.