Panthers v Flyers

The Nottingham Panthers

Fife Flyers
Match Report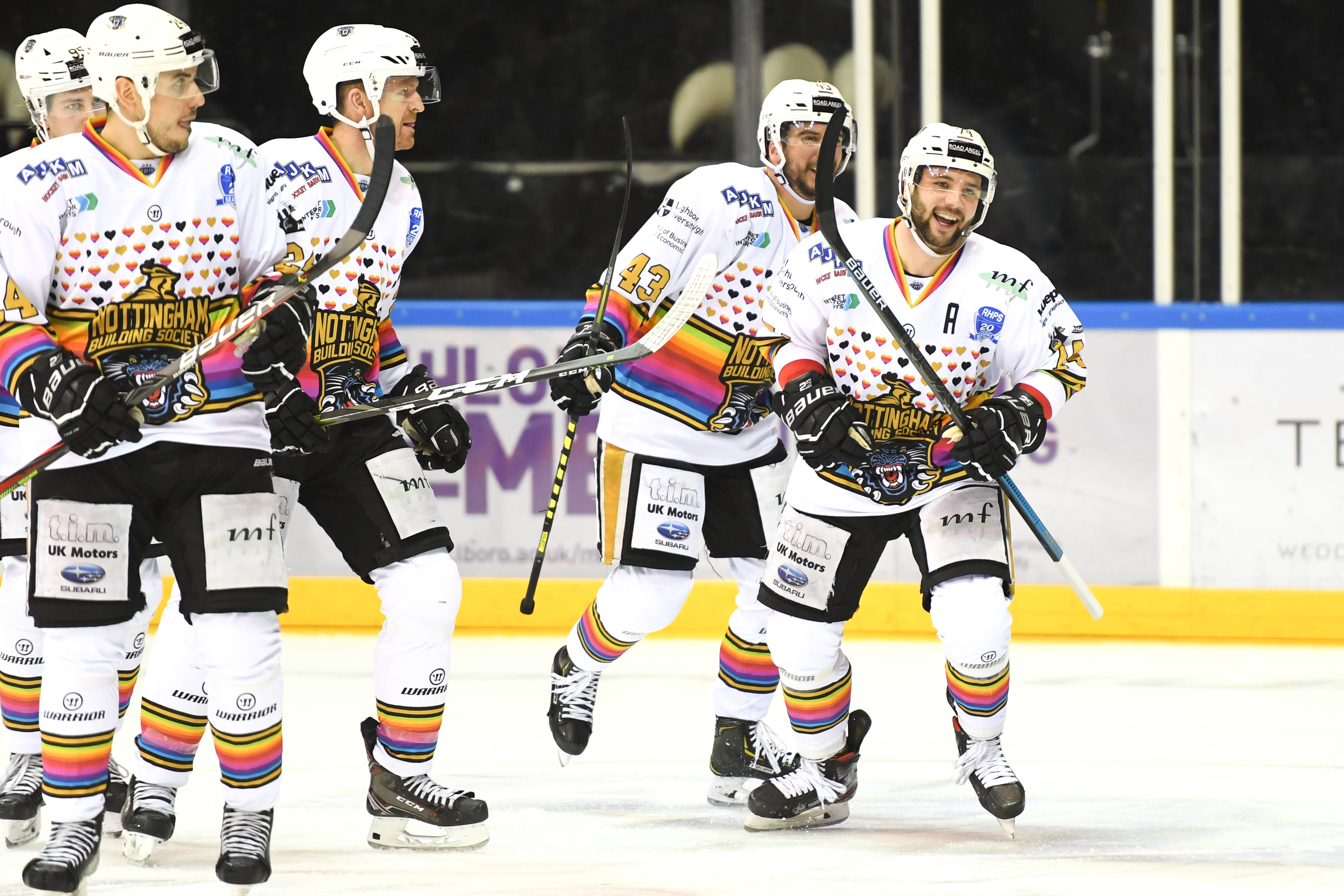 THE NOTTINGHAM Panthers took on the Fife Flyers on Valentine's Day night in front of a bumper Friday night crowd inside the Motorpoint Arena.
Jackson Whistle, who shutout the Flyers back on February 2nd, got the start in goal for the Panthers opposite Adam Morrison for the Flyers.
Fife got the games first goal when Sam Jones (7.20) showed great patience to beat Whistle in close after he was found all alone at the back door.
Shortly after seeing a powerplay chance go by the wayside the Panthers tied things up, Adam Deutsch (12.37) skating out from the corner below the goal line before beating Morrison with a backhand effort in tight.
Both netminders exchanged key saves throughout the rest of a tense first period and the teams went into the intermission tied at one.
Nottingham dominated proceedings in the early stages of the second period and that dominance paid off when Mathieu Tousignant found Ollie Betteridge (25.11), with a picture perfect pass, crashing the net and he hammered the puck into the back of the net with his first-time effort.
Things got even better for the Panthers once they successfully killed a tripping penalty to Danny Fick. After returning to full strength the home side hemmed the visitors in their own zone and Mark Matheson saw his wrist shot from the blue line tipped beyond Morrison by Jake Hansen (30.47), the forward's 21st goal in all competitions.
Matheson, Dylan Malmquist and Captain Sam Herr (on the powerplay) all tested Morrison but found the Flyers' netminder in top form as he kept them out and kept Fife in the game as the hooter sounded on the second period.
Morrison had to be alert to deny Malmquist early in the final period before Whistle had to be at his best to deny the dangerous Carlo Finucci on the breakaway, with Adam Deutsch sent to the box for slashing on the play.
Nottingham killed the penalty to the Swede and went onto a powerplay of their own, they couldn't get set up in the Flyers' zone though and there was no troubling the scorers as the visitors returned to full strength.
Fife pulled Morrison on a late third period powerplay and got themselves within one, Carlo Finucci (57.45) finishing off a pretty passing play at the backdoor.
Nottingham spent the last 52 seconds of the game back on the penalty kill but kept the Flyers to the outside and secured a one-goal win along with two Elite League points on Valentine's Day.