190817 | Panthers vs Devils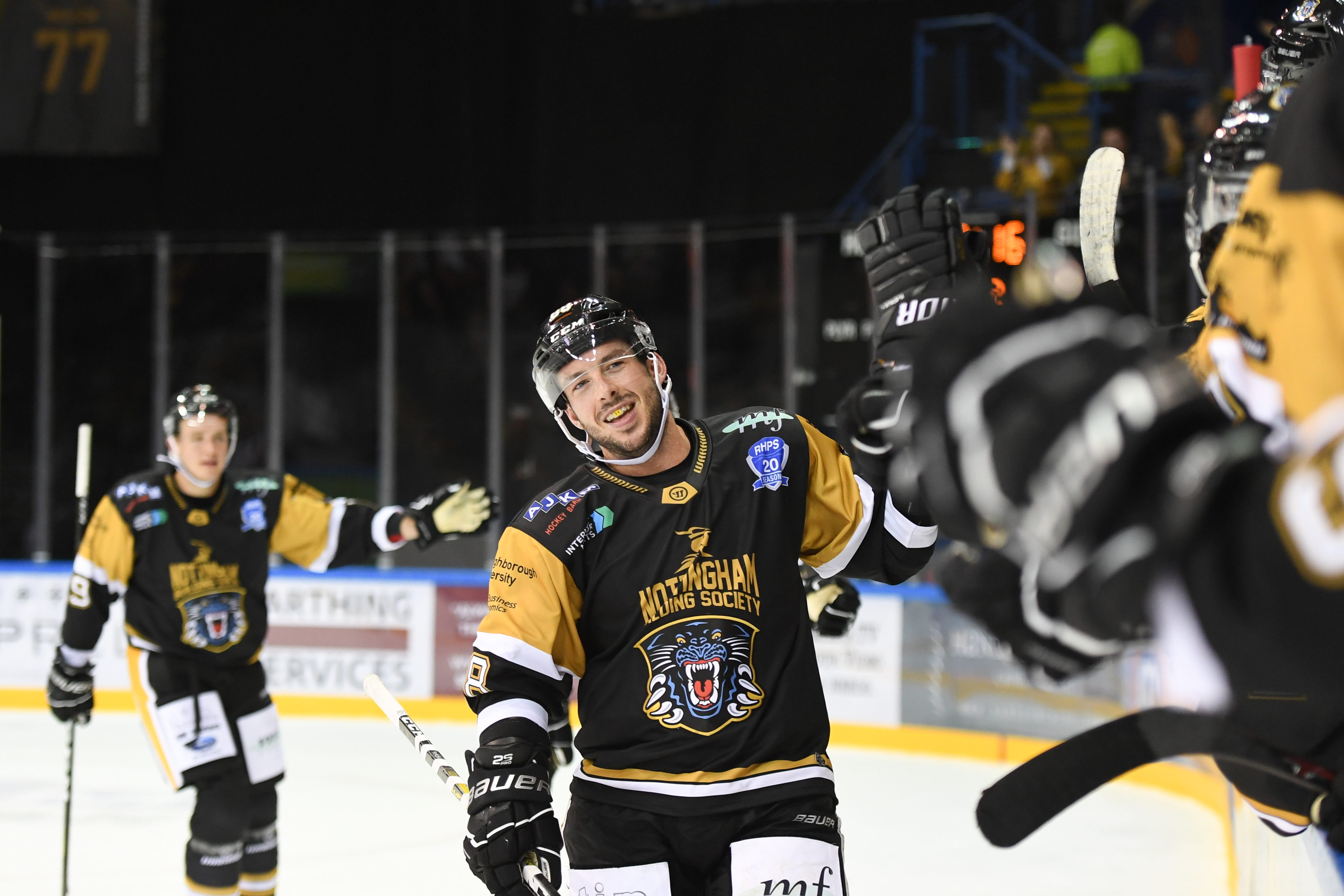 The Nottingham Panthers 3 - 2 Cardiff Devils
Ice Hockey returned to the Mototpoint Arena on Saturday night as THE NOTTINGHAM Panthers clashed with the Cardiff Devils in pre-season action.
Kevin Carr got the start in goal for the Panthers, who were missing Jason DeSantis (precaution) and Dylan Malmquist (Visa), opposite Thomas Murdy for the Devils.
Brett Bulmer had the games' first real chance but the former Fife Flyer fired just wide on the blocker side after great work from William Quist and Robert Lachowicz.
The Panthers continued to push the pace early in the period when Jordan Kelsall saw his effort saved before Brett Perlini's tip on a Mark Matheson shot forced Murdy into another smart save.
Kevin Carr's first test between the pipes came when Matt Pope fashioned himself a shooting opportunity in close but the Panthers' starting netminder stood tall to the keep the Devils' forward at bay.
The teams traded powerplays to close out the period but neither found a way through to open the scoring.
Kevin Carr once again denied Matt Pope early in the second period and the Panthers' netminder had to be at his best as 2019 play-off champions Cardiff pressed heavily as they looked to take the lead.
Brett Bulmer and Ollie Betteridge went close for the Panthers, the latter powering to the net forcing Murdy into a good save at his near post, and then Jon Rheault (33.44) gave the home side the lead when his backhand shot from the slot found it's way through Murdy and into the back of the net.
Cardiff quickly equalized through Stephen Dixon (34.31) but Adam Deutsch ripped a one-timer into the back of the Devils' net, after a perfect pass from William Quist, on the powerplay just over two minutes later (36.59) to send the Panthers into the second period break with the lead.
Kevin Carr made the first save of the third period when he gloved down Rutkis' speculative effort. On their next attack the Devils did, however, equalize when Charles Linglet (44.15) beat Carr on the blocker side.
It was then the turn of the Devils' netminder to take centre-stage, denying Golovkovs, Matheson and Herr in quick succession.
With the clock ticking down on the final period Mark Matheson's superb stretch-pass found a streaking Jon Rheault and the American forward made no mistake as he slid the puck through the five-hole of Murdy once again (59.43) to give the Panthers a dramatic victory.
As promised the teams also took part in a shootout to round off the night.