191110 | Game Day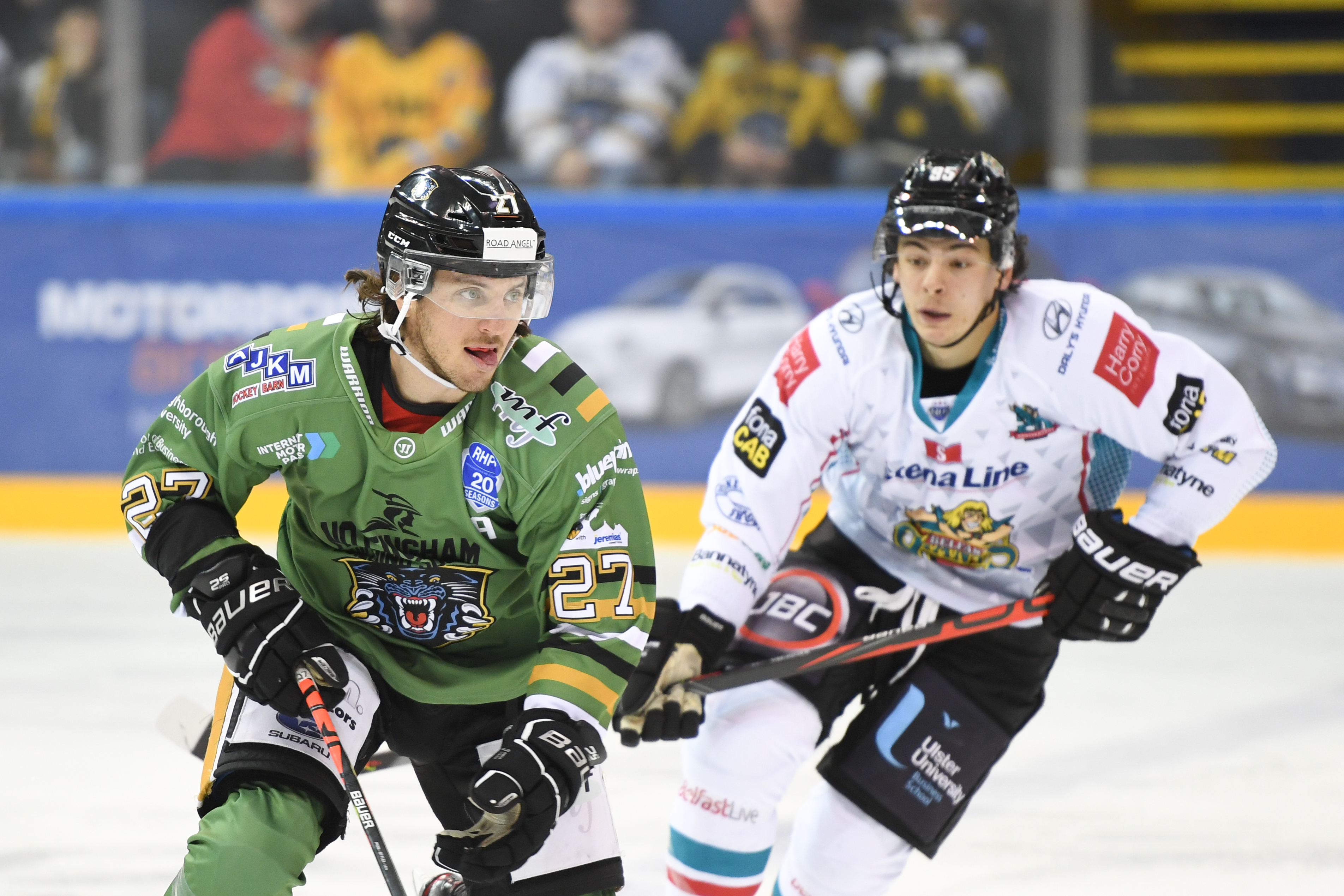 THE NOTTINGHAM PANTHERS ARE LOOKING TO MAKE IT A FOUR POINT WEEKEND ON HOM-ICE BEFORE THEY HIT THE ROAD FOR THE NEXT THREE WEEKENDS!
Not got a ticket? They're on sale right up until face-off. You've got 'til the game to snag yours (16.00) but for more choice call 08543 373 3000, visit the box office or click here to buy online.
The game is sponsored by Mansfield 102.2FM.
You can pre-order your replica Christmas jerseys from the DVD stand in the foyer.
This year's charity book "Broken Heart" goes on sale at tonight's game, with all profits going to the Trent Cardiac Unit. For more information on the book launch click here.
You could win a game-worn shirt for just a pound per raffle ticket. Jake Hansen will present the winner with his black jersey after the match.
You could win the TAX FREE fifty-50 draw, just £1 a ticket!
The latest issue of the "Panthers' Journal" match night magazine is on sale tonight and it's packed with content you can't find anywhere else such as features with Adam Deutsch, William Quist and Georgs Golovkovs. Get yours from the sellers around the arena for just £3.
Paws, sponsored by Planet Bounce, will be amongst the fans with giveaways with his sponsors, Planet Bounce, and match sponsors Flowervision.
Spotlight, the brand new bar and restaurant inside the Motorpoint Arena, is open an hour and a half before the game for food drink and is also open after the game. Director of Hockey Gui Doucet will be on hand to answer questions, and give the team news, half -an-hour BEFORE the game so come up to level four to get yourself ready for this crucial Elite League encounter.
The car parking season ticket deal applies and works out at less than two pounds a match. If you've not bought the season pass you can take advantage of the fabulous six pounds off deal for parking at the Motorpoint Arena car park (but you have to buy before gameday and get it from the box office).
You can travel by tram on the special Panthers' NET deal for just £2.50.
There's 15% off for season ticket holders at Clean Cut Kitchen, Panthers' official food prep partners.
Please keep your eyes on the pucks at all times, and look out for the deals at sponsors Loxley opticians.
JBC are the PANTHERS OFFICIAL NUTRITION AND SUPPLEMENTS PARTNER. It works for us, let it work for YOU… visit their website and claim a ten per cent discount on us.
It's Panthers beer all night long at games, just £3.50 a pint in the arena.
You won't miss a moment of the action with the brilliant new action replays in association with Road Angel, on the giant scoreclock screens.
AND THE BIGGEST REASON TO BE CHEERFUL ON A SUNDAY NIGHT HOCKEY NIGHT IS STILL WHO'S PLAYING WHO ... PANTHERS VERSUS GIANTS IN NOTTINGHAM AT FOUR O'CLOCK.
PANTHERS ICE HOCKEY - JUST CAN'T GET ENOUGH!
SEE YOU THERE!