200813 | Continental Cup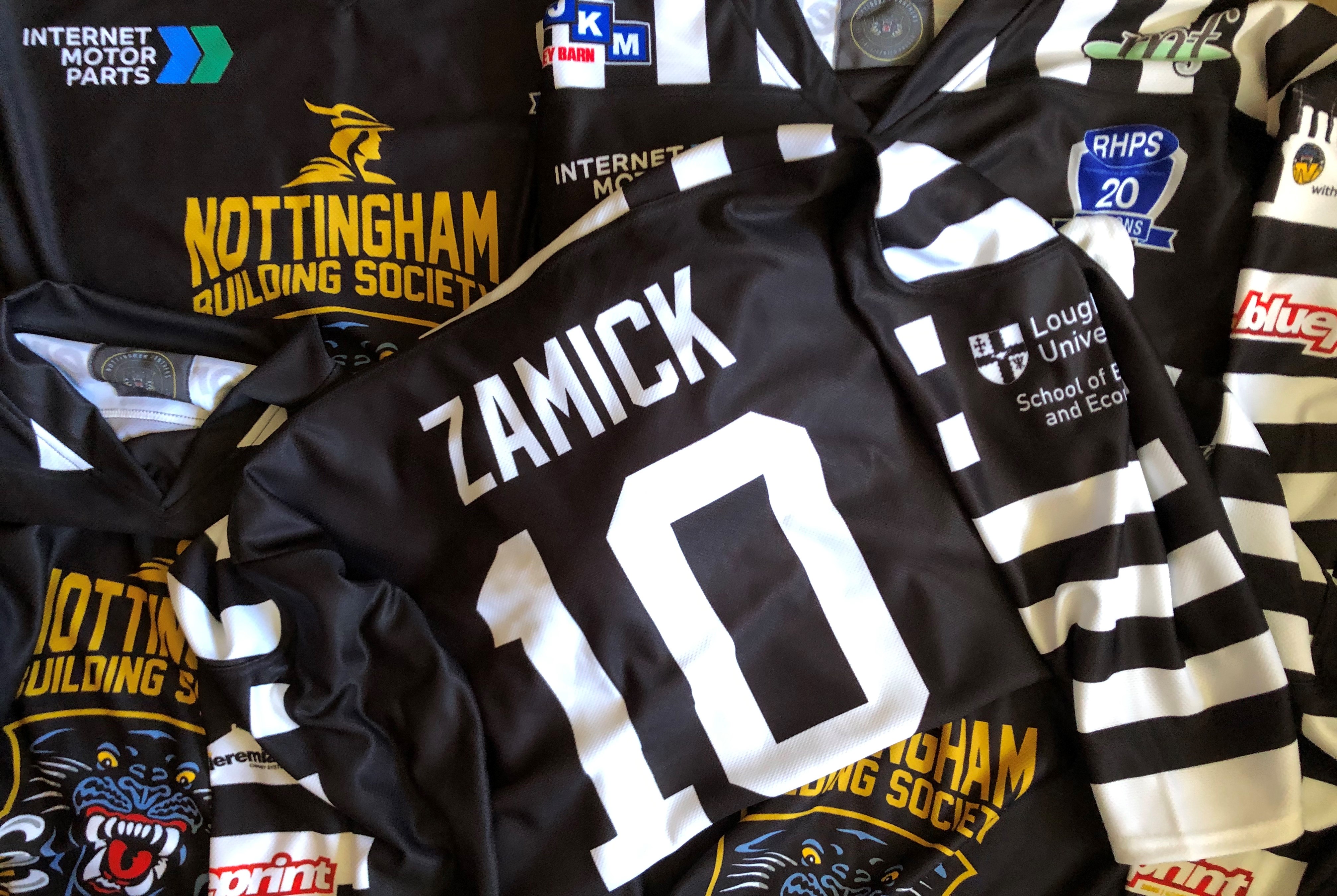 For many years when you spoke of ice hockey in Nottingham the one name that EVERYONE knew was Zamick.
Chick Zamick was arguably the greatest Panther of all-time.
We've chosen his shirt – probably the first Zamick #10 shirt to be made for sixty years – as the feature prize in this week's on-line shirt raffle.
But that's not all.
We've boosted the treasure trove with the last five white Continental Cup shirts in our possession from the silver-medal winning campaign last season.
That gives you six chances to win for a stake of just ONE POUND!
But remember you've got to be in it to win it!
Chick Zamick played for the Panthers for eleven years from 1947 to 1958 and whether you ever saw him play or you're too young to have been there you can't help but admire the man's contribution to the club's history.
He was a superstar of the sport. Regularly winning sportsman of the year awards ahead of football and rugby players in Nottingham and hitting records with goals tallies of more than one a game on average plus more than two points per match. He led the team in scoring every year and helping them win the treble in 1956. His Panthers career total was a remarkable 1,423 points in 778 appearances.
He was the youngest of ten children. Victor picked up the name "Chick" from a popular brand of chewing gum that was sold in packs of ten and it stuck.
After playing and coaching with the Panthers he had a brief spell in Switzerland before returning to Nottingham to run several businesses. He passed away in 2007.
This is the third Legends shirt in the draws so far. Remember the prize fund is boosted by the addition of the five white Continental Cup shirts which are game-quality spare shirts without namebars and numbers but in their own way are also unique.
So, we've got SIX exclusive top notch draw:
A LEGENDS #10 Zamick jersey
A game-quality goalie XL white Continental Cup jersey
A game-quality XL white Continental Cup jersey
A game-quality XL white Continental Cup jersey
A bagged game-quality XL white Continental Cup jersey
A bagged game-quality XL white Continental Cup jersey
They're all rare items. The deadline on this raffle is Sunday night (August 16th) 9pm.
The total number of tickets is limited so your chances of winning are enhanced. Not one but SIX prizes are up for grabs. Remember one of these exclusive pieces of Panthers' memorabilia could be yours for a stake of just one pound.
To join in the fun JUST CLICK HERE.
Please note our office is still under lockdown as we continue to protect you and our staff but winners will be notified.
The prizes are being held under lock and key and are being sent out in batches so if you win you won't have to wait too long.
Thanks for your patience, the prizes are all unique….it'll be worth the wait.
GOOD LUCK EVERYONE. STAY SAFE.