201019 | Tale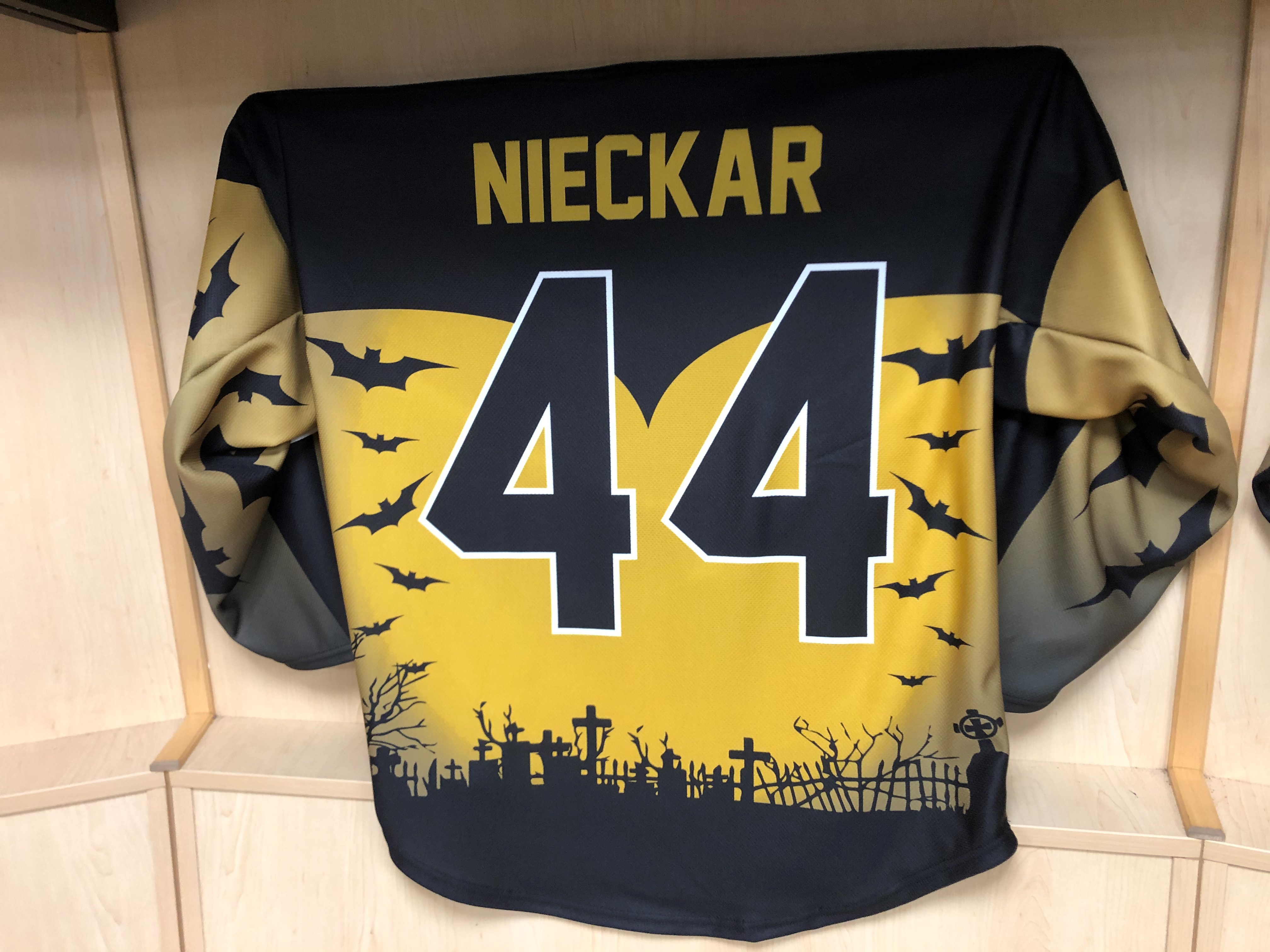 Throughout October fans have had a chance to win our exclusive "Bat-to-the-Bone" designer shirts. Throughout this week we'll be flying round the world to bring you a flavour of how they celebrate this time of the year in various countries across the globe.
In Ireland they have barmbrack. It's a fruitcake containing coins, buttons and rings for fortune telling purposes. If you get a ring it means marriage is on the cards in the coming year, coins mean wealth is on the way.
Meanwhile, here in PANTHERland we celebrate with the unique "Bat-to-the-Bone" jersey raffles and the last one is underway. We predict a very happy Halloween for you if your ticket gets pulled out in Sunday's draw.
Featuring amongst others #44 BARRY NIECKAR there's a total of five exclusive prizes on offer.
Nikes was once described by a former coach as having the body of Tarzan and the ability to punch like Jane. That coach never faced him on the ice in person and several of his players have since said they wished he'd kept his mouth shut as they discovered his assessment was radically categorised in the "error of judgement" department!
The full prize list this week is:
#44 BARRY NIECKAR
#28 GUI LEPINE
#75 RUMUN NDUR
#9 BRUCE RICHARDSON
#11 GREG HADDEN
We hope one day to wear the exclusive design by fan Andrew Cunnington in a real game at Halloween but for now these are the only shirts of their kind and the only way to get hold of one is by joining in the online raffle fun.
The deadline on this raffle is Sunday night (October 25th) at 9pm.
The total number of tickets is always limited so your chances of winning are enhanced and multiplied by five with the size of the special prize fund that's on offer this week. Remember one of these exclusive pieces of Panthers' memorabilia could be yours for a stake of just one pound.
Please note our office is under very limited access opening as we continue to protect you and our staff. Winners will be notified and prizes sent out. You won't have to wait too long. Thanks for your patience, the prizes are truly unique. It'll be worth the wait.
GOOD LUCK EVERYONE. STAY SAFE. HALLOWEEN IS COMING AT YA LIKE A SIX FEET SEVEN INCH X-RATED MONSTER FROM THE OTHER SIDE OF THE ICE.
YOU KNOW WHAT EVERYONE WANTS TO WEAR THIS YEAR FOR TRICK OR TREAT NIGHT AND THERE'S ONLY ONE WAY TO GET YOUR HANDS ON ONE AND THAT'S BY WINNING THE ONLINE RAFFLE.