210205 | McAslan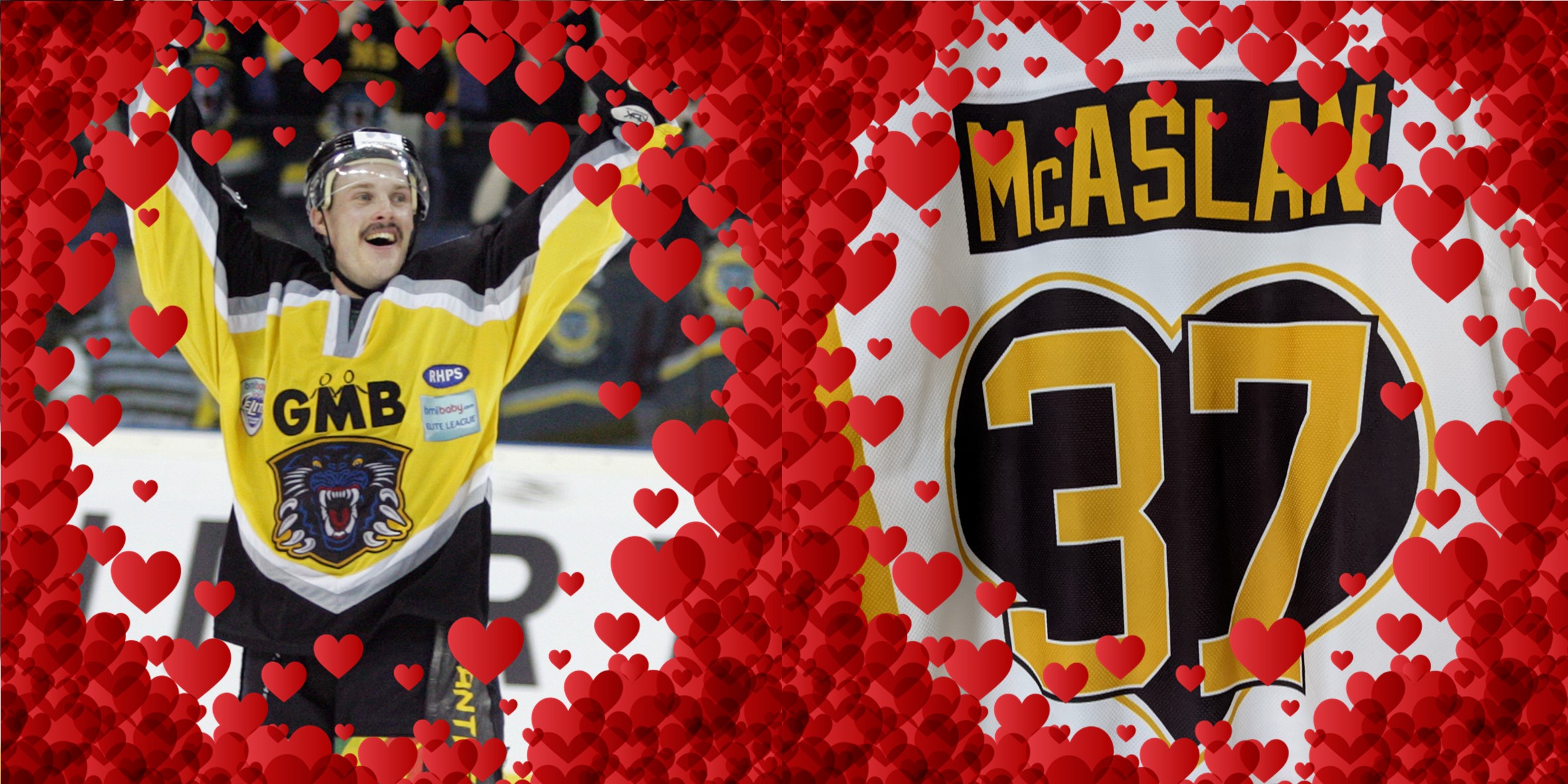 Sean McAslan's Valentines 2021 shirt is one of five prizes in this week's Panthers' online raffle.
It could be yours for just a one pound ticket.
Mac had two spells with the Panthers which included being the Elite League's top goalscorer and a Play-Off champion in season 2006-7. He was an All-Star and a Challenge Cup winner in 2007-8 and he won the cup again with the Panthers in 2009-10.
His special designer jersey from our latest design-a-shirt fans' competition is up for grabs this week alongside: Ruggedly handsome defenceman Gui Lepine who looks pretty good when he patrols the blueline and pretty sharp in a suit too; Juraj Kolnik, who was arguably the most complete hockey player ever to wear a Panthers' shirt helping the club to a cup and play-offs double in 2015-16 and racking up 57 points in 50 regular season games which were evenly split between goals and assists; netminder and fashion guru Miika Wiikman who was always bang on trend with his clothes choice as he walked into the arena for home games and club points legend Paul Adey along with former captain Sean McAslan.
So the official prize fund this week is:
#20 Wiikman
#22 Adey
#37 McAslan "C"
#28 Lepine "A"
#13 Kolnik
We're still aiming to wear the design of these shirts on the ice when we can but with this week's news on government funding putting paid to a season of any kind it looks like we'll have to wait until 2022 if we are to wear the competition winning design in earnest.
In all there will be four Valentines draws, we've had two, this is the third and the last one will start next week but on offer in this week's draw are the five unique prizes mentioned above.
As always though, you've got to be in it to win it.
It's just a pound for a chance to do just that!
This draw runs until Sunday February 7th at nine o'clock in the evening.
The number of tickets is limited as usual so with five prizes each week we're again boosting your chances of winning some more exclusive Nottingham Panthers' memorabilia.
CLICK HERE TO JOIN IN THE FUN!
Good luck everyone!
STAY SAFE, STAY HOME AND WE'LL SEE YOU AS SOON AS WE CAN!