211112 | Saturday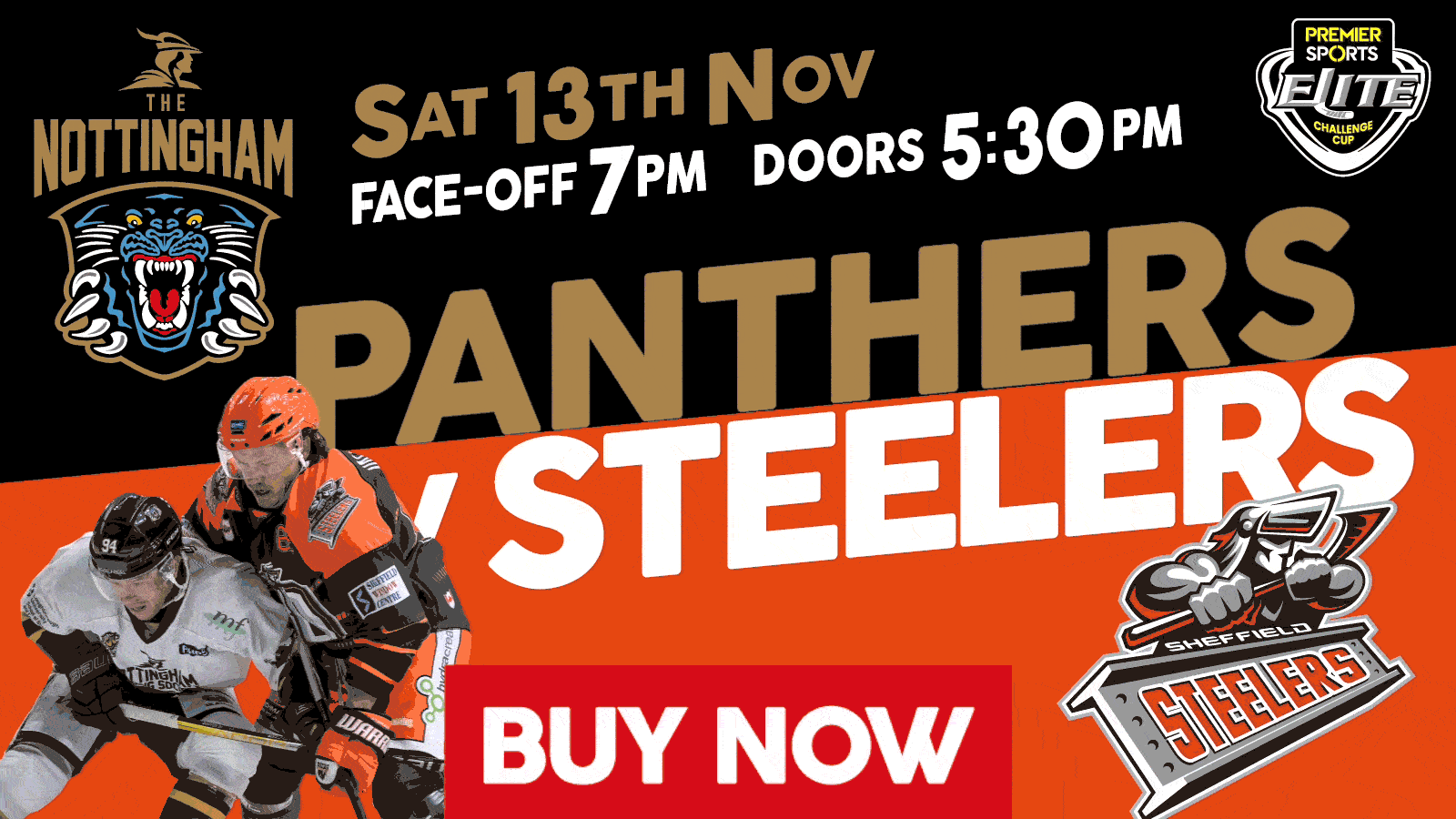 It's a huge Premier Sports Elite Challenge Cup clash at home on Saturday at seven when the biggest of rivals – THE NOTTINGHAM Panthers and the SHEFFIELD STEELERS face-off at the Motorpoint Arena with the race for the coveted top spot in the group and with it a seeded place in the quarter-finals at stake.
A massive crowd is heading to the game but the box office reports there are still seats available and we reckon there are just about enough to be able to say they will be on sale right up until face-off. Don't risk missing out though CLICK HERE to buy right now!
The game is sponsored by the Loughborough University School of Business and Economics and will feature our annual Remembrance tribute ahead of the game.
If you buy in advance online (too late for this weekend now, but remember for future games) you can halve the price of parking at the Motorpoint Arena car park (or the new Broad Marsh car park from the end of the month).
You can eat the specials at Paws' sponsor Annies Burger Shack on the way to or from the game and there's ten per cent off for season ticket holders at Clean Cut Kitchen in the Victoria Centre, Panthers' official food prep partner, who will be supplying food for the team's Sunday road trip to Manchester.
You pick your prize if you win the online Shirt Off His Back draw for each of the weekend games, home and away, and the month-long charity raffle (now up to 27 unique shirt prizes) is also underway, CLICK HERE.
Our Fifty-50 cash prize draw has returned to a paper sales operation and you can join in with cash purchases all around the concourse or use the contactless card payments at the two special stations in the foyer.
SATURDAY AT SEVEN … IT'S PANTHERS v STEELERS!
SPREAD THE WORD AND LET'S HEAR THE ROAR!
You can pay on the door!