220124 | Valentines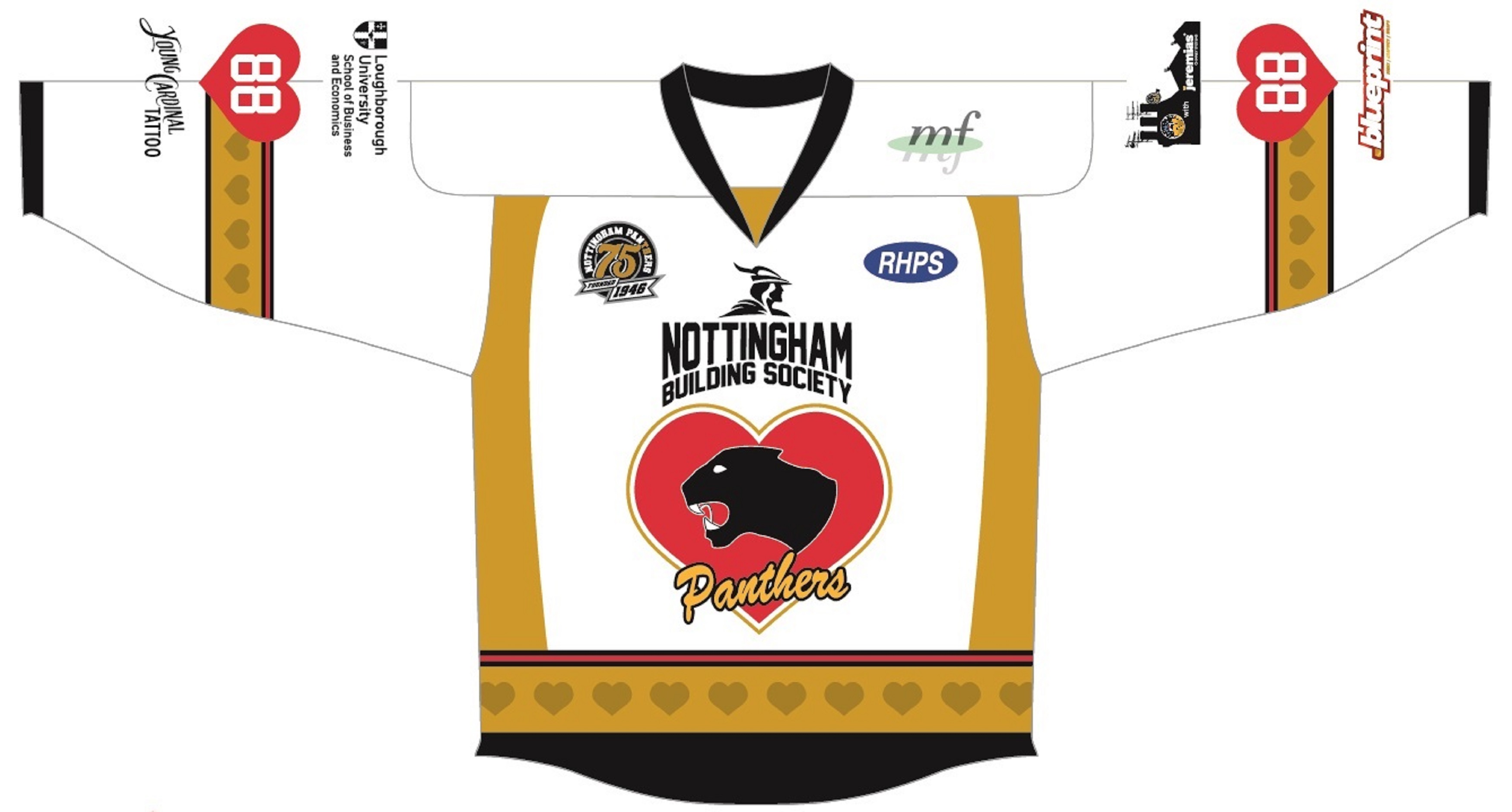 The Nottingham Panthers will be getting dressed up for Valentine's Day this year!
Designed by Panthers' fan Craig Riley during the 2020/21 season that never was, as part of a series of holiday themed competitions where we promised to wear the winning designs the next time we played, the retro themed jerseys will be worn when Nottingham take on Cardiff inside the Motorpoint Arena on February 13th 2022.
Fans will be able to reserve one of the jerseys worn in the game, of which there will be no replicas, from the official merchandise booth based outside of Ice Locker from when doors open at 2.30pm on January 30th at our game against the Dundee Stars.
However, we're changing the system as to how how you reserve your jersey at the booth.
The queue next to the VIP entance on the plaza will be dedicated for fans wanting to reserve a Valentine's jersey, before doors open everyone in that queue will be handed a numbered ticket based on their position & that number will represent their choice (so the person at the front with ticket #001 will have first choice on which jersey they want).
Once the numbered tickets have been allocated fans are to enter the arena & head to the merchandise booth in an orderly fashion to wait for their number to be called to make their choice from what is available.
The jerseys will be priced at £150.00 each and are to be sold on a first come first serve basis, it is strictly one jersey per person/family group.
You will receive a special Valentine's card, that you can keep for yourself or give to a loved one, that will act as your order confirmation when you come to collect your jersey from February 16th.
Extra jerseys have been made up for #9 Robbie Baillargeon & #13 J.C. Brassard that will be worn in the first period of the game against the Devils on February 13th & serve as the "Shirt Off His Back" raffle prizes.
The jerseys available to reserve will be:
#37 Carr
#31 Kerlin
#12 Norrish
#13 Brassard
#20 Matheson
#24 Thow
#25 Tetlow
#45 Lee
#6 Hopkins
#8 Myers
#9 Baillargeon
#14 Kelsall
#15 Welsh
#17 Domingue
#18 Clarke-Pizzo
#21 Lane
#23 Carozza
#40 Hedberg
#43 Tousignant
#51 Richards
#52 Doucet
#74 Betteridge
#94 Boivin