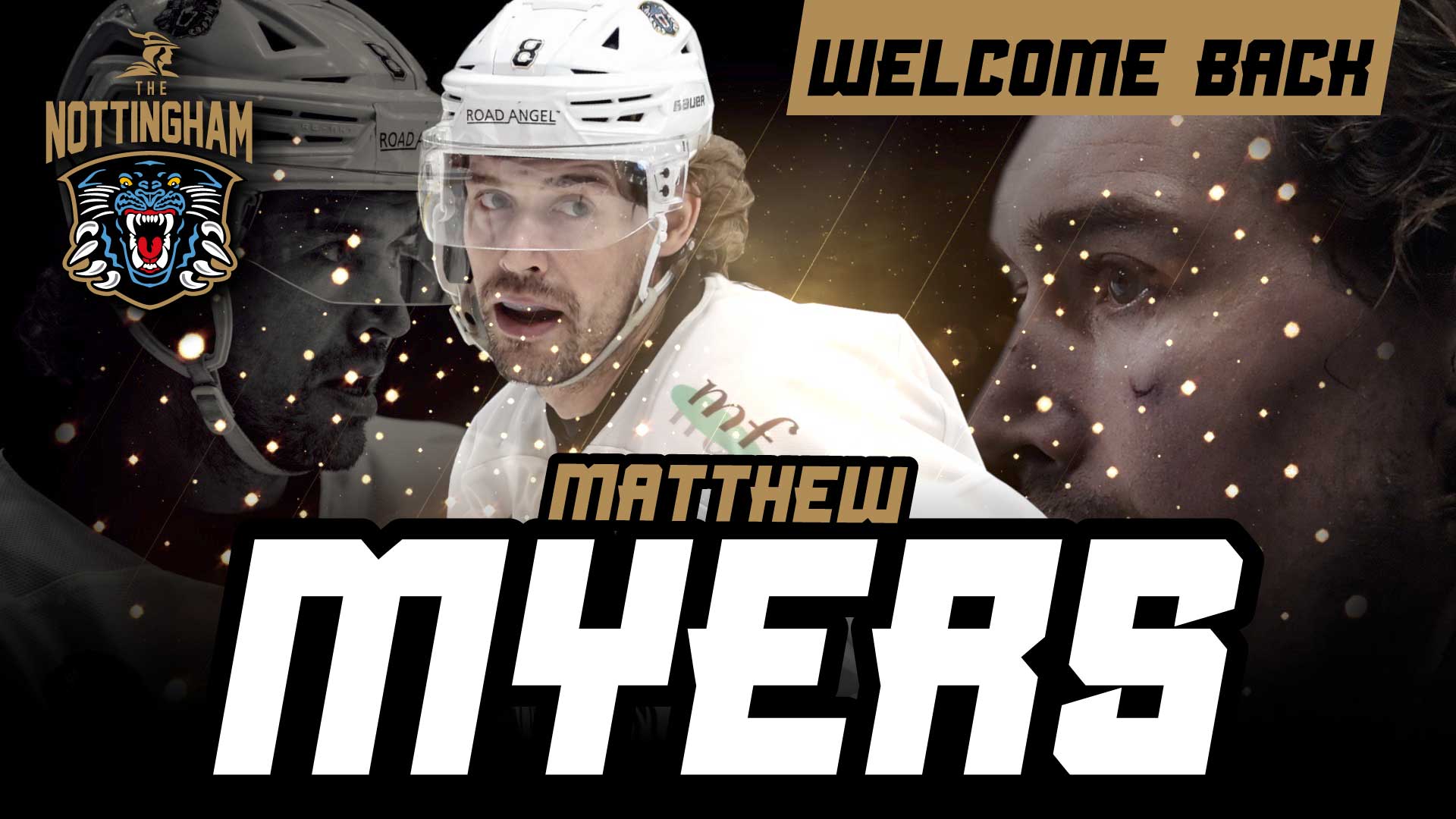 The Nottingham Panthers are delighted to announce that Matthew Myers will return for his eleventh season with the team.
Matthew, who has just returned from representing Team GB at the IIHF World Championships in Finland, is in his fourth spell with the Panthers after initially joining the Panthers from his home town Cardiff Devils back in 2004.
During his time in Nottingham (2004-2009, 2010-2013, 2015/16 & 2021 to present), he has lifted five Challenge Cups, five Playoff Championships and one League Title which, when you factor in the five trophies he also won during his time in South Wales, makes him one of the most successful players to ever play in the EIHL.
Matthew iced in his 1000th Elite League game against the Dundee Stars last December, becoming only the second player to reach this milestone since the league's inception. That number will continue to climb as he continues to cement his name as a true legend in the British game.
The centreman was the Panthers' highest scoring Brit in 2021/22, as he recorded 40 points in 66 games across all competitions, an achievement he is keen to build on in the upcoming campaign.
Matthew is Head Coach Gary Graham's first signing for the 2022/23 season and will once again wear his iconic #8.
Speaking to panthers.co.uk Gary said: "Everybody knows what Matthew brings and we're delighted to have him back for the 2022/23 season.
"He's a guy that's seen it all, won it all and can play in all situations. He is immensely respected in the game and is a true leader of men, which is exactly what we need as we enter this new era here at The Nottingham Panthers.
"Nottingham is Matthew's home away from home, he bleeds black and gold and wants nothing more than to be a part of getting this organisation back to where it should be."
DON'T FORGET: You can join Matthew Myers and The Nottingham Panthers on their journey in 2022/23 by renewing your season ticket.
Remember you can spread the cost of your season ticket over six months (July, August, September, October, November and December) with our direct debit plan.
To renew your season ticket for 2022/23, or to find out more information about the direct debit plan, click here.