Panthers Unveil New Logo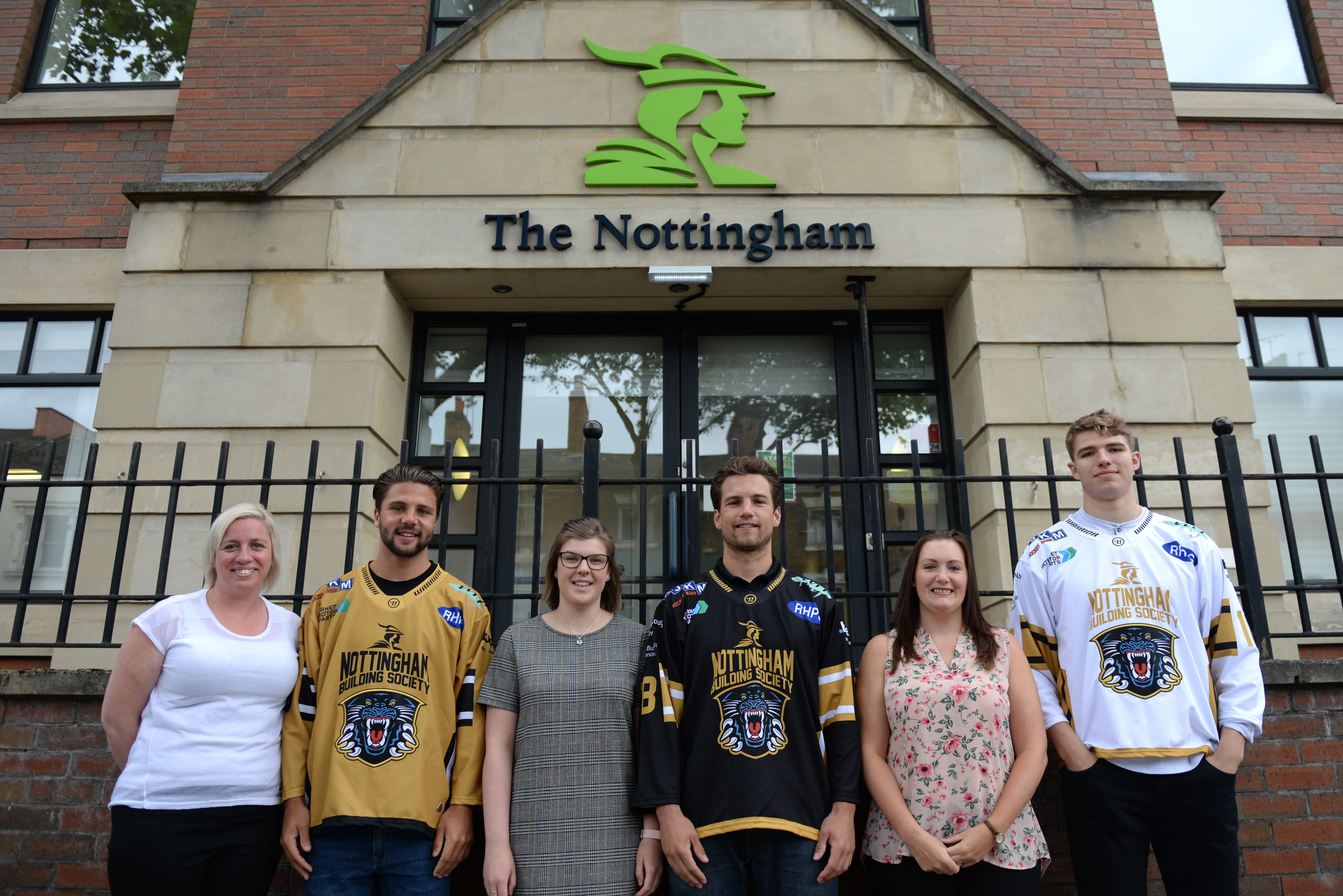 The Nottingham Panthers have been through a busy summer, with a new coach and new roster being assembled to tackle the 2018-19 season.
However, it has also been hectic off the ice, with a new title sponsor coming on board in The Nottingham Building Society.
A new title sponsor means a new logo and the new hybrid is ready to go on our brand-new jerseys.
To unveil them, Steve Lee, Ollie Betteridge and Josh Tetlow went down to The Nottingham's head office to meet their CEO and some of their hard-working staff, who double as lifelong members of the Panthers Nation.
Sabrina, Alison and Carla were the first fans to lay their eyes on the new shirts and were all very impressed with the new designs and logo.
Alison, who was hit by an errant puck at a Panthers home game last year, came to work especially to see the shirts; "I don't work Mondays but I came in anyway as was really excited to see the new tops and meet some players in person.
"The shirts look great and I'm proud to work for a business that supports my local sports team, especially as a fan. Go Panthers!"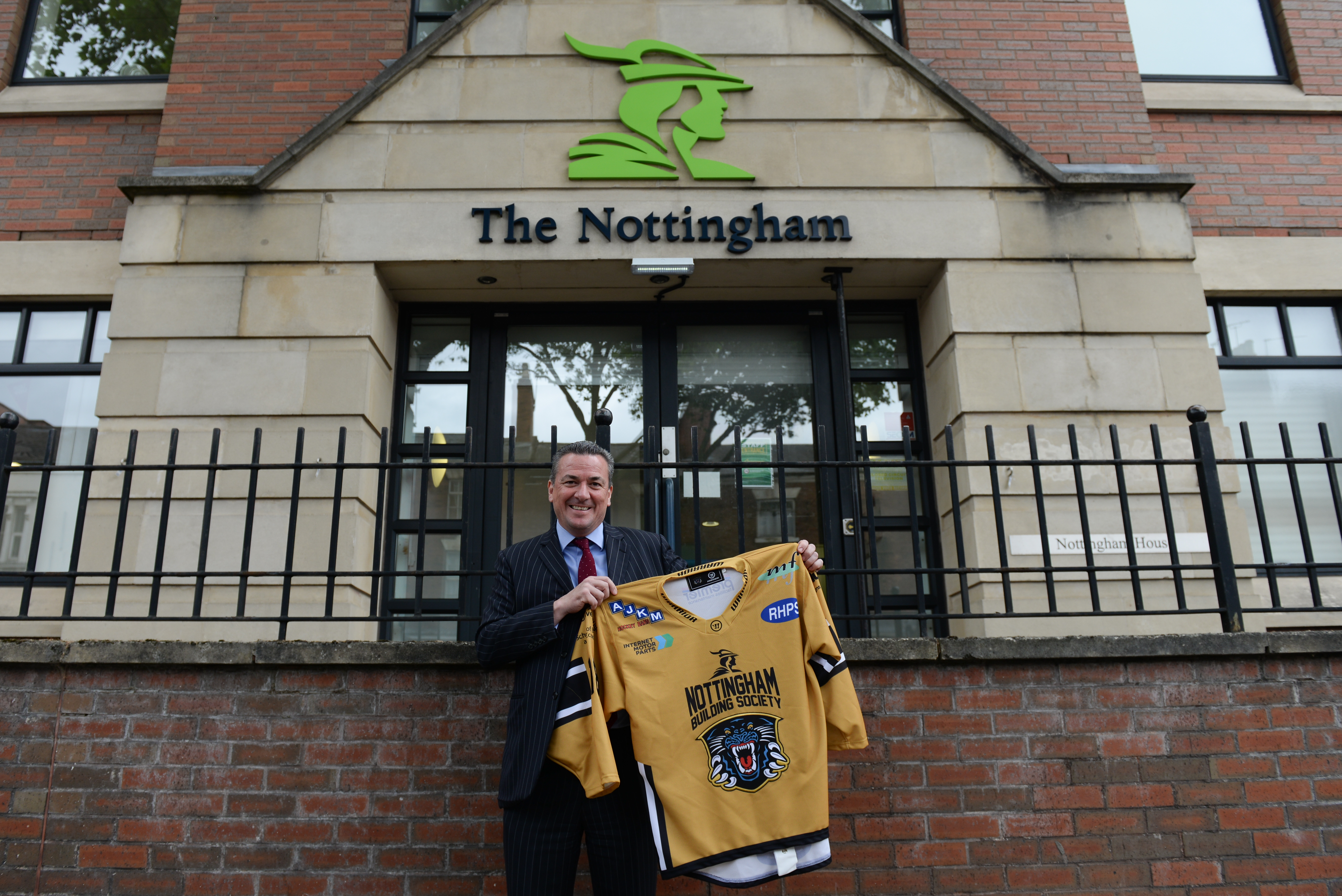 It was the first time that Ollie, Steve and Josh got to see the new shield they'd be defending, and they were very impressed.
Ollie said "playing for the club was always a dream of mine as a kid and it's great to see the new shirt I'll be representing week in, week out. I just can't wait to get back on the ice now!"
The Nottingham's CEO David Marlow is pictured at the shirt unveiling and commented; "As proud sponsor and official building society of the Nottingham Panthers, it was a pleasure to be among the first to see the new shirts.
"So many of our members and team are Panthers fans and they'll be delighted to see the partnership come to life on the new shirts."
Though The Nottingham have taken over as title sponsor, the GMB still feature on the new shirt in their new role as Community partner, featuring their brand new logo also.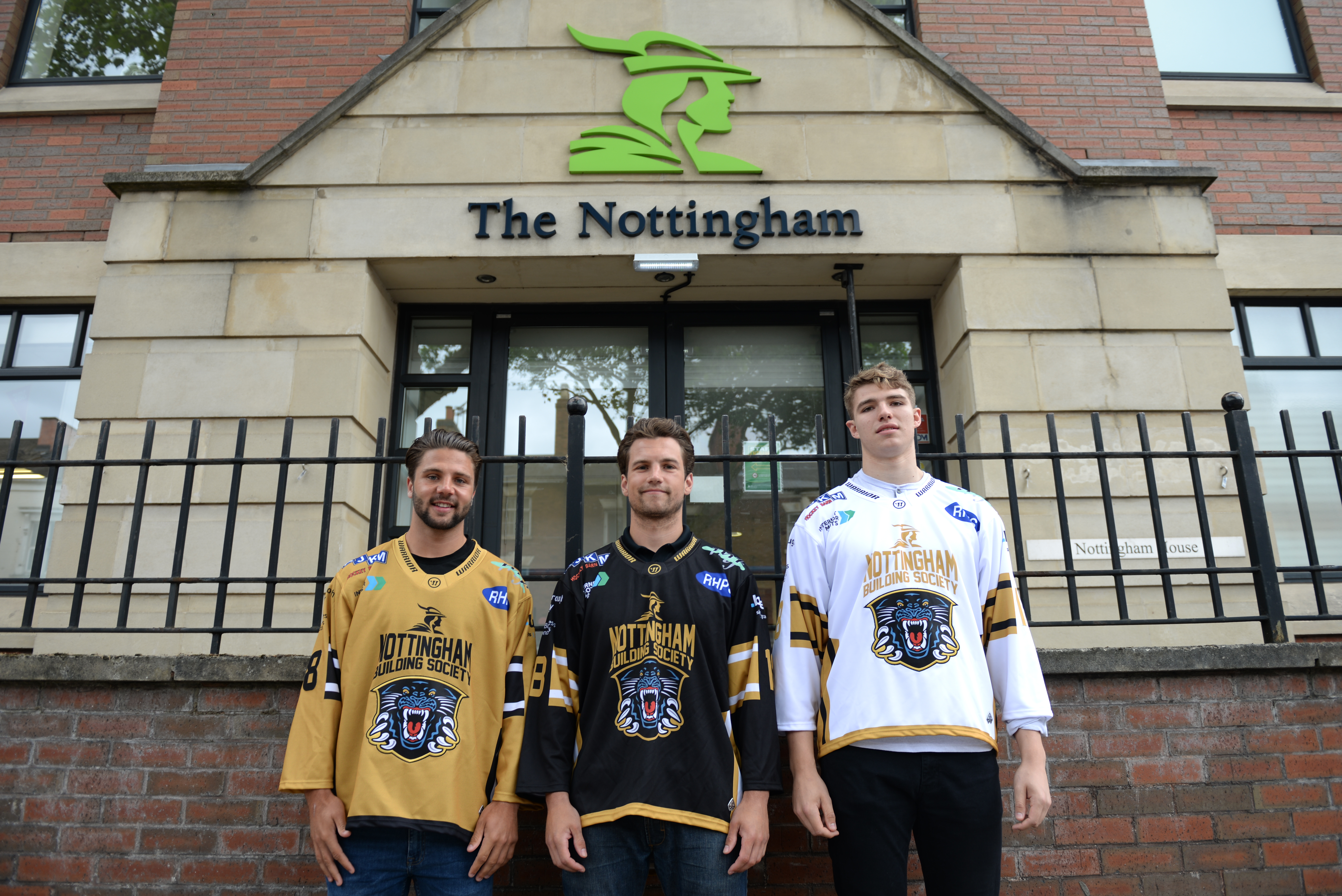 These brand new jerseys are now available to pre-order from the Ice Locker website!
Prices of jerseys have been frozen, so it's £55 junior and £70 senior.
We also introduced custom jerseys last year and that's back for the same £5 fee, so for just £60 your child could be coming to Panthers games with their own name and number on the back of their Panthers jersey!
There's also a brand-new style of jersey you can buy: Game quality!
For £100 you could get your hands on the exact same type of jersey as your favourite player is wearing on the ice, including a stitched name and number on the back.
Any jerseys ordered between the 19th & 9th of July will be delivered after the 6th of August.
Any purchased after the 9th will take 4-6 weeks to arrive.
To get your jersey ordered now, just click here.