Panthers vs Flyers: Gameday! - 18/11/18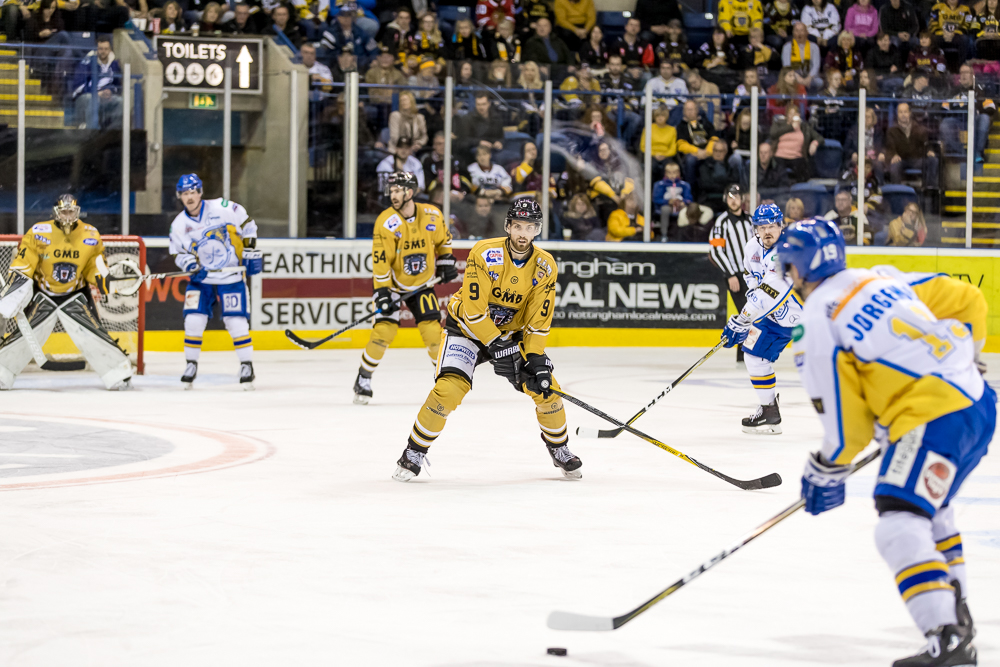 The Nottingham Panthers come in to tonight's game, face-off at 4pm, after picking up a point in an overtime loss at Cardiff on Saturday night whilst the Flyers will be looking to bounce back from a disappointing 2-6 home loss to the Sheffield Steelers.
You can buy on the door for tonight's game against second placed Fife, if you're planning on doing so we would advise on arriving with plenty of time to spare. To guarantee your seat before arriving at the arena you can call the Motorpoint Arena box office on 0843 373 3000 or by click the link at the top of the page.
Don't forget the limited edition 2018/19 'Panthers Annual' yearbooks (£12) and 'Pucks and Pups' 2019 calendars (£11 - featuring animals from RSPCA Radcliffe-on-Trent with every penny of profit going to Autism East Midlands) will be available to purchase for the first time at today's game, it's first come first serve and when they're gone they're gone.
LAUNCH DAY SPECIAL OFFER: Get both the yearbook and the calendar for a combined price of just £20 at Sunday's game!
The replica festive charity shirts have arrived so collect your pre-orders, or make your purchase, at today's game from the DVD stand on the concourse with all profits going to Autism East Midlands. Like the yearbooks and calendars the festive jerseys are limited edition & will be sold on a first come first serve basis.
Tonight's game is sponsored by the SALTBOX and Great Northern Inns, indulge the senses and relax in the beautiful SALTBOX bar right in the heart of Nottingham less than a wrist shot from the Motorpoint Arena - find out more here.
You could go home with the jersey of Team GB gold medalist Robert Farmer in the 'Shirt Off His Back' raffle, you've got to be in it to win it so get your tickets from the sellers around the arena and the lucky winner will be presented with the jersey, gameworn and sweaty, by Rob outside the Panthers' locker room after the game.
Robert Farmer's isn't the only jersey you could win, there are two more retro playoff jerseys to be won with the lastest edition of the 'Panthers Journal' match night magazine, on sale for the final time time at tonight's game after covering the home games against Belfast and Fife. Just pick up your copy, it's full of exclusive content you can't find anywhere else for just three pounds, and fill in the free to enter form on page 31 that you can hand in to any fifty-50, match night magazine or Shirt Off His Back seller (or post your entry into the Panthers' postbox on the fifty-50 desk) to be in with a chance of winning.
Planet Bounce sponsored Paws will be amongst the crowd during the period breaks with giveaways from Planet Bounce, Flowervision, Creams Cafe and Arena Catering. If you see him in your block be loud and you could go home a winner.
Our parking partners at Nottingham City Car Parks who operate the Motorpoint Arena Car Park are offering a new deal to fans from December 1st AND it matches their original season long deal at just £2 per game - find out all about it here.
If you're not planning on driving into town you can use your match tickets or season ticket cards to cash in on the £2 return deal on the NET Tram service.
The popular fifty-50 draw will, as always, be in operation.
After the game Panthers will be eating meals supplied by the Arena Catering team and their will be a whole team signing session under block 18 so bring your yearbooks, calendars and jerseys to get them personalised in time for Christmas.
The Nottingham Panthers main team sponsor is The Nottingham Building Society.