Tribute to parting friends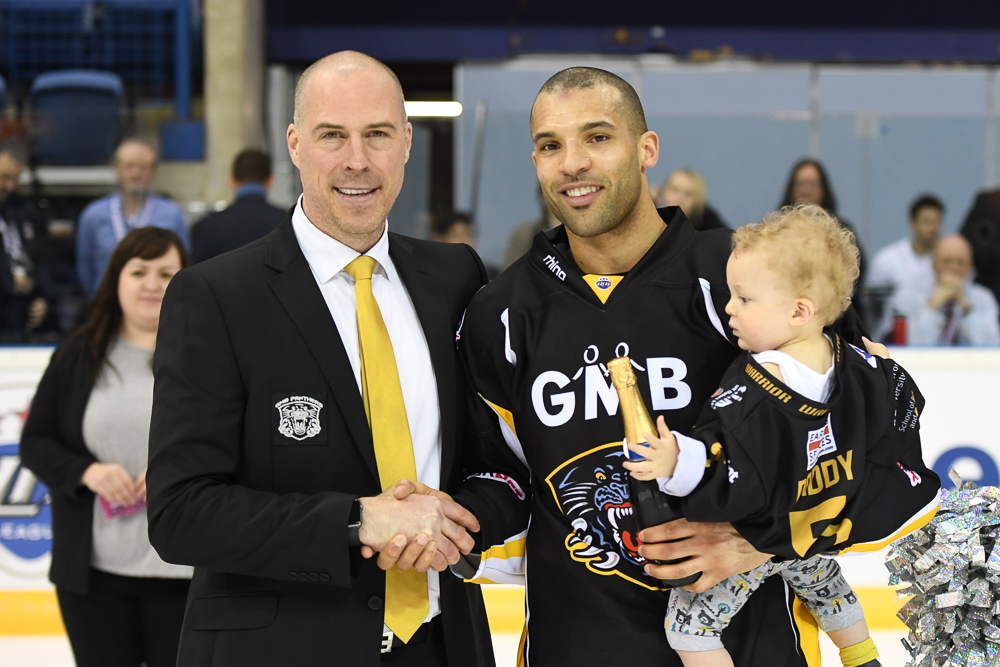 The Nottingham Panthers would like to thank their army of fans for another season of tremendous support, both home and away.
It was a season which started with some of the finest moments in the club's history, when we flew the flag so high and proud in the Champions Hockey League, and it was a season that closed with the most fitting of tributes to two club legends.
David Clarke's playing career has been long and successful and the vast majority of it has been in the black and gold uniform of the Nottingham Panthers.
We will have treasured memories of him lifting trophy after trophy as the club continued its growth with him in his beloved Number Five shirt.
The club is retiring that shirt in his honour and there will be a special ceremony when that happens at the start of season 2018-19.
Corey Neilson's coaching career has brought unprecedented success to the city of Nottingham and he has master-minded some heroic achievements, not least the CHL campaign this season and the numerous pieces of silverware along the way, including a grand slam and a Challenge Cup that was won so often by the Panthers it took a monumental effort by others to prize our hands off the trophy.
The fans paid a magnificent tribute to both Corey and David at their final game at the play-offs weekend.
The clock was stopped with exactly five minutes left on Sunday for David to take the applause from fans of all clubs and coach Neilson was equally hailed by the crowd at the final hooter.
Said Panthers' Gary Moran: "Sadly there was to be no fairy-tale ending for the pair but we're parting company with two great friends.
"It has been a joy to work alongside both of them and they will long be remembered by the fans of ice hockey in Nottingham and across the UK. It's time to remember the big picture and what they have helped Panthers' achieve and it is a big picture in which they have played not a big, but a massive, part".