190423 | London Marathon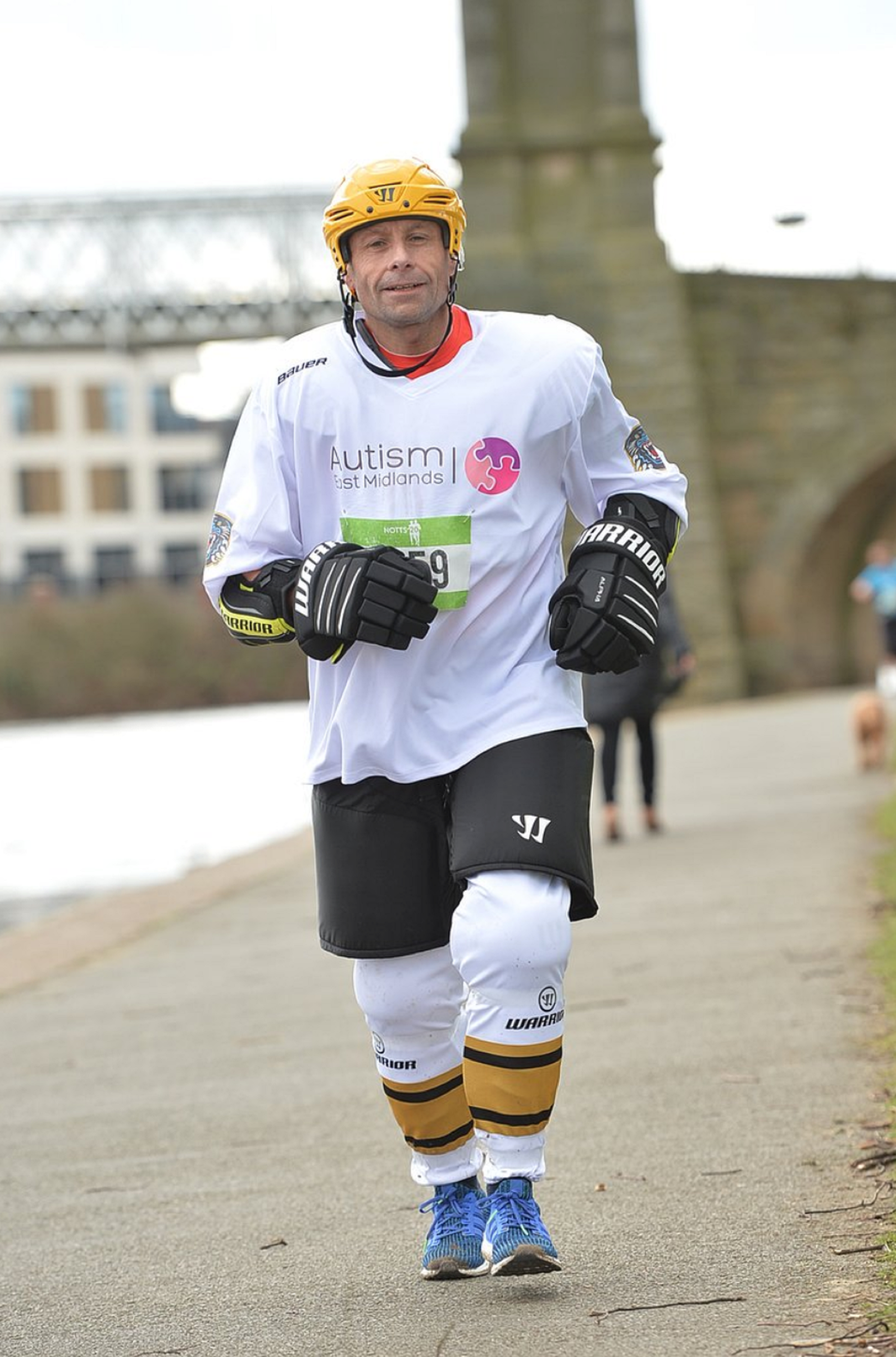 This Sunday, a member of the PanthersNation embarks on the challenge of a lifetime.
Andy Ball is going to take on the London Marathon to raise money for Autism East Midlands.
If running 26.2 miles wasn't enough, he's going to do it while aiming to break a Guinness World Record… by running it in full hockey gear!
With some items donated by THE NOTTINGHAM Panthers and Warrior, Andy has the kit sorted. Since then, it has just been the minor issue of training to run 26.2 miles in searing heat, without an ounce of normal ventilation.
But preparing to run hasn't been the only thing on Andy's mind.
He's also been trying to raise money for the Panther's official charity for season 18-19: Autism East Midlands.
Having been sent a target of £1600, Andy has flown past that to £2000 and is now aiming for £2,500!
Panthers.co.uk took the chance to catch up with Andy to see how things are going as the big moment approaches!
Q: So Andy, first and foremost, how's the training going?
A: Training hasn't been going too bad, have good and bad days. Took a few weeks to sort out the leg pads not moving round, which was a big irritation, but we are there now.
Q: Has it been as challenging as you expected to take on the marathon in that gear?
A: It has definitely been a big challenge and looking at the current record it's certainly a cracking time. Have said to quite a few people it is how hot you get just after a couple of miles even in cool conditions, that is the scary bit.
Q: What piece of kit has made it hardest to run in?
A: Wearing the helmet is the hardest part, as I don't even like running in a cap, and as it has no ventilation, sweat is dripping down after a mile.
The gloves are also a hindrance as again, hands get very warm, and if they were off it would regulate body temperature better.
I also seem to think I have to grip them tight to stay on, when in fact you don't, so you get tightness in shoulders.
Q: How do you feel about you chances of breaking the record?
If you had asked me that question about breaking the record 6 weeks ago, then I would have said no chance. I had to take 3 weeks off after the Notts 20 due to a very badly injured calf, which ended up with me in hospital checking to see if I had a blood clot on the my leg!
Since then I have gradually built it back up, and feeling more confident now, though I won't break 4 hours as I originally said.
As I have mentioned before, the current record is definitely a good one, though he was only 32 when he set it, and I am 55 so he had age with him!
If you want to help Andy get over that line, here's the page to donate to this fantastic cause: