191108 | Guide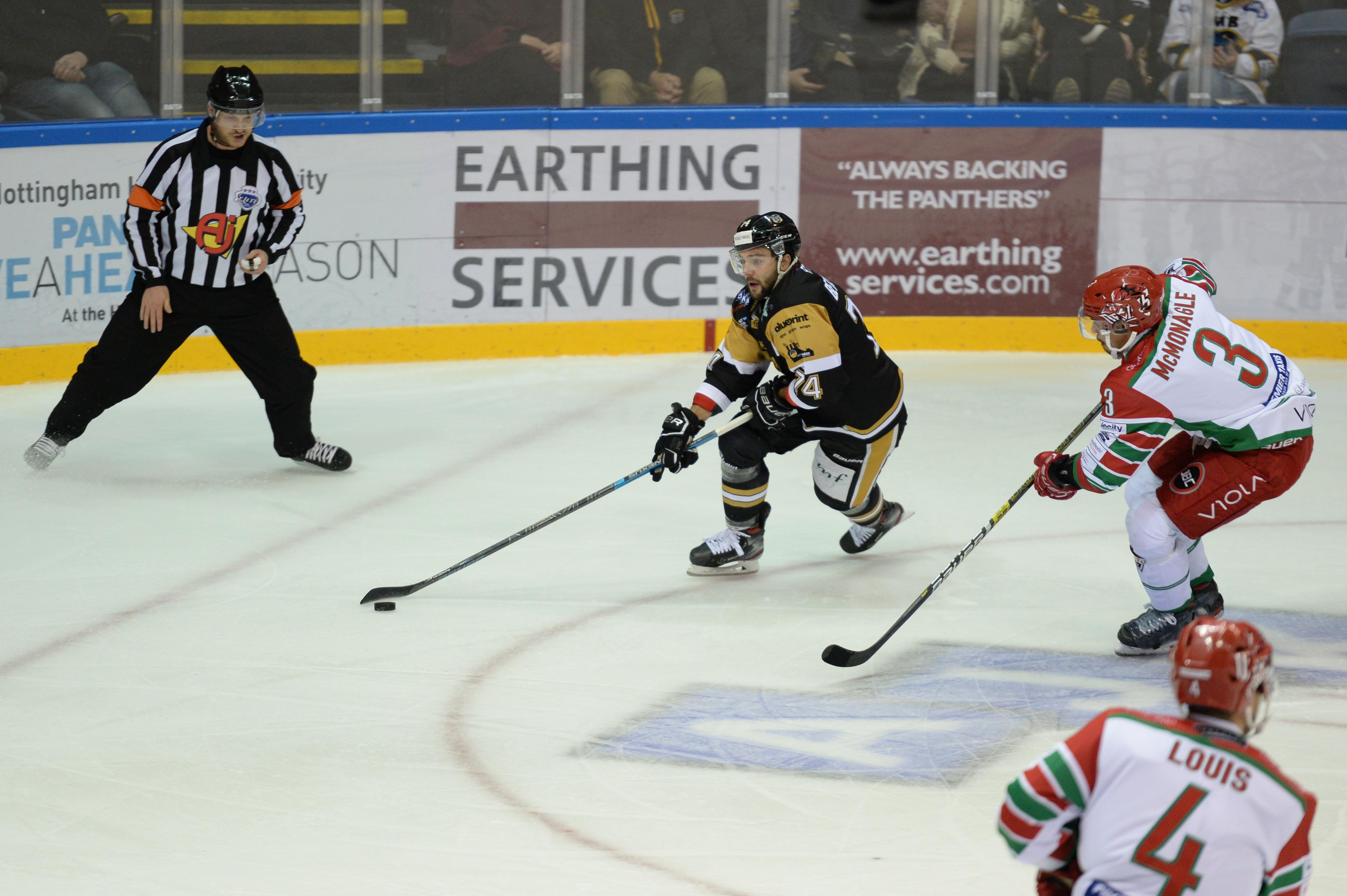 Ice hockey is played over three twenty minute periods with two intervals. The clock only runs down when the puck is in play so you get a full sixty minutes of action.
At full-strength the teams skate five-on-five (plus the goalies).
A game tied after sixty minutes will go on to sudden-death overtime and then penalties if needed. Manpower is reduced to three skaters against three skaters in overtime.
Two of the most common whistles (stoppages) occur for 'icing' and 'offside'.
Teams cannot 'ice' the puck from their own half to beyond the opposition goal-line unless they are clearly going to be the next team to touch the puck. If that's not the case, the play is brought back to the offending team's end of the rink and they cannot change their skaters.
Teams playing short-handed due to penalties CAN ice the puck.
Offside is whistled down if the puck does not enter the opposition's zone ahead of the skaters of the attacking team. The opposition zone is marked by a blue line across the rink.
The red line is the half-way line.
Penalties come in all shapes and sizes but basically fall into two categories. Minor penalties last for two minutes and major penalties for five minutes. When a team takes a penalty and the opposition doesn't, they have to play short-handed (they are on the penalty-kill). The opposition are on the powerplay.
If a team scores on the powerplay the rest of a minor penalty is washed out and the offending team, having suffered a goal against get their man back.
Powerplay goals do not cancel out the remainder of a major penalty and the full five minutes is served in the box.
The referees signal penalties to the time-keepers' bench and these signals (keep an eye out for them) are easy to understand. The announcer will broadcast the offence as well so fans know who has been penalised and for what.
If both teams take penalties at the same time these are not always put on the board, they are sometimes designated as 'co-incidental' and do not affect the manpower on the ice.
The referee will initially indicate a penalty by putting his arm in the air. If the team that has been offended against has the puck he will not whistle straight away and they have the opportunity to replace their netminder with an extra skater until the whistle is blown. As soon as the offending team plays the puck the whistle will be blown and the penalty will be activated. A goal scored during a 'delayed penalty' will wash out the penalty.
There are many pages in the full rulebook but our quick guide gets any newcomers off and running. Enjoy the game!