200214 | Awards Night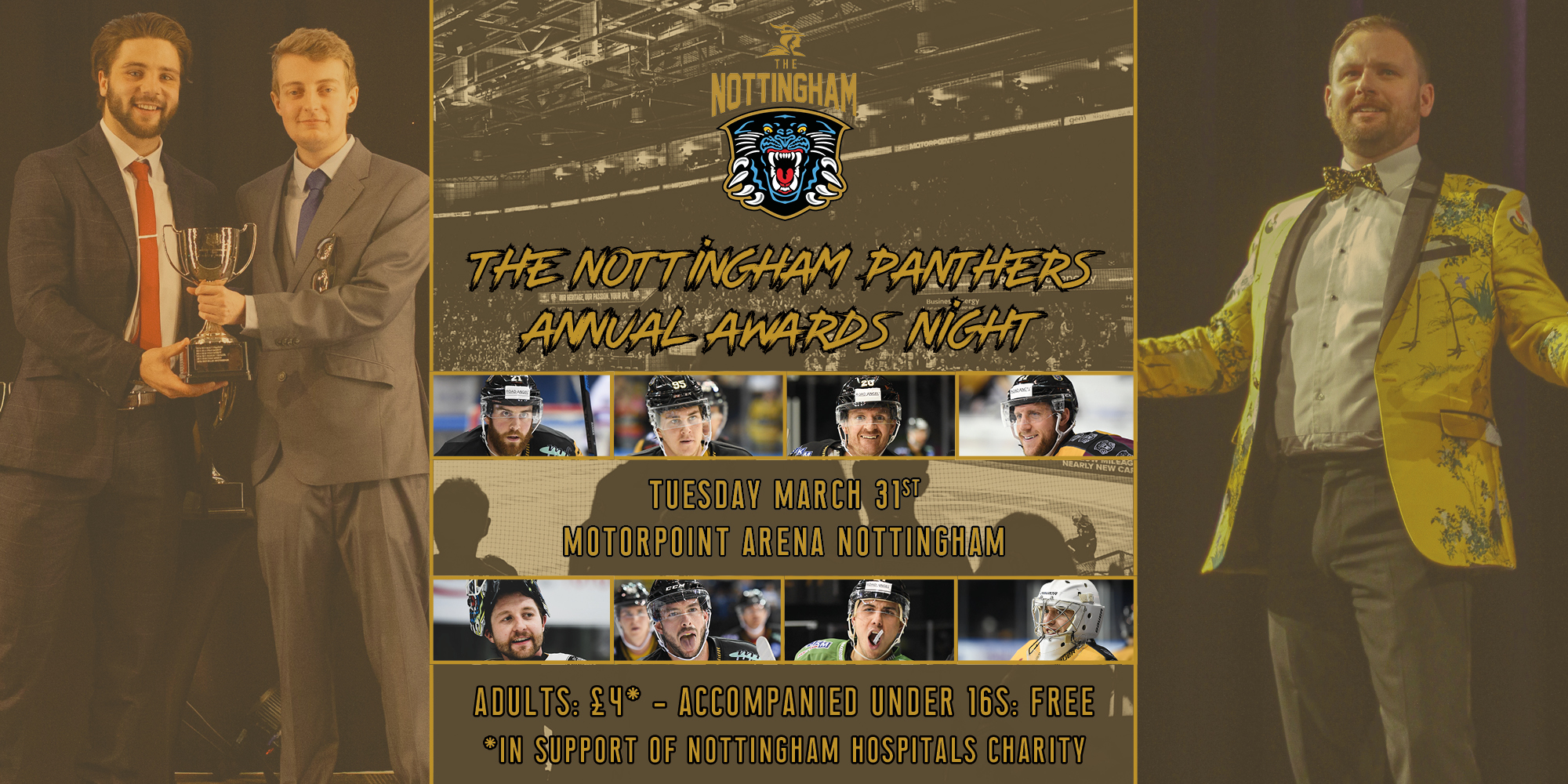 Our glamour night of the year – THE NOTTINGHAM Panthers' annual awards show – is being opened up to everyone for the first time and tickets are on sale now.
It's the first time we've been able to open the event up to everyone (first come first served) because we've moved venue.
This year for the first time the annual awards show will be staged at our new hosts – THE MOTORPOINT ARENA.
With the change in location we're proud and pleased to announce that we can open up the event beyond the VIPs and sponsors and player-sponsors.
Ticket prices are being set really low and will help fund-raising for the club's season long charity efforts. Prices will be just £4 for adults and nothing for accompanied kids 16 and under. Youngsters will need a ticket to get into the stands which can be snagged alongside guardian/adult tickets at the time of purchase.
The arena will not be adding any booking or facility fees, so apart from the VAT man's cut, everything will go into the fund-raising effort for Nottingham Hospitals Charity (Trent Cardiac Unit).
You can book your tickets by visiting the box office, calling 0843 373 3000 or by clicking here to buy online.
The event will see us taking over one end of the arena on the night of March 31st (Tuesday).
It will be unreserved seating in Blocks 9, 10 and 11, spreading back and around depending on demand.
Player-sponsors, our other sponsors and VIPs will be seated along with the Panthers' players on the seats on the floor of the arena, the scoreclock will be lowered to form a fitting backdrop and a stage will be built across the ice.
We'll have our camera team on hand so we can beam live pictures to the screen so that fans in the building won't miss a thing as the awards show builds up towards the ten main team awards.
The arena will be opening up the food and beverage facilities on the concourse and on the floor so everyone can make a night of it.
The annual fans' voting for their favourite player and the most entertaining player will be launched soon.
It promises to be a memorable night. See you there!