200625 | TCU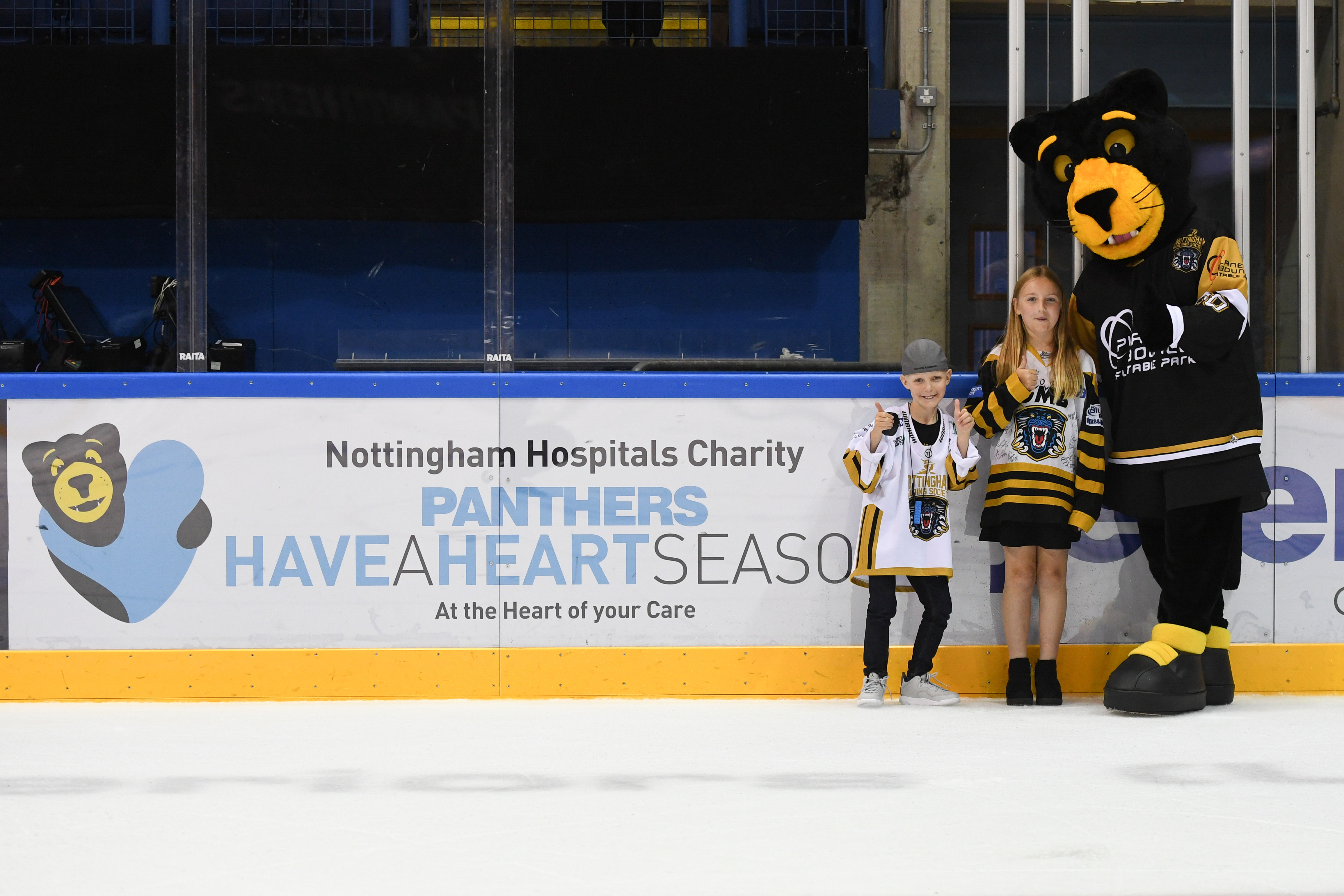 THE NOTTINGHAM Panthers are pleased to announce that thanks to the tremendous support of our loyal fans the fund raising efforts for the Trent Cardiac Unit have beaten all expectations.
At the start of last season the club launched their HAVE A HEART campaign aimed at raising money for the Trent Cardiac Unit at the City Hospital.
Heart ambassadors and Panthers' fans Lewis Blackburn, Tommy Bond and Abigail Dove helped launch the fund. Lewis used to play the national anthem for the club before being sidelined by illness which ultimately led to a heart transplant operation. Abigail had heart surgery more than once herself and Tommy had to undergo similar surgery to our own Gary Moran. The hockey-playing youngster will probably have to do so again and again as he grows up.
Our fund-raising included special Valentine's Day shirts sales, the auction of the special festive shirts, special wristbands, donations from our armed forces ticket giveaways, fund-raising by fans groups, the hugely successful meal out at the Snobby Bistro with Masterchef Professionals' winner Laurence Henry, and finally your donations from the abandoned annual awards show which had to be cancelled. The Panthers' travel group have just weighed in with £500 raised on their trips to away games.
Gary's book about his own experience – BROKEN HEART – continues to be available both in paperback and as a e-book on Kindle and includes a foreword by comedian Jasper Carrott. Initially we set out to hand over five thousand pounds to the Nottingham Hospitals Charities and we were always confident of reaching that target. Once it was achieved we doubled the target but we are thrilled to now announce we have managed to more than treble it.
As soon as it's safe to do so we are planning to have a ceremonial cheque presentation but the total raised has now reached just over £15,750.
As ever, we are grateful to fans for their support and their help with our fund-raising which is set to create something that will have a lasting legacy at the City Hospital.
Thank you.