200811 | Zamick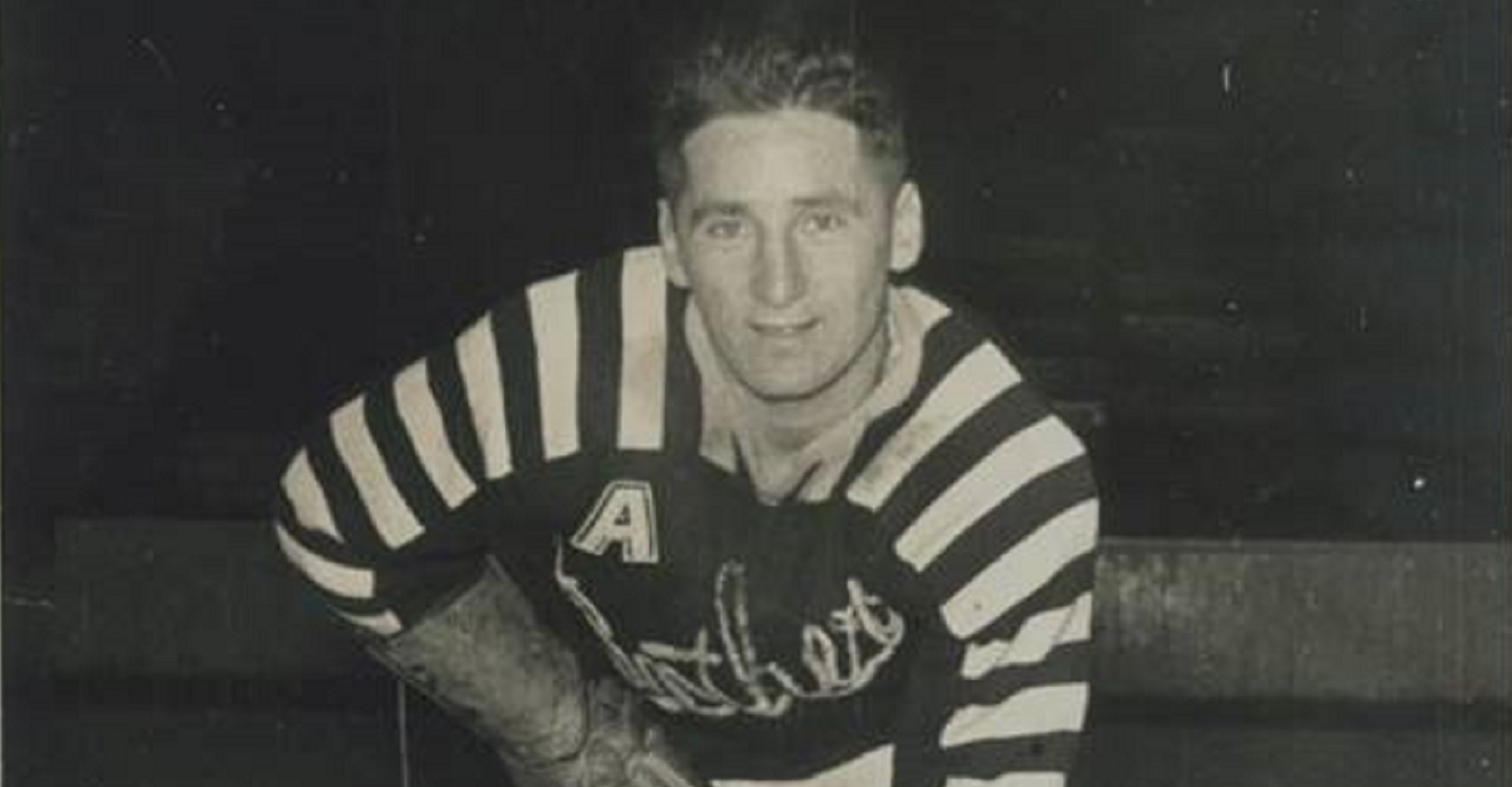 Victor "Chick" Zamick joined the Panthers in the second year of the club's operation.
As he would in eleven straight seasons he led the scoring in his first year (1947-48) with 65 goals and a total of 124 points in 56 games, just shy of double the points tally of his nearest club rival in the scoring charts.
Standing at just five feet six-and-a-half inches he was fast and skilled. The fans in Nottingham quickly fell in love with the Winnipeg- born sharp-shooter as they did for each of the following ten seasons.
He wasn't the only one of the ten surviving children of Ukrainian born parents to be called "Chick" in reference to a popular pack of chewing gum ("Chicklets") at the time of their growing up but the nickname stuck with little Victor and by the time he was lighting the lamp and giving goalies in Britain sunburn on their necks it was the only name he was known by.
He's one of only two Panthers' players ever to score more than a thousand points for the team. He won seven league scoring titles, and had 778 career goals with the Panthers with 645 assists in 624 games.
He finished as the club's top point scorer in every season and only failed to score above 100 points twice. His best season came in 1954-55 when he scored 169 points in 62 games. During the following campaign he coached the Panthers to the Autumn Cup, Ahearne Cup and League treble.
Chick Zamick was voted on to nine consecutive league all-star teams.
He left Nottingham to coach in Switzerland and later came back to play for two other clubs in the UK but he was and is best remembered as a hero of the Panthers. Whilst in Nottingham he voted the city's sportsman of the year more than once, regularly out-polling the then stars at Forest, Notts County and Nottinghamshire Cricket Club.
When he stopped playing he was involved in several businesses in the Nottingham area including a shopping mall food court, a squash club and a dry-cleaning enterprise before moving to London to be closer to family.
A plaque commemorating his time with the Panthers was unveiled, with him at the ceremony, in 2005 at the National Ice Centre. He died after a short illness in October 2007. He was 81.
Now for the first time in over 60 years a shirt bearing his namebar has been produced. The #10 Zamick shirt is the headline prize in the latest on-line raffle. There are five runners-up prizes of white game-quality Continental Cup "spares" from last season making it a formidable prize fund for this week's draw:
A LEGENDS #10 Zamick jersey
A game-quality goalie XL white Continental Cup jersey
A game-quality XL white Continental Cup jersey
A game-quality XL white Continental Cup jersey
A bagged game-quality XL white Continental Cup jersey
A bagged game-quality XL white Continental Cup jersey
They're all rare items. The deadline on this raffle is Sunday night (August 16th) 9pm.
The total number of tickets is limited so your chances of winning are enhanced. Not one but SIX prizes are up for grabs. Remember one of these exclusive pieces of Panthers' memorabilia could be yours for a stake of just one pound.
To join in the fun JUST CLICK HERE.
Please note our office is still under lockdown as we continue to protect you and our s