200914 | Raffle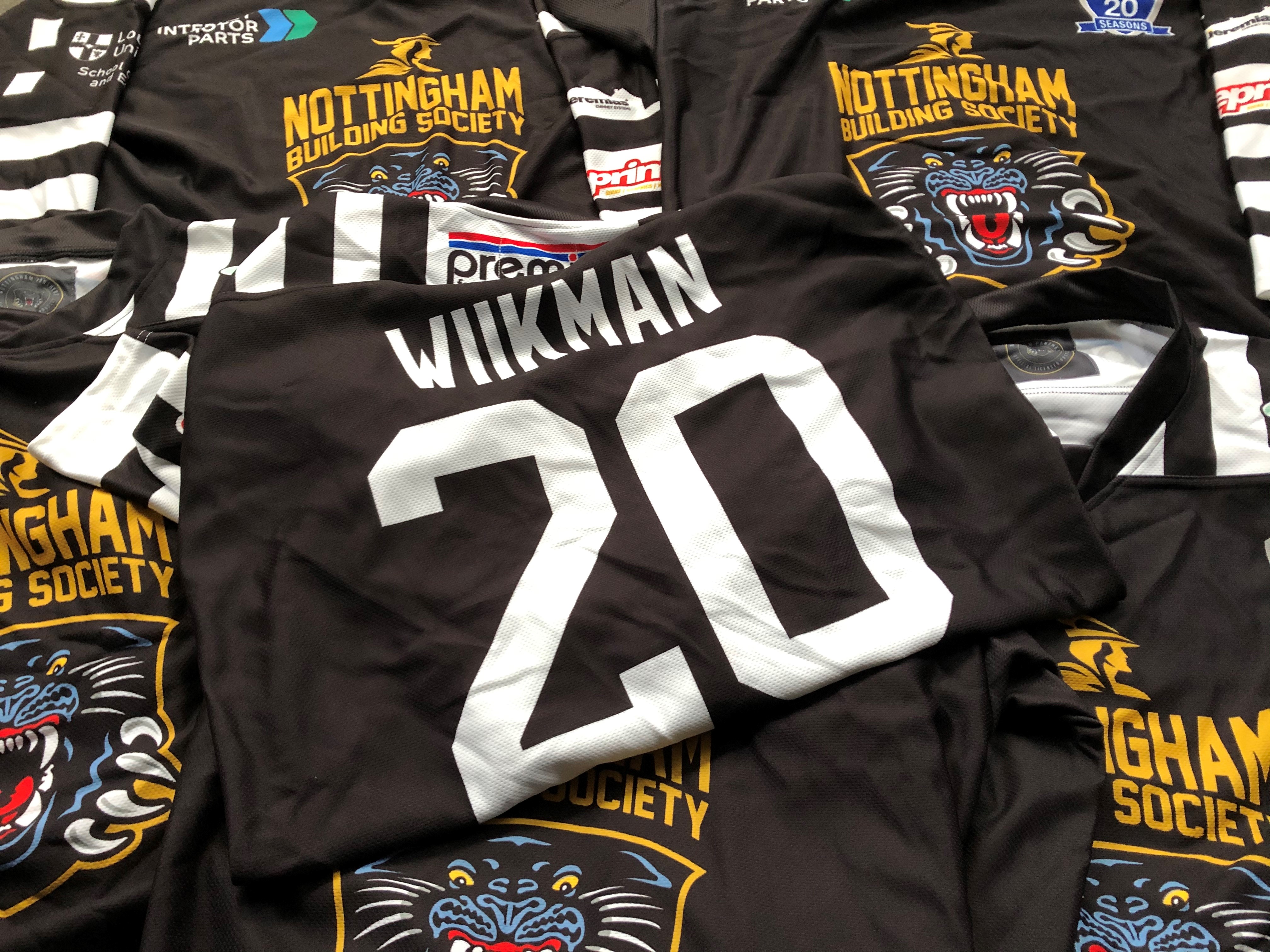 It's a MEGA PRIZE BUNDLE up for grabs on this week's Panthers' online shirt raffle.
We've got SIX very special and exclusive prizes up for grabs.
This week there's not one but two LEGENDS SHIRTS, there's not one but two GAME-WORN SIGNED SHIRTS and there's not one but two GOLD CONTINENTAL CUP SHIRTS in the treasure trove of prizes on offer.
The LEGENDS shirts are one-offs in a traditional design from the early days but carrying the modern logos and this week the prizes on offer include two fans favourites.
Netminder MIIKA WIIKMAN was the star netminder who back-stopped the Panthers to the cup and play-off double in season 2015-16 and then returned the following year to play a huge part in the club becoming the first British team ever to win a European title when Nottingham lifted the Continental Cup in 2017.
In 2004 against the odds the Panthers won the Challenge Cup in a season when JOHN CRAIGHEAD had 75 points and 190 penalty minutes. His #88 Legends shirt is also one of this week's prizes.
Added to their never-to-be-repeated LEGENDS jerseys are two game-worn signed white shirts from last season from British veteran #7 ROBERT LACHOWICZ along with British one-to-watch for the future #14 JORDAN KELSALL.
But that's not all, we're adding in two more prizes in the shape of two GOLD CONTINENTAL CUP shirts (spares without namebars/numbers) in the unique design made exclusively for last season's silver medal winning campaign in Europe.
It's a six pack of prizes and one of them could be yours for just a pound!
Click here to join in the fun!
The prize list for this raffle is:
A Legends #20 MIIKA WIIKMAN shirt
A Legends #88 JOHN CRAIGHEAD shirt
A white gameworn and signed #7 ROBERT LACHOWICZ shirt
A white gameworn and signed #14 JORDAN KELSALL shirt
A gold Continental Cup "SPARE" jersey
Another gold Continental Cup "SPARE" jersey
They're all rare items. The deadline on this raffle is Sunday night (September 20th) at 9pm.
The total number of tickets is always limited so your chances of winning are enhanced and they're multiplied by six with the size of the prize fund on offer this week. Remember one of these exclusive pieces of Panthers' memorabilia could be yours for a stake of just one pound.
Please note our office is under limited access opening as we continue to protect you and our staff. Winners will be notified and prizes sent out. You won't have to wait too long. Thanks for your patience, the prizes are all unique ... It'll be worth the wait.
GOOD LUCK EVERYONE. STAY SAFE.