200923 | TCU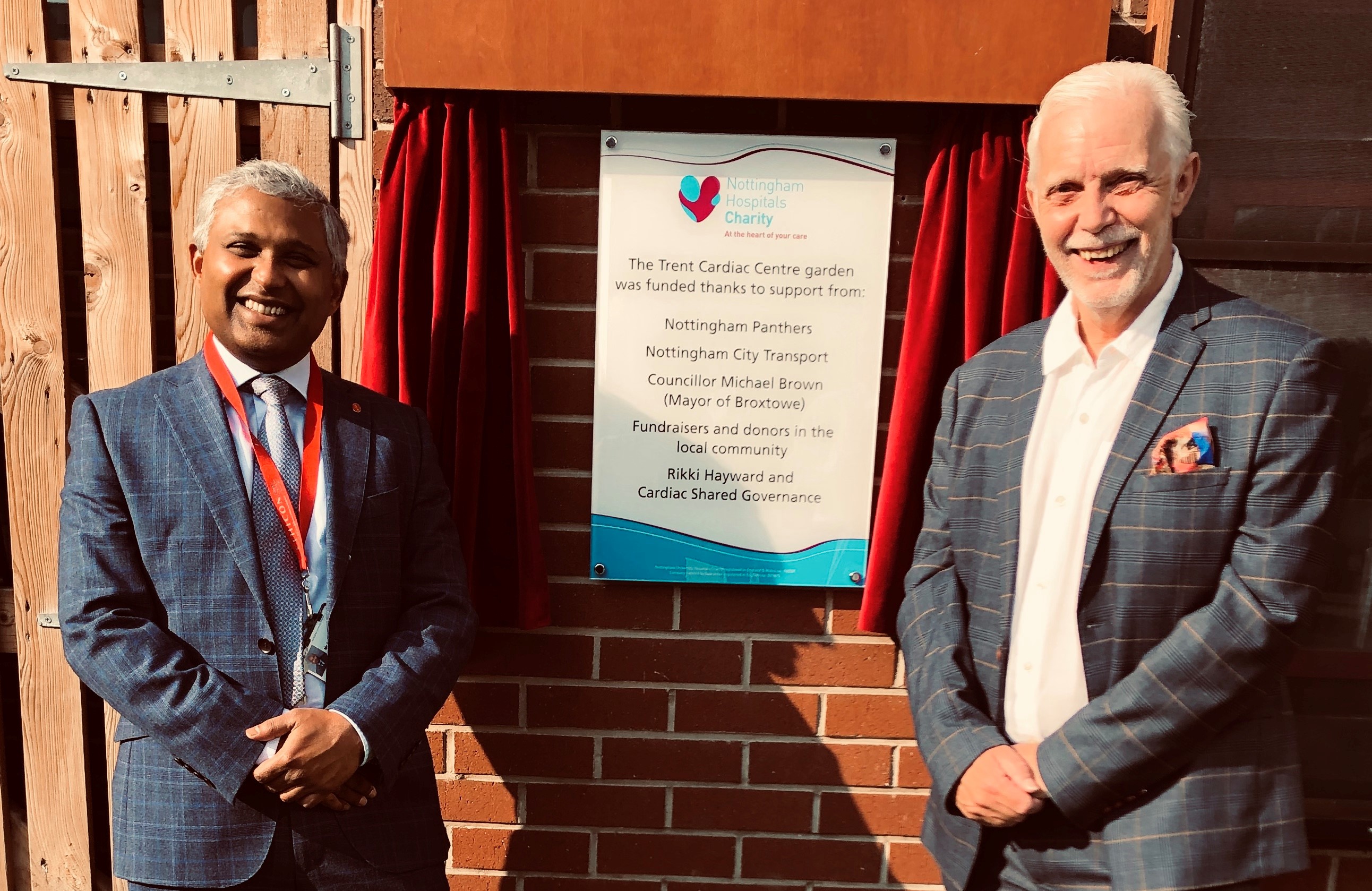 At a socially distanced ceremony the new Trent Cardiac Centre Garden was officially launched at the City Hospital.
Panthers' fans helped raised funds which went a long way towards creating the garden on the site of a previously derelict children's play area and waste land.
The garden was designed to give staff and patients at the specialist heart unit somewhere to sit outside and relax. It will also give relatives somewhere to chat. The garden is right in the middle of the hospital complex and has transformed the entrance area to the heart wards.
Panthers' Gary Moran was at the ceremony on behalf of the club and was invited to pull the cord to unveil the plaque thanking the various parties who donated to the costs.
The club raised nearly £16,000 for the unit last season – a year after Gary underwent life-saving heart surgery.
He told the guests the club had had fantastic support from fans and had used a variety of fund-raising efforts to bring in the cash : "We had two lots of special shirts, one for Christmas, one for Valentine's Day (covered in hearts of course), we had wrist bands, we had a meal out with the players working as waiters, fans held fund-raisers in their gardens, we had our annual PUPS and PUCKS calendars with the players. And as much for awareness as anything I wrote a book, called BROKEN HEART (you can still buy it from the Panthers' office or on KINDLE) for which comedian Jasper Carrott kindly wrote the foreword.
"People talk about sporting heroes but ice hockey teams don't save lives, we might break the monotony of peoples' day to day lives, not at the moment sadly but in normal times, that's our claim to fame. But it's the staff here at places like the Trent Cardiac Unit who are real heroes, proper, bona fide superstars. We're happy, along with your other sponsors and supporters, to have helped with our contribution."
Our pictures show the permanent plaque at the garden, the garden itself, a special chain-saw carved statue made from one of the dead trees at the site, and also there's Gary and his consultant Shan Shamuganathan.