201019 | Halloween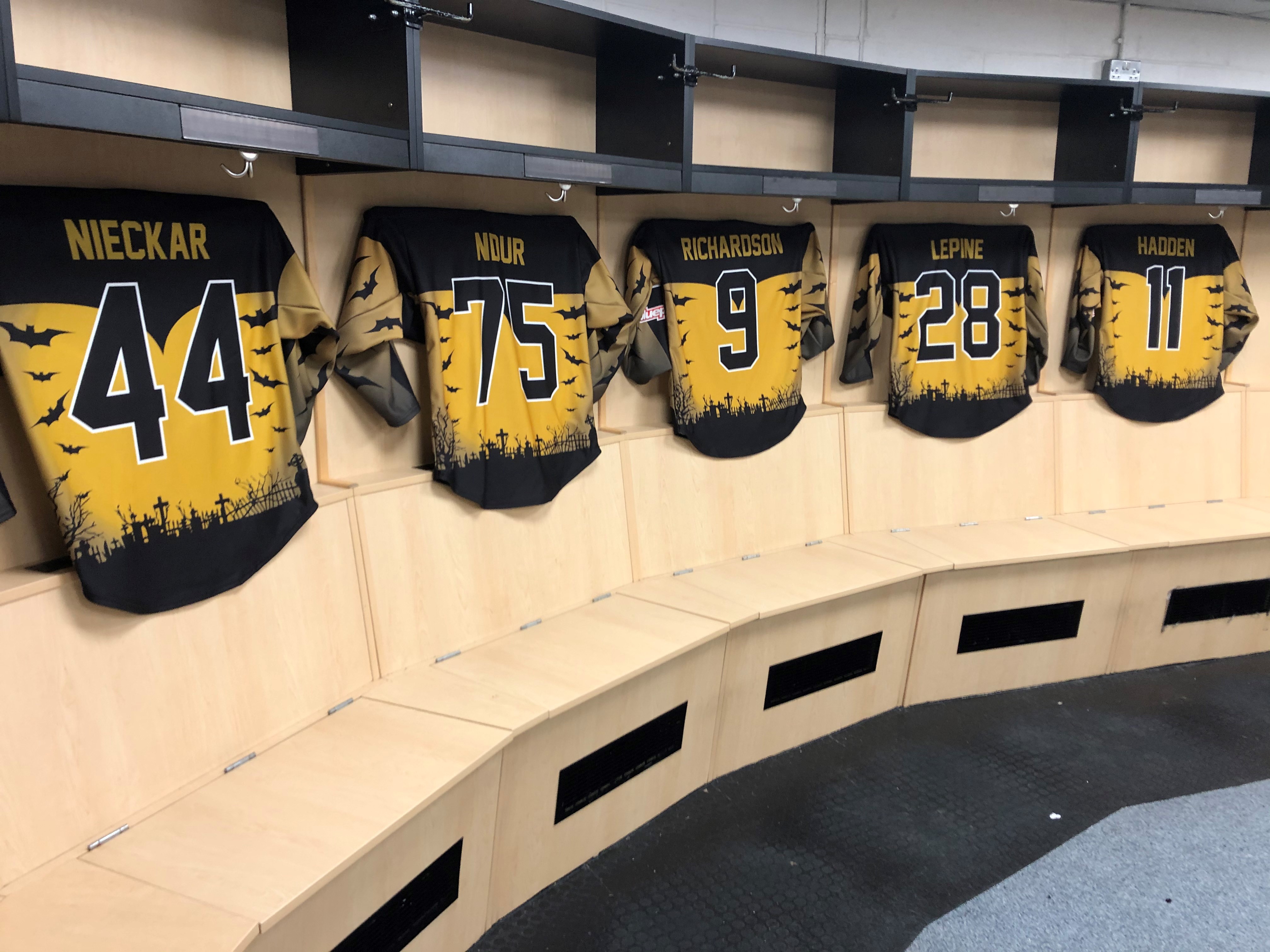 Throughout October fans have had a chance to win our exclusive bat-to-the-bone designer shirts. Throughout this week we'll be flying round the world to bring you a flavour of how they celebrate this time of the year in various countries across the globe.
First though, we reveal the latest line-up of prizes that are up for grabs.
We've had fifteen Halloween shirt winners so far and the last five shirts feature the numbers and namebars of another line-up of fearless competitors who left the opposition under no illusions at the end of any game that they'd been in a battle with the Panthers.
They're not all out-and-out heavyweights. As previously mentioned the bat-to-the-bone Panthers' line-up includes middleweights who played with passion – PANTHERS' PASSION – every shift of every game.
Having said that, one heavyweight always stands out in the memories of fans, team mates and opponents alike. Barry Nieckar was a perfect gentleman off the ice.
On it, he was a fierce competitor who will forever be remembered for the night of February 9th in 2001 when he stuck up for his team mates like the warrior that he is.
Bringing the latest line-up bang up to date we've also got a shirt for Gui Lepine in our last batch of Halloween specials.
Then there's Rumun Ndur, the first Nigeria born NHLer had 189 penalty minutes in 33 games with the Panthers after crossing from the other side of the Midlands.
And completing the latest prize fund are two middleweights who never bothered to check the size nor the reputation of opponents who stepped out of line. Bruce Richardson bore a grudge as well as any Panther and Greg Hadden was as happy dropping gloves as he was setting scoring records.
So, the latest prize list features:
#44 BARRY NIECKAR
#28 GUI LEPINE
#75 RUMUN NDUR
#9 BRUCE RICHARDSON
#11 GREG HADDEN
We hope one day to wear the exclusive design by fan Andrew Cunnington in a real game at Halloween but for now these are the shirts of their kind and the only way to get hold of one is by joining in the on-line raffle fun.
The deadline on this raffle is Sunday night (October 25th) at 9pm.
The total number of tickets is always limited so your chances of winning are enhanced and multiplied by five with the size of the special prize fund that's on offer this week. Remember one of these exclusive pieces of Panthers' memorabilia could be yours for a stake of just one pound.
Please note our office is under very limited access opening as we continue to protect you and our staff. Winners will be notified and prizes sent out. You won't have to wait too long. Thanks for your patience, the prizes are truly unique. It'll be worth the wait.
GOOD LUCK EVERYONE. STAY SAFE. HALLOWEEN IS COMING AT YA LIKE A SIX FEET SEVEN INCH PANTHER FROM THE OTHER SIDE OF THE ICE.
YOU KNOW WHAT EVERYONE WANTS TO WEAR THIS YEAR FOR TRICK OR TREAT NIGHT AND THERE'S ONLY ONE WAY TO GET YOUR HANDS ON ONE AND THAT'S BY WINNING THE ONLINE RAFFLE.