201223 | Durdle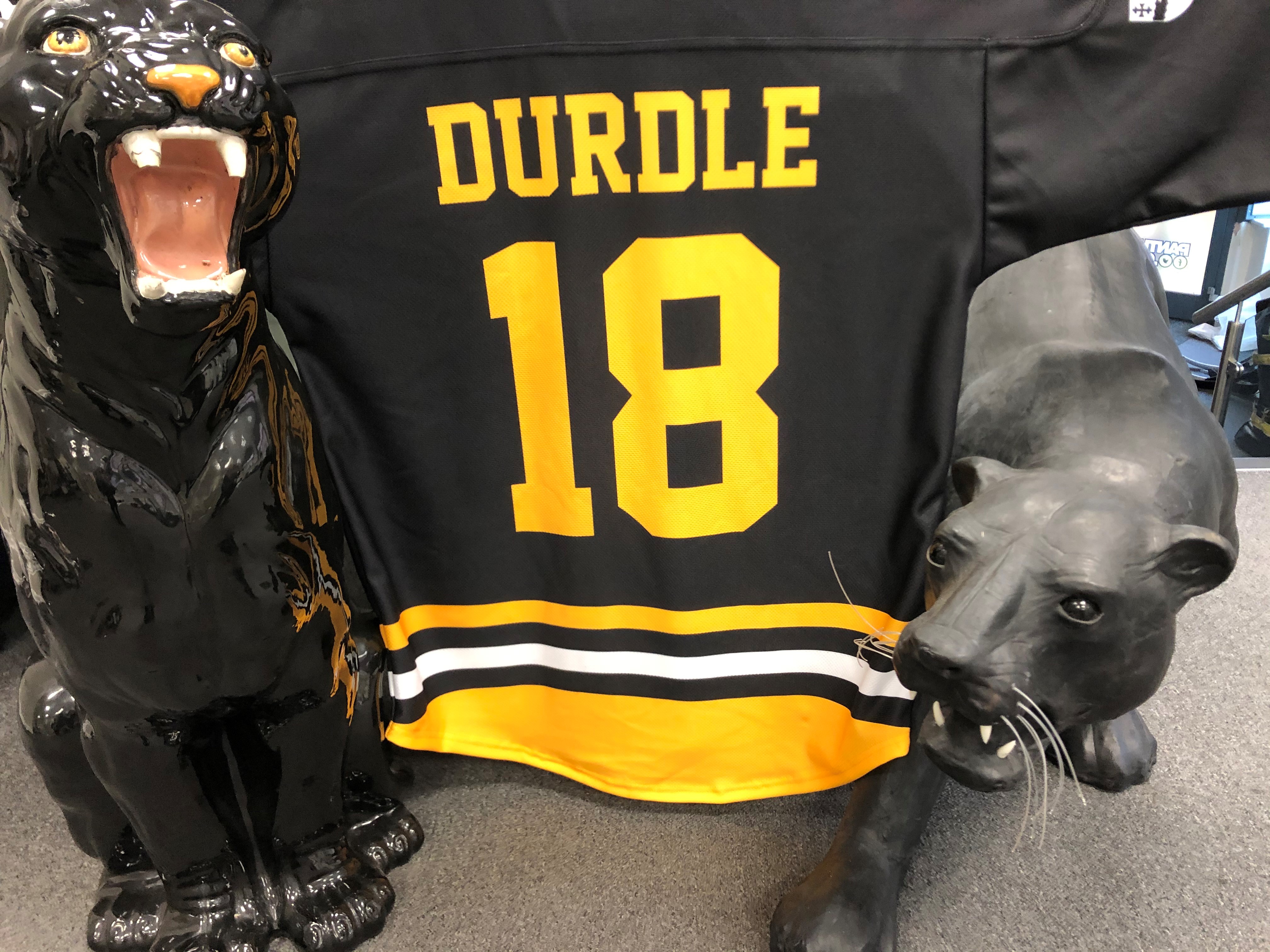 To celebrate the fortieth anniversary of the sport's return to the city we've had replica shirts made from that era's biggest achievement – Wembley 1989. The first five made up the prizes in last week's popular online draw.
Now, we are onto the second half of this special prize-fund with this week's shirts bearing the namebars and numbers of the two 'import' defencemen alongside three of the Brits who played such an important role in confounding the odds and bringing the most sought after of trophies back to Nottingham.
The design is proving very popular but with five prizes up for grabs and a limit on the total number of tickets sold you're still in with a good chance of lifting a rarity amongst Panthers' memorabilia.
Back in 1989 coach-of-the-year Alex Dampier broke the mould in the three-import era by signing two Canadian defencemen and just one forward. He put his trust in the club's British players to take on the responsibility of helping with the scoring. Everyone else had two foreign forwards lighting the lamps around the league. Dampier's plan worked and the team's first ever trip to the play-off finals weekend at Wembley saw them come back with the trophy.
Amongst those defencemen who 'jumped into the play' and 'rushed the puck' at will was tall and lanky blueliner Darren 'Doc' Durdle.
His nickname had nothing to do with his profession or even any studies away from the rink. It had everything to do with the way he engineered his stick, paying particular attention to the blade. In the days before manufacturers met everyone's individual wishes with moulds and patterns by the thousands, players would heat up their sticks themselves and bend them into the right curve to suit their own styles and shots.
In Darren's case he didn't like a great deal of heft on the blade and he would file them down so they were just about half as wide or deep as when they left the factories. It was this "doctoring" of his sticks that earned him his moniker in the locker room and beyond.
Doc's #18 shirt is amongst the unique replicas up for grabs in this week's on-line raffle as part of the official prize list that reads:
#9 KURTENBACH
#18 DURDLE
#10 WEBER
#6 FRASER
#8 BREMNER
These shirts are stunning replicas of the originals with a traditional black body with gold and white sleeve and welt stripes PLUS the authentic front of jersey logo from the time.
And the only way to get hold of one is to win one.
It's just a pound a ticket. To join in the fun, simply CLICK HERE.
Good luck everyone!