210128 | Valentine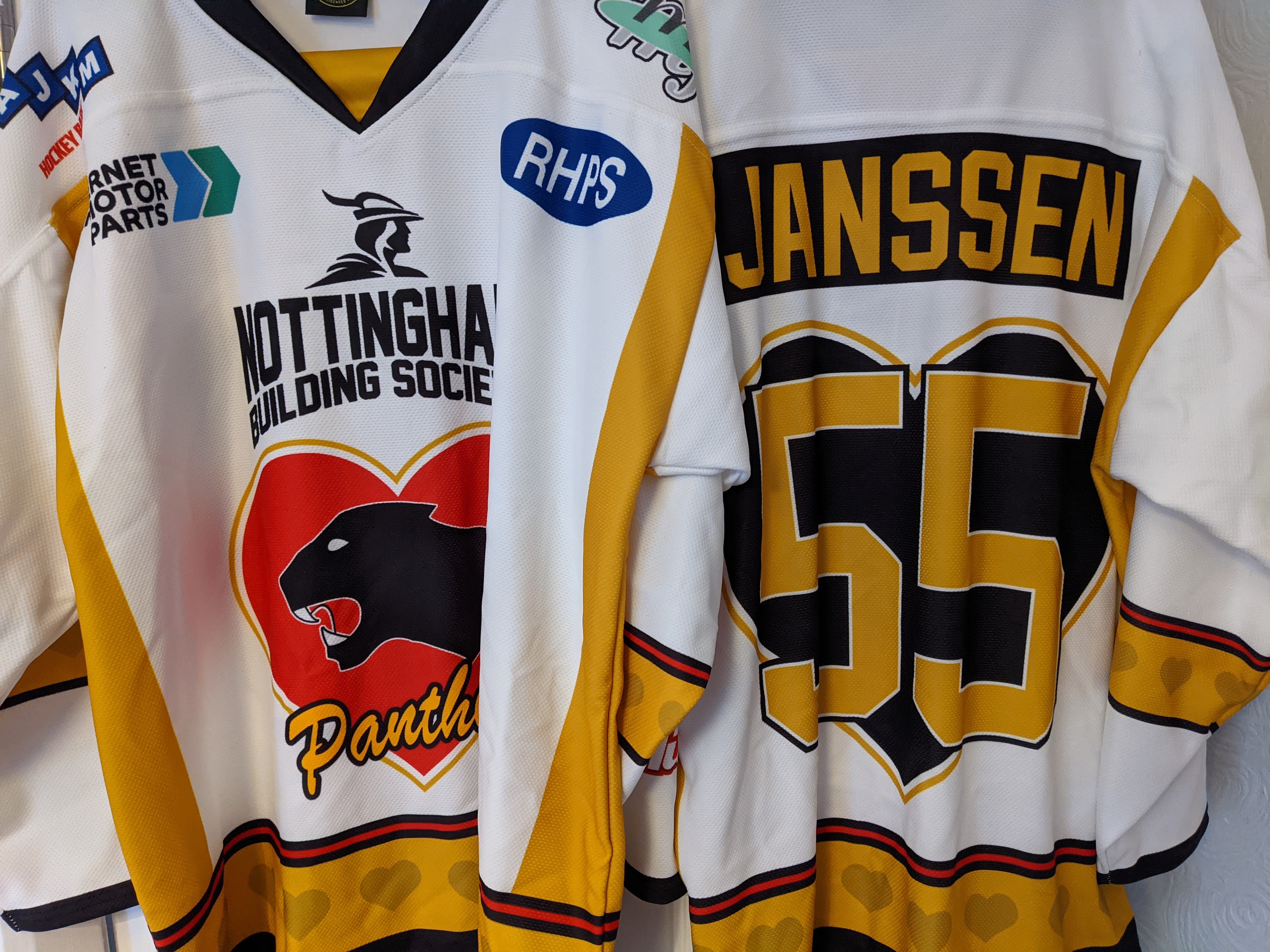 Was he a lover not a fighter or was he a fighter not a lover? Whatever the answer Cam Janssen is one of the most popular players to pull on a Panthers' jersey in recent seasons and that's why his shirt is amongst the latest batch up for grabs in the second of our unique Valentines' design draws.
The other prizes this week are: netminder Craig Kowalski who back-stopped the team to many a trophy including the league title and the Grand Slam breaking opponents hearts along the way; Scandinavian defenceman Calle Carlsson who was so smooth along the blueline that he prevented an incoming future long-standing coach from wearing his favourite #77 shirt for a year; Cameron Mann who had to hang upside down like a bat because of a back problem before games but then skipped around the ice like a butterfly to defy the opposition; and current Director of Hockey Gui Doucet who turned to hockey rather than the catwalk when picking his career options.
It's a stunning prize list and with a cap on the number of tickets and five shirts on offer your chances of winning are enhanced.
Heart-throbs, heart-breakers and heart-racers abound in the official prize list of:
#33 Kowalski
#77 Carlsson "C"
#55 Janssen
#27 Mann
#52 Doucet
We're aiming to wear the design of these shirts on the ice when we can but with the best will in the world, in the current circumstances, we have no idea when that might be! We wish we did.
We've had some stunning special shirts during the pandemic and we think this is another unique addition to the shirts' family.
But you've got to be in it to win it.
It's just a pound for a chance to do just that!
This draw runs until Sunday January 31st at nine o'clock in the evening.
The number of tickets is limited as usual so with five prizes each week we're again boosting your chances of winning some more exclusive Nottingham Panthers' memorabilia.
CLICK HERE TO JOIN IN THE FUN!
Good luck everyone!
STAY SAFE, STAY HOME AND WE'LL SEE YOU AS SOON AS WE CAN!