210202 | Valentine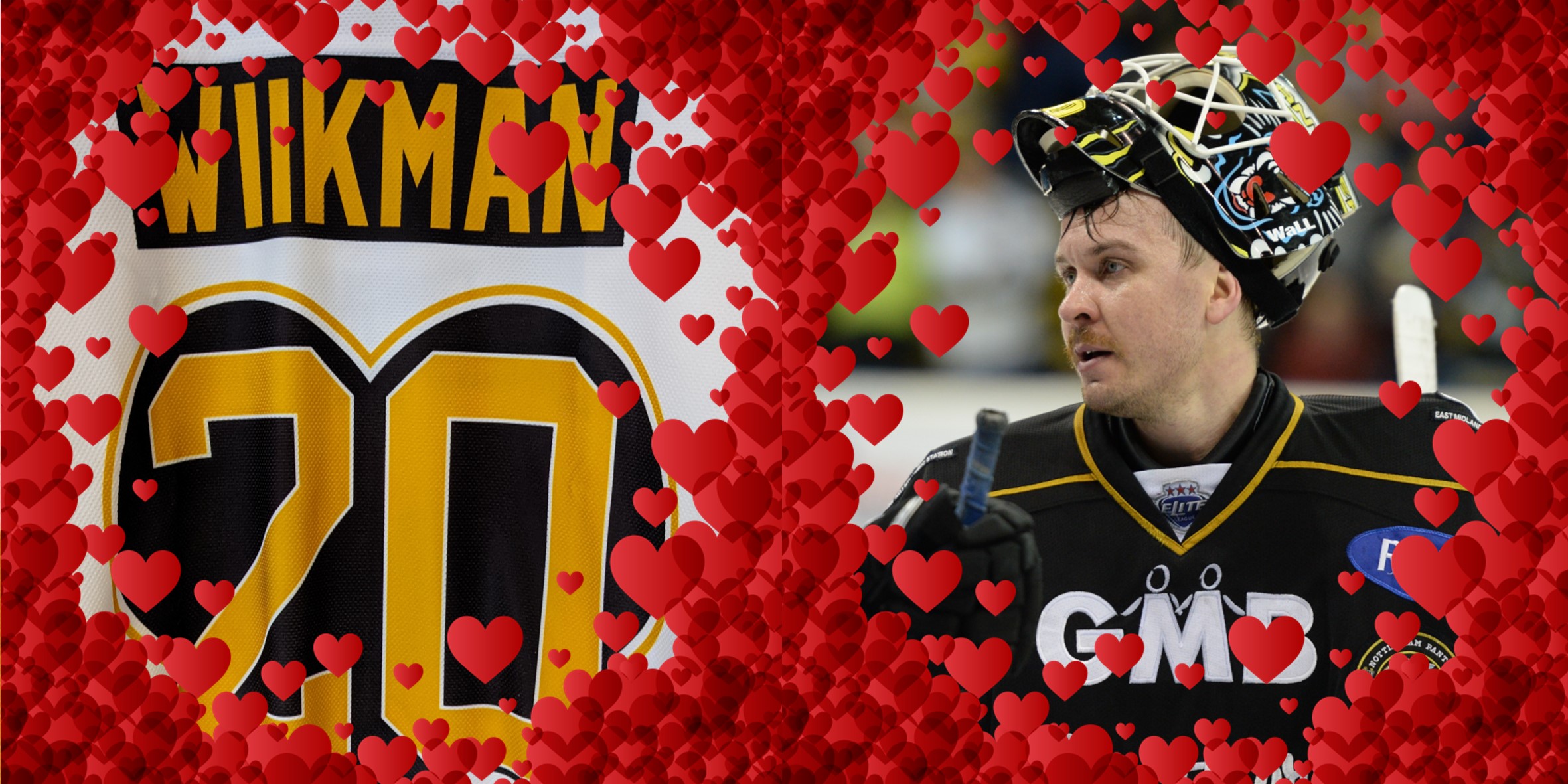 Section number three of this year's heart breakers, heart racers and heart throbs shirts' raffle got off to a flying start on Monday with five more designer jerseys on offer.
Included in this batch are netminder and fashion guru Miika Wiikman who was always bang on trend with his clothes choice as he walked into the arena for home games AND points legend Paul Adey who was the subject of a risqué made-up anecdote about the opposite sex at one annual awards show. Even though it was obviously a gag that had been adapted for the Panthers' star forward at the time, his then girlfriend quietly asked the compere after the show if it had been true? The compere owned up and admitted he'd made the whole thing up!
Our Valentines' shirts online raffle has moved seamlessly into week three with the aforementioned two players and three more making up another batch of fans' favourites in the latest draw of top prizes.
With our idea of a heart-breaker being a netminder who broke the hearts of opponents who thought they were about to score PLUS a couple of heart-racers who got the fans pumped when they stole in on goal at the other end of the ice AND perhaps a couple of heart-throbs who could have looked as at home on the cat-walk as in a Panthers' uniform, this week's lovers and fighters full line-up is:
#20 Wiikman
#22 Adey
#37 McAslan "C"
#28 Lepine "A"
#13 Kolnik
Netminder Miika Wiikman broke many a forward's heart as he denied them a chance to score as he back-stopped the team to domestic and international success. Forward Paul Adey holds the club points scoring record and will never be surpassed. Sean McAslan was a leader on and off the ice. Gui Lepine inspired first time around and again during his current second stint with the club and Juraj Kolnik was a class act who often turned a game single-handed both at the Panthers, in the NHL and across Europe.
We're aiming to wear the design of these shirts on the ice when we can but with the best will in the world, in the current circumstances we have no idea when that might be! We wish we did.
We've had some stunning special shirts during the pandemic and we think this is another unique addition to the shirts' family.
In all there will be four Valentines draws with the last one starting next week but on offer in this week's draw are the five unique prizes mentioned above.
As always though, you've got to be in it to win it.
It's just a pound for a chance to do just that!
This draw runs until Sunday February 7th at nine o'clock in the evening.
The number of tickets is limited as usual so with five prizes each week we're again boosting your chances of winning some more exclusive Nottingham Panthers' memorabilia.
CLICK HERE TO JOIN IN THE FUN!
Good luck everyone!
STAY SAFE, STAY HOME AND WE'LL SEE YOU AS SOON AS WE CAN!