210312 | FitC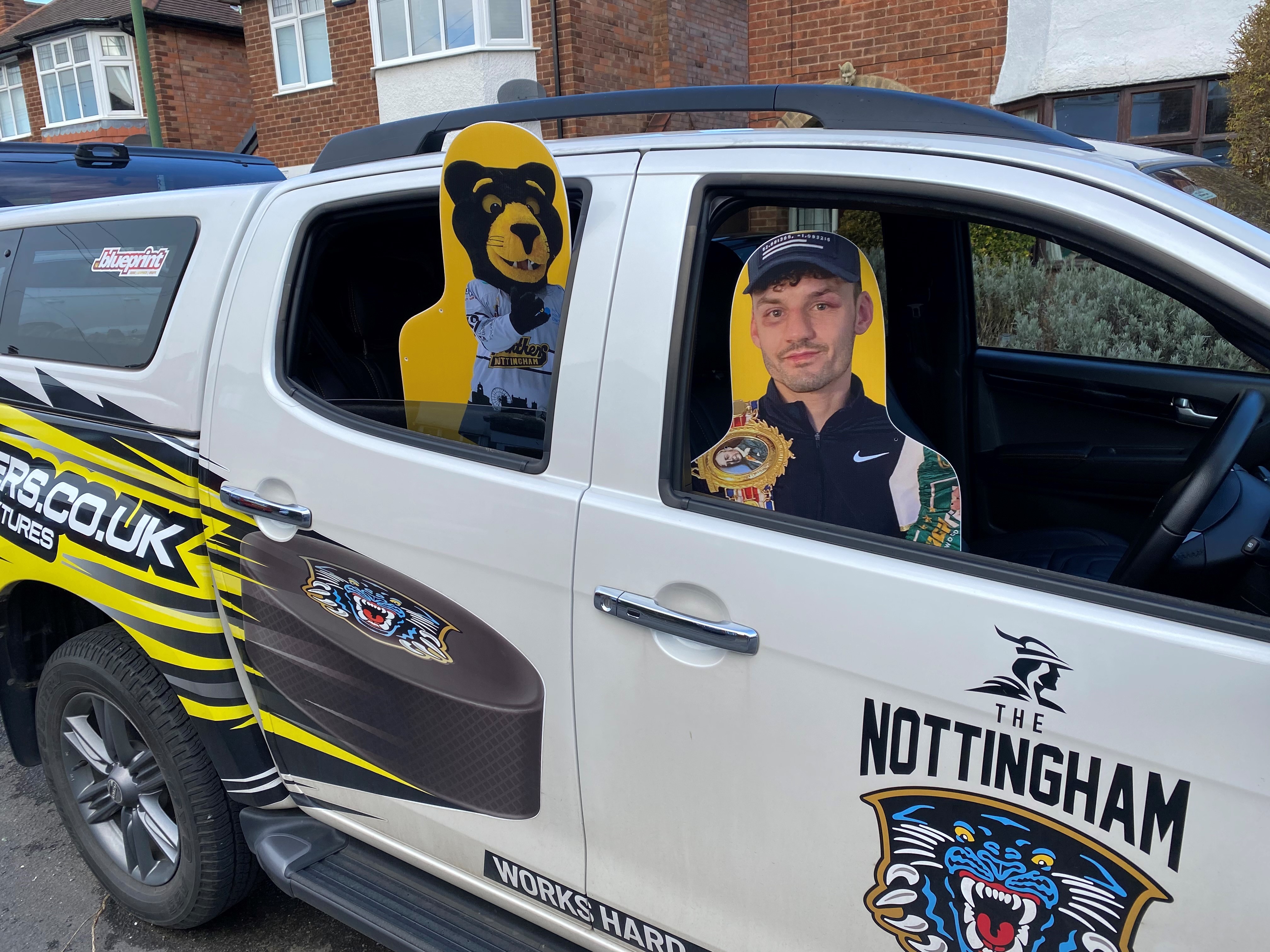 British Boxing champ 'Leighthall' Leigh Wood from Nottingham will be in the stands in cut-out fashion when the puck drops at the upcoming Elite Series.
Sports fanatic Leigh wore the Panthers and Forest logos on his shorts when he lifted the featherweight title just last month and he's promised to bring the belt with him when we're all allowed back in the arena to watch our favourite sport.
PAWS will also get behind the team with a cut-out of himself.
Fans will be able to catch every second of the Elite Series when it is beamed into homes across the world as the cream of British and imported talent hits the ice throughout April. True elite level sport!
Nottingham, Manchester, Coventry and Sheffield will be competing in what promises to be a highly motivated series of games with the foreign players battling for a contract on next year's teams. Meanwhile, the best of British, some of them drafted in from the other six Elite League teams to bolster the existing GB players on the four rosters will all be seeking a place on the 'plane to the World Championships.
Fans can't be in the building so they'll have to watch the streams from the safety of their own homes but we still want to see you in the stands.
Click on the link below to join in the fun. It's just £25 to get your face in the crowd – for every game - and if you upgrade to a gold package for £40 you're guaranteed a prime seat AND a chance at our "home" games to win a shirt signed by the whole Panthers' team.
By a group of cut-outs and we'll make sure you're sat together! There's no social distancing for the flatpack fanbase!!
Get the family pets in on the act too and then see if you can spot yourselves during the broadcasts.
We've got a fun game in mind for the webcasts at our games to help the winner spot themselves and claim their prize. Leigh Wood will be involved and more will be revealed shortly.
This is your chance to be there AND stay at home. Once we get back to normal your cut-outs will be waiting for collection as a permanent reminder of your time in our crowd revolution.
Your support is going to be vital to the success of the Elite Series.
The Panthers will be back but will your cut-out be behind us in the stands?
Wear your colours with pride once more by using photos in your hockey shirts we'd love to see you all back in the stands!
#BeTheRoar with a face in the crowd… Click here.
THANKS FOR YOUR SUPPORT … YOU ARE THE BEST!
Elite Series on the ice and streamed to your homes live throughout April!