210317 | Raffle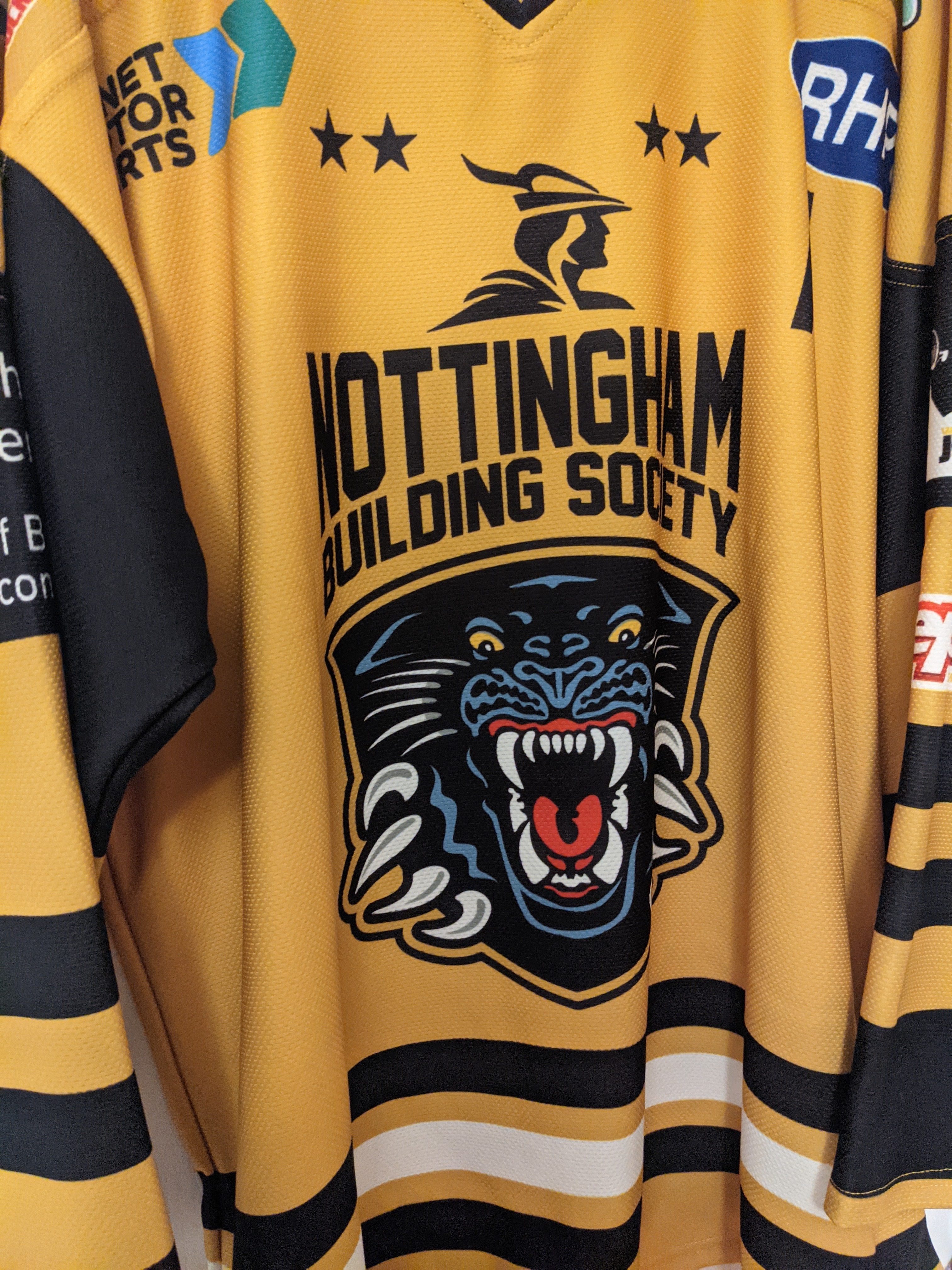 We've lined up a double treat to end our Grand Slam celebrations.
To come at the end of the week we've got an Audio Experience special, in association with main team sponsor THE NOTTINGHAM BUILDING SOCIETY, when PanthersTV, with JEREMIAS CHIMNEY SYSTEMS, broadcasts the biggest gathering of Grand Slam winners since the post play-offs party.
Fourteen faces team up to look back and reminisce on the club's most successful season ever. It's worth an hour of anyone's time and no, David Ling's chirps haven't mellowed over the past eight years!
Meanwhile, it's your last chance to get your hands on the rare remake Grand Slam jerseys with the last batch up for grabs in our weekly online raffles where we've got no less than SIX prizes on offer!
This week's winners will get shirts bearing the names and numbers from season 2012-13 of:
GUI LEPINE ... CRAIG KOWALSKI ... DAN GREEN ... JORDAN FOX ... STEVE LEE ... and ERIC WERNER are all represented this week.
Big hitting Gui Lepine patrolled the blueline and more during a season that saw all three major trophies come to Nottingham. Our netminding duo was led by the best there is in the shape of Craig Kowalski. Captain Jordan Fox switched from a forward racking up points to defence to help the team lift those trophies without a murmur of moaning about his own sacrifice in doing so. Also on defence there was smooth GB international Steve Lee and one of the most accomplished defencemen we've ever had in Eric Werner.
Grand Slam season was the biggest in the Panthers' long history when blessed with good fortune on the injury front, a well-equipped squad that blended together beautifully alongside individual outstanding performances and some solid coaching, it was the Panthers' name that was etched onto the League Championship Bowl, the Challenge Cup and The Play-Offs Trophy.
All three major pieces of silverware came to Nottingham in the same year!
We've had replicas jerseys made up to celebrate the entire gold medal winning squad.
It's just a pound per ticket to join in the raffle fun. CLICK HERE.
The official prize list for this draw is:
#28 Lepine
#33 Kowalski
#34 Green
#44 Fox "C"
#45 Lee
#68 Werner
This draw runs until Sunday March 21st at nine o'clock in the evening.
The number of tickets is limited as usual so with an amazing six prizes this week your chances of winning are multiplied many times over.
But remember, you've got to be in it – to win it!
Good luck everyone!
STAY SAFE, STAY HOME AND WE'LL SEE YOU WHEN WE CAN - BUT YOU'LL SEE US IN THE ELITE SERIES BEING BEAMED LIVE TO YOUR HOMES THROUGHOUT APRIL!