A message from David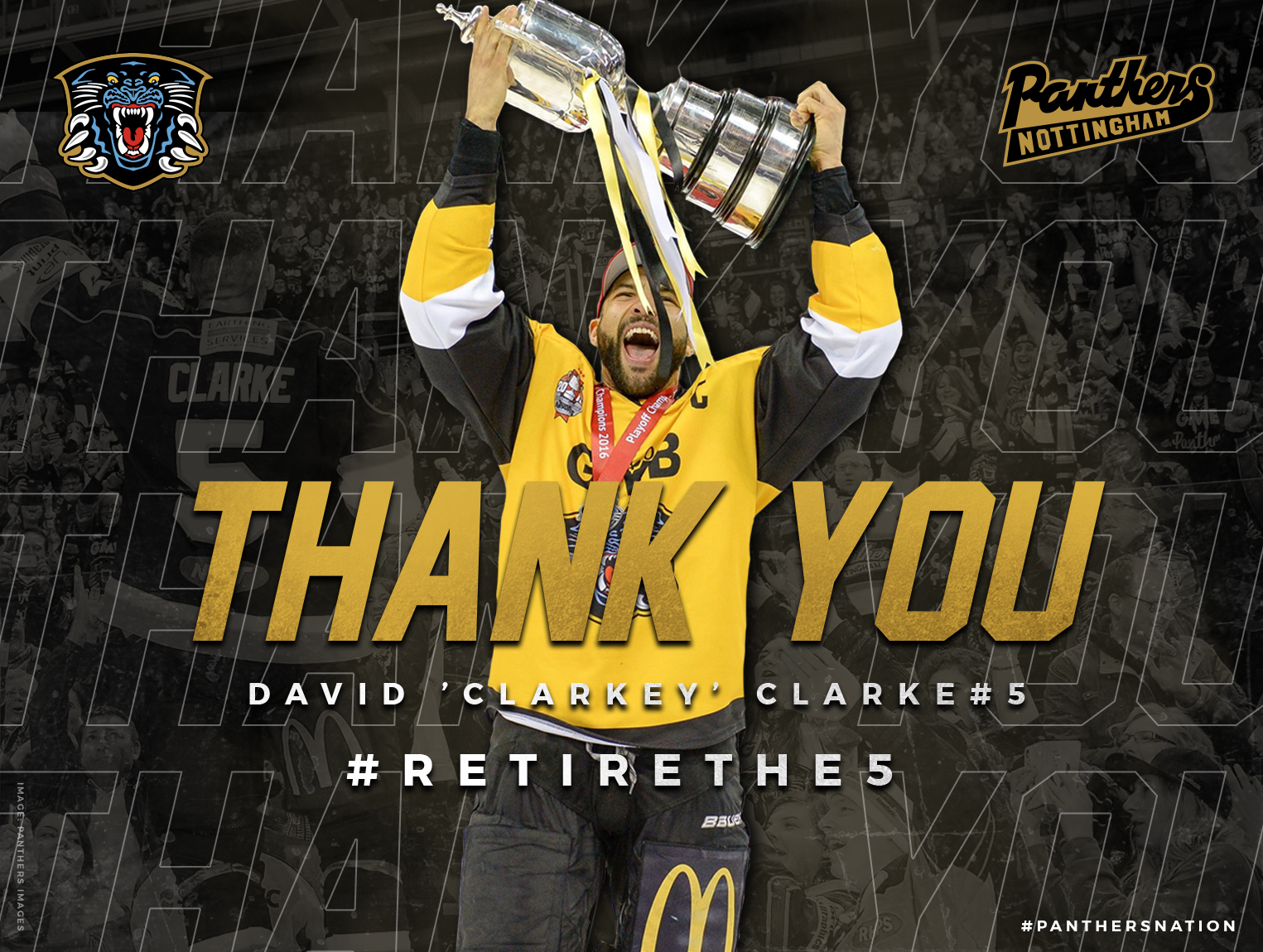 It has been one hell of journey, from starting my professional career at Peterborough ice rink then moving to Newcastle, Milton Keynes, London, Guildford - Nottingham, Italy and returning back to Panthers, as well as the pride of pulling on a Great Britain jersey and representing my country.
As my playing time draws to a close at the end of this season, I find it hard to put into words how to thank the countless people on and off the ice who have played such an important part in my career, but I will give it a go.

With retiring from international duty as well, my career will draw to close at the end of this season in a Nottingham Panthers jersey.
My decision hasn't come lightly. The mutual departure of Corey Neilson from the Panthers hasn't had any bearing on my decision.

It has been on my mind for a number of weeks and there comes a time in any athlete's career when you know to hang them up. I feel my time is now. I've had an amazing innings playing hockey and it's time for the next challenge.

Without doubt, I'm under no illusion that I will miss the day-to-day fun of playing the game, along with the competition on and off the ice to be better each day in pursuit of team success.

I've had the privilege to play a sport I adore for a living for nearly 20 years and this privilege is one I never took for granted. To spend such a large portion of my career with one club has been a remarkable honour and one I will forever be grateful for.

Head coaching is something that appeals to me but, at this stage in my life, I feel it would be better to step away to gain some fresh ideas and spend more time with my family. My eldest son Morgan is almost ready to fly the nest and with Mason turning one this weekend, it's time to put them all in pole position, be a Dad in the stands and spend larger parts of the weekends together as a family.

Neil Black, Gary Moran, Paul Adey and Adam Goodridge brought me to Nottingham back in 2003, with a vision to be a force in British ice hockey and it was something I jumped into without a second thought.
Playing for Nottingham was always a dream for me when I was a kid in Peterborough as they were the closest team at the top level at the time.

It has been a privilege to play a part in the swing of expectations at the club. We are now a must-win organisation, expected to bring home silverware every season.

It has been amazing to do that in the majority of seasons I've been in Nottingham and extremely disappointing when we have come up short. That's professional sport. No-one is guaranteed victory but when it happens, there has been no greater feeling delivering for such an amazing group of fans. I've always enjoyed the challenge to perform in such a demanding environment and I feel it is something that will serve me well in the future.

To my parents - I would never have had the chance to play hockey without your countless sacrifices personally and financially. One couldn't dream for a better Mum and Dad.

My wife Jessica and my boys Morgan and young Mason - thank you for your understanding, love and unconditional support. It's not easy juggling schedules and keeping our home life great and I think we've done a hell of a job.

To my team-mates - the countless guys I've become great friends with and the ones I've had the pleasure sharing championships with. We will forever have that special bond. Thank you.

Coaches - Paul Adey believed in me at a young age, Mike Ellis made me captain of this amazing club and my friend Corey Neilson appointed me as his assistant coach. I have so much to be grateful for with all the coaches I have worked with. Thank you to you all for believing in me and helping me achieve life-long aspirations
To Goody - I'm extremely lucky have to worked alongside one of my closest friends for such a long time. You are one of the most dedicated people I know and have given your heart and soul to the Panthers. The playing side of the club just wouldn't operate without your commitment. Thank you for almost always looking after me as good as you look after the imports, ha ha!

Physios Scott and now Phil - you guys have helped me overcome countless bumps and bruises and I appreciate all the commitment it took getting me back on the ice as soon as possible. One thing I won't miss is spending time with you recovering from injuries, but maybe we can spend our time together on the golf course!

Chairman Neil Black and general manager Gary Moran - thank you for your support in my time at the Panthers. It has been a privilege to spend 14 years with this amazing organisation.

To you the fans - I'm going to miss the cheers and even the heckles. I've always appreciated your desire to be entertained and I hope the majority of you were pleased with my performances as a Panther. As the club goes forward I'll be cheering on the team with same passion.

There are so many people I should thank but I'll be writing forever, but so many people have played a part in my career. The memories will stay with me forever from winning my first trophy with the club in 2004 when Kimmy Ahlroos scored that overtime winner in Sheffield; being part of the team which ended the club's wait for a league title and all the trophies successes be it in Europe, the Challenge Cup or playoffs, they were all very special.

I wanted to get this news out there so I can enjoy the final month of my playing career and hopefully sign off in style with one last championship. Thanks for everything. Its been one hell of a ride.

Clarkey #5