BIG CLASH IN NOTTINGHAM SATURDAY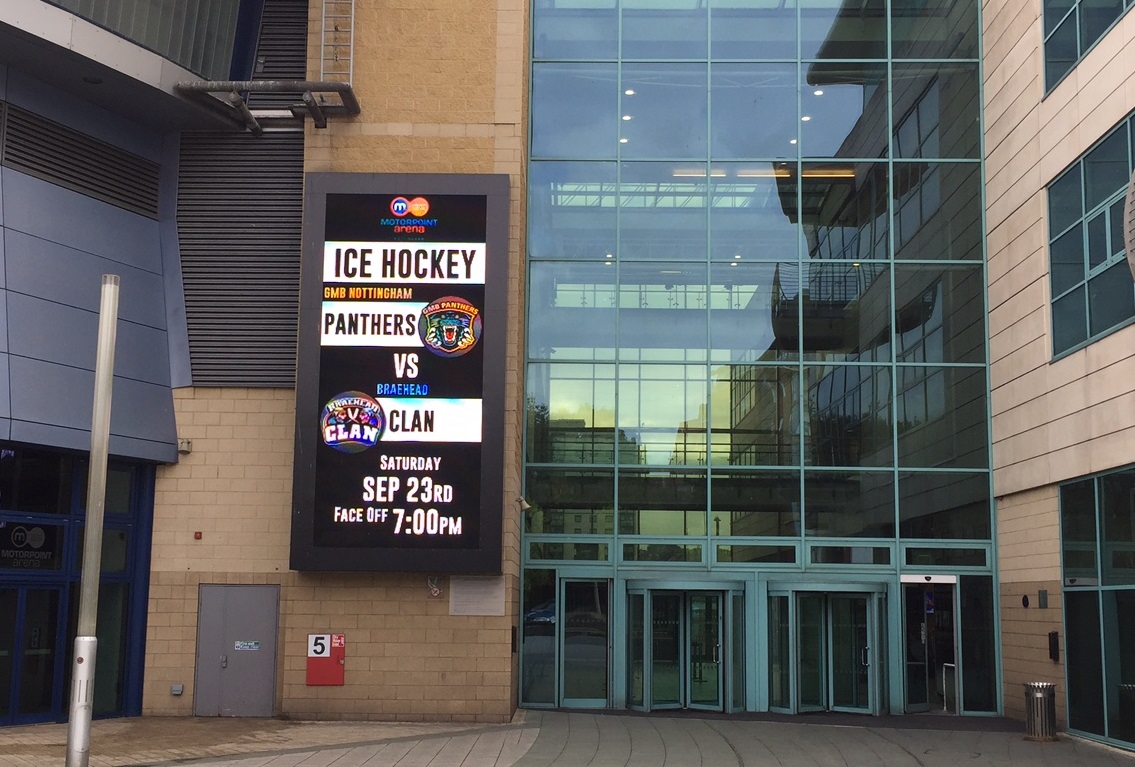 Glasgow's Braehead Clan head coach John Tripp is hoping to get one over one of his best buddies - Corey Neilson, Panthers' head coach - as he tries to steer his team back to winning ways in Nottingham on Saturday night.
It'll be smiles on the outside when the "best mates" clash for a second time this season (Panthers won in pre-season action) with two precious Elite League points on the line from seven o'clock on Saturday.
Braehead head coach John Tripp, following last weekend's losses to the Milton Keynes Lightning and the Coventry Blaze, believes hard work will bring the results he's looking for. He told the Clan website: "We've got a very difficult road game against Nottingham, they're one of the top teams in the league and will be difficult to beat in their own building but I've explained to the players this week that we need to work together as team, do our individual roles, don't slack and we'll come away with result.
"In Milton Keynes and Coventry we were making a lot of individual mistakes and we need to cut that out heading into this weekend."
So, it's gameday Saturday as the Panthers welcome the Clan.
There will be plenty going on during the day too as the Panthers, as always, have some great deals and steals for you around the city!
We've got the Shirt off his back raffle back in full flow with Mark Derlago's jersey up for grabs this time.
The latest magazine is again on sale and it includes loads of exclusives and more.
The fifty-fifty draw will be in operation also and remember, you've got to be in it to win it!
Fans have been very supportive of the new safety and security measures which have been brought in this season. Fans are urged to allow extra time to get to their seats. There will be bag searches and the restrictions on sizes will be enforced. There will be no lockers in general use at Panthers' home games, There will be pat downs and wand searches going on in the search lanes too. Please follow the arena staff instructions when leaving the arena after the games this year. There will be reduced exits available but the number in use will vary depending on the size of the crowds at games.
PANTHERS' VIP desk, is again on LEVEL THREE…that's one flight of stairs up from the foyer and one flight of steps down from the hospitality boxes.
We have parking deals lined up with Nottingham City Car Parks at Broadmarsh East and Sheriff's Lodge. It's going to be cheap on a match by match basis for fans, but it's cheaper still if you grab a parking season ticket. For more information call 0115 8761444.
The arena catering team will be feeding the Panthers' players after their home games this season. Meanwhile there has been a revamp for fans on the concourse too with more choices on the food front and reduced prices for beer, tea and coffee. Every time Panthers kill off a penalty on the ice there will be ten pence knocked off the price of a pint in the ENCORE bar after the final hooter.
Saltbox is back in action again this weekend with specials for hockey fans going to the game and Shooters Bar will be backing the Panthers' powerplay this season. Adult season ticket holders can get a meal deal special from MacDonalds in Nottingham all week long (after 10.30am).
Match and season tickets can be used on the Nottingham trams network to get to the game for £2 return.
Saturday's game is sponsored by The G M B – Britain's general union and Panthers' main team sponsor.