Game day: Panthers vs Stars! | 17/03/19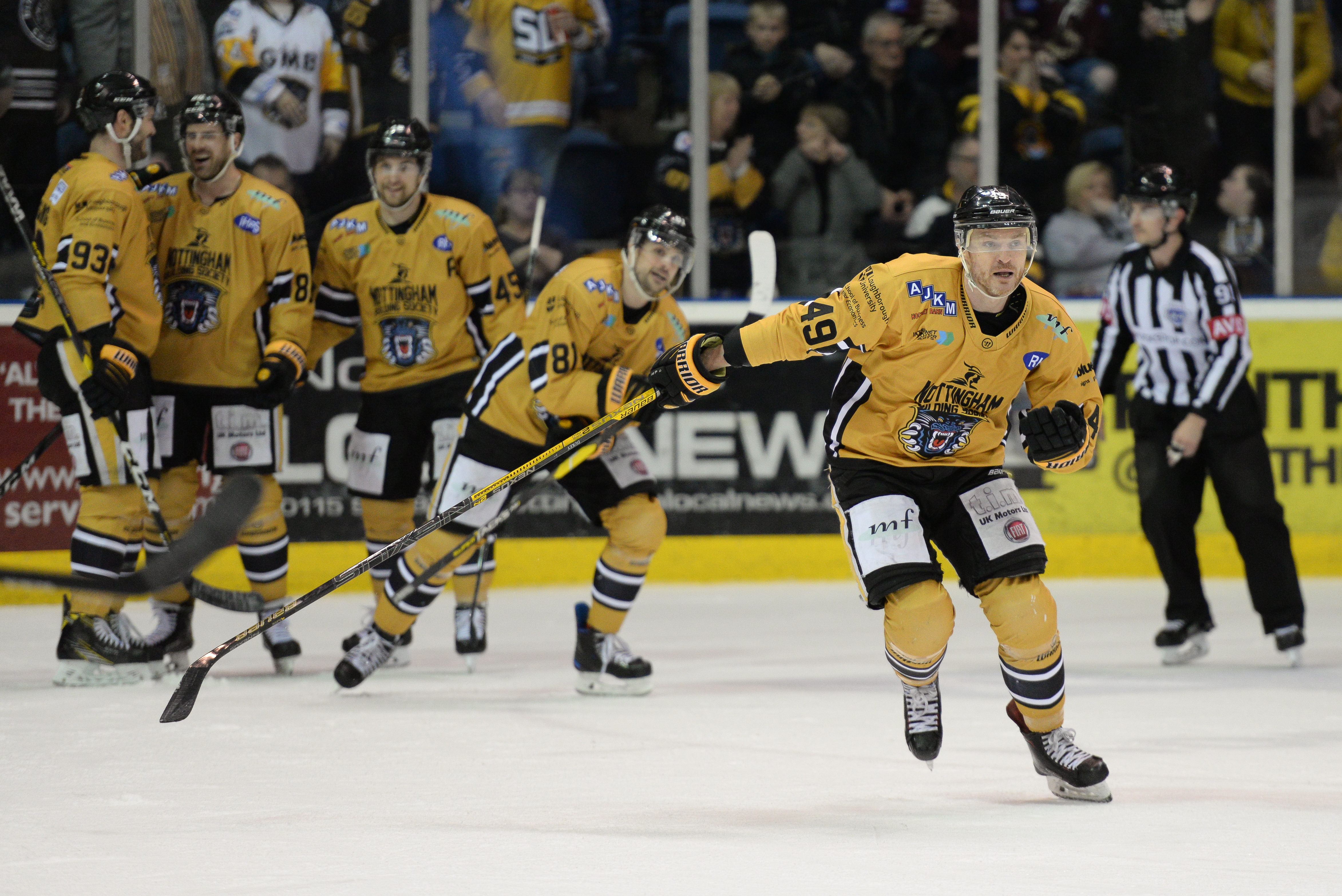 The Nottingham Panthers look to make it five home wins on the bounce, after victories over Glasgow, Fife, Dundee and Manchester, at 4.00pm when the puck drops inside the Motorpoint Arena for the visit of the Dundee Stars.
Whilst the Panthers booked their place in the EIHL Predictor Playoffs on Saturday night, with a 5-2 win over the Manchester Storm, the Stars are battling with Manchester and Coventry for the eighth, and final, playoff spot. The Dundee outfit couldn't take advantage of the Panthers victory over the Storm as they fell to the Guildford Flames on Saturday night so they'll be looking to get back on track if they're to climb back up the standings.
The Panthers defeated the Stars eight days ago by a 4-1 scoreline, you can see the highlights of that game below, and after a chippy third period between the sides it promises to be an entertaining affair between the two sides.
Dylan Olsen is the only absentee for the Panthers as he continues his rehabilitation from a long term lower body injury, picked up after a collision with the boards against Milton Keynes back on February 2nd, so interim Head Coach Rick Strachan will have a full quota of imports at his disposal for tonight's important game.
You can book your seats for the game by visiting the Motorpoint Arena box office, calling 0843 373 3000 or clicking here to buy online.
The game is sponsored by Loughborough University, where Jon Rheault, Michael Garnett and Gui Lepine study whilst playing for The Nottingham Panthers. Find out more about Loughborough University here.
The ever popular fifty-50 draw will be operation as will the 'Shirt Off His Back' raffle, and you could go home with the game worn gold jersey of Mark Hurtubise! The lucky winner will be presented with their jersey by Mark outside of the Panthers' locker room after the game.
Paws, sponsored by Planet Bounce, will be amongst the stands in the period breaks tonight with a host of giveaways from Planet Bounce, Arena Catering and Flowervision.
The latest edition of the match night magazine goes on sale for the second time tonight! It features a player profile on Dylan Richard and Alex Bolduc, a pull-out Patrick Munson poster, an exclusive interview with Alex Guptill and tonnes more exclusive content you can't find anywhere else. Get yours from the sellers around the arena, priced at just £3, and don't forget the free-to-enter retro playoff jersey draw on page 31.
After the game the team will be eating food from Arena Catering and Dan Green will be live in Encore Bar taking questions with one of the stars of the game.
The main team sponsor of The Nottingham Panthers is The Nottingham Building Society.