Getting ready for Tuesday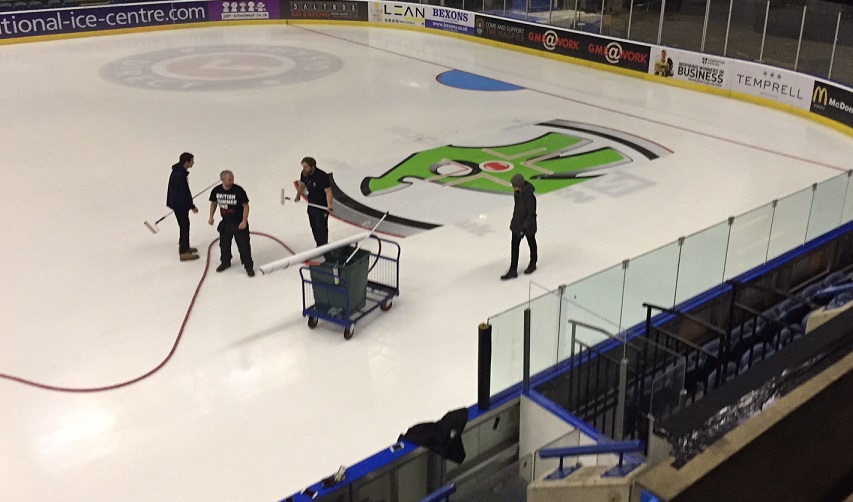 The countdown's underway for the biggest club game in British ice hockey history when the ZURICH Lions come to Nottingham for the second leg of the Champions Hockey League clash.
With Lions leading by two goals Panthers have turned Tuesday into BELIEVE DAY!
"It's not over yet, Zurich can come to Nottingham safe in the knowledge that we haven't given up on anything," said Panthers assistant coach David Clarke today.
Panthers are in Milton Keynes tonight hoping to build on last night's overtime win against Guildford at home which took Panthers to joint top on points in the Elite League standings.
Straight after the home game on Friday, work started on preparing the ice for Tuesday's game.
The ice was whitened last night and new branding was being added today, Saturday.
The rink boards and the bottom of the surrounding glass and the areas behind the team benches and the penalty boxes will get their dressings next week ahead of the game.
Meanwhile, the box office this morning checked the sales figures for us and there are now just over seven hundred tickets left. The bulk are in Block 3, there's a chunk in Block 12 and Block 8 and the other availables are scattered around the bowl.
Tikcet prices have been slashed for this game and adults start at just £10.
SEE YOU THERE!
THE LOUDER THE ROAR...THE BIGGER THE EURO-SCORE!