Rissling Suspended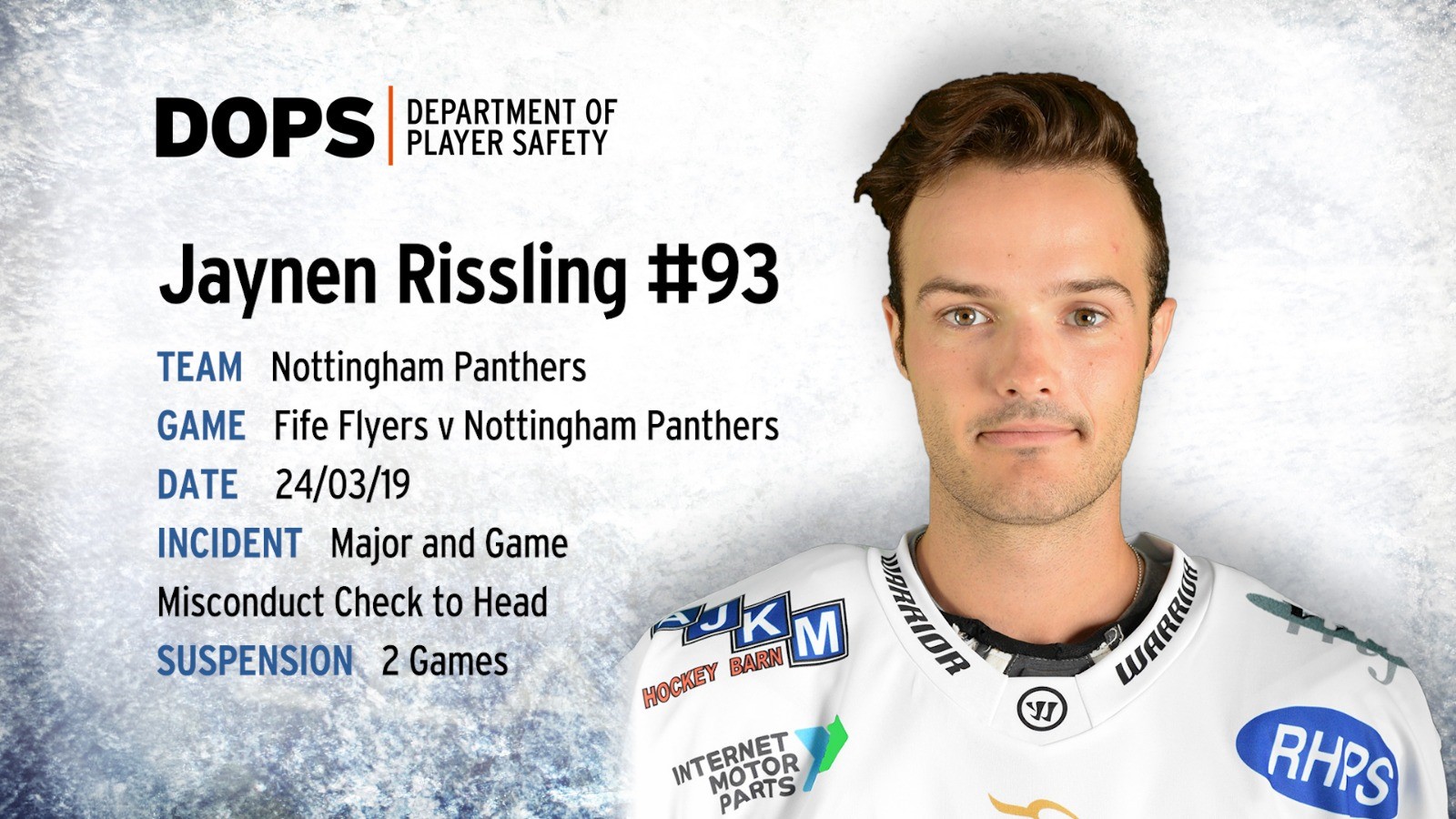 The Nottingham Panthers defenceman Jaynen Rissling has been handed down a two game suspension from the EIHL Department of Player Safety following an incident in Sunday's game in Fife.
EIHL DOPS Press Release:
Team: Nottingham Panthers
Player: #93 Jaynen Rissling
Game: Fife Flyers v Nottingham Panthers - 24/03/2019
Incident: Fife Flyers #9 Bari MacKenzie – Minor Holding
Nottingham Panthers #93 Jaynen Rissling Major and Game Misconduct Check to Head
Video: https://youtu.be/bo4WCkNFlkc
An incident occurred on Sunday 24th March involving Nottingham Panthers #93 Jaynen Rissling, deemed a cross check, targeted at the head area of the opposing player. The incident was reviewed by the EIHL DOPS which determined supplementary discipline is required under Category 2 - 'Reckless' - a deliberate and/or dangerous action with no concern for the result, with a conscious action to provoke, through intent and a willful purpose. Injury is not the determining factor, but can be considered as influential means to the decision.
As the video shows, Nottingham Panthers #93 Jaynen Rissling has puck possession while skating from the neutral zone into the attacking zone. Fife Flyers #9 Bari MacKenzie, without his stick, resorts to a defensive means with his left arm, considered and penalised as holding. Immediately following the puck battle, Jaynen Rissling resorts to no puck focus and instead, engaging Bari MacKenzie in a roughing type action, resulting in both players falling to the ice. While on the ice, with Bari MacKenzie face down on the ice and Jaynen Rissling on his back, Janyen Rissling appears like he is going to get up. Instead, he elevates his stick to a cross checking motion with his hands separated, in a wind up motion and delivers a targeted forceful cross check to the back of the neck/head of Bari MacKenzie. The cross check is deemed reckless and endangering, with a high potential to cause injury. Bari MacKenzie, with Jaynen Rissling on his back, and face down to the ice, had no way to protect or defend himself.
Effective immediately, Nottingham Panthers #93 Jaynen Rissling is suspended for 2 games.
Key References:
Cross check
Targeted
Category 2 - Reckless