The Nottingham Panthers vs Glasgow Clan: Tickets on Sale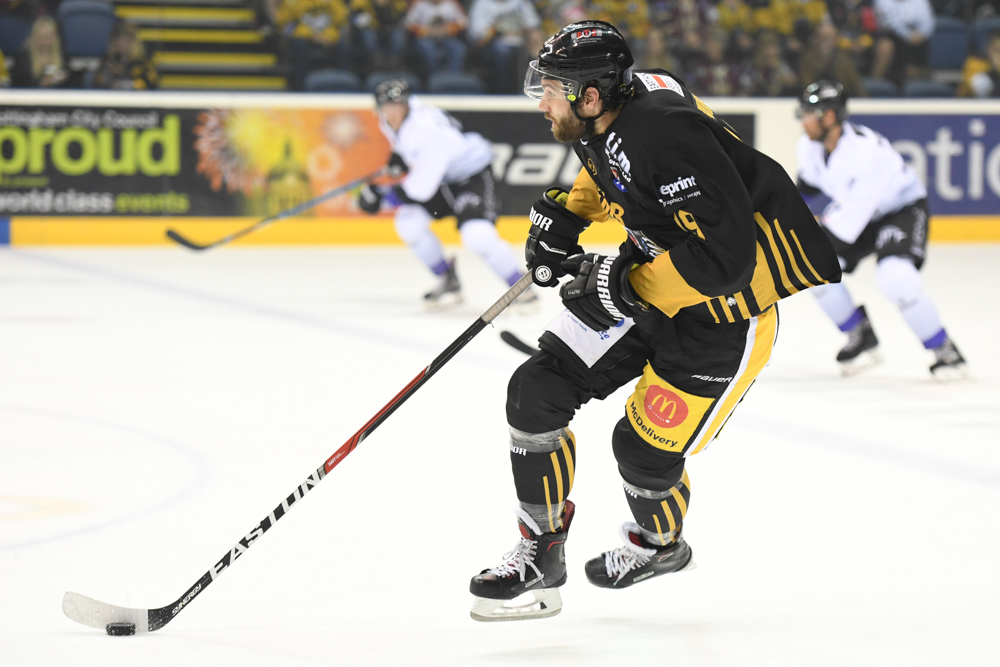 Saturday night ice hockey is back in Nottingham this week with the Braehead Clan now called the Glasgow Clan in town on Saturday at seven. Our match sponsors are Premier Facilities Maintenance.
More than two thirds of the bowl at the arena is accounted for but there are still plenty of good seats available for what is always a feisty affair.
Panthers were flying back from a successful trip to Belfast today, where they cut the Giants down with a 3-6 final scoreline.
Head coach Rich Chernomaz said today: "After four games away from home in a row it will be good to get back to the home ice atmosphere of our own barn. The support has been great this year and we'll be looking to give them another game to cheer about when we take on Glasgow on Saturday".
Tickets for Saturday at home against the Clan are on sale now. Call 0843 373 3000, visit the box office or click on the link. We'd expect people to be able to pay on the door but there's always more choice when you buy in advance.
PAWS will have giveaways from Planet Bounce, Creams Cafe, Flowervision, Arena Catering and more.
The shirt off his back raffle will be in operation again this weekend and there are two superb retro play-off jerseys up for grabs in the brand new free to enter match magazine draw as the second issue of the Panthers Journal goes on sale for the first time. The prizes this issue are a David Clarke shirt and a Matthew Myers shirt, just fill in the slip on page 31 and hand to any seller (fifty-50, shirt raffle or magazine) to enter.
The magazine also has details from team sponsors THE NOTTINGHAM BUILDING SOCIETY of where to find their competition to win a money can't buy experience of a visit to a closed training session.
After Saturday's game Panthers will be eating meals supplied by the Arena Catering team and Dan Green will be talking live and taking questions from the floor with one of the stars straight after the game in the Encore Bar.
Fans are reminded the season long parking deal from Nottingham City Parking for the Arena Car Park is available. It works out at less than £2 per game day and you can use it all day on match days. It is available from 0115 8761444 and is the best value parking for matches anywhere in the city.
Alternatively, fans can use their match tickets or season ticket cards to cash in on the £2 return deal on the trams again this season to get to games.
The fifty-50 cash prize draw is in operation and with another big crowd expected it will no doubt have the biggest prize of the season so far. The sellers will be in their bright new bibs so look out for them and remember you've got to be in it to win it.
THERE ARE MANY NEW FANS COMING TO THE GAMES AS PANTHERS' POPULARITY CONTINUES TO SPREAD. TO HELP THEM - a newcomers' guide to some of the rules for the fastest team sport in the world:
The rule book is hundreds of pages thick but there are some basics that help newcomers understand what's going on around them.
To start with, it's five skaters and a goalie per team. Two skaters on defence, three up front.
If the ref gives a team a penalty then the offending player sits in the penalty box.
If an opponent takes a penalty at the same time the penalties cancel each other out.
Penalties lead to power-plays and penalty-kills.
One team has to skate short-handed while the other has a man-advantage.
If a team scores on a power-play a player serving a minor (two minute penalty) returns to the ice. If he's serving a major (five minute penalty) his team goes the full five minutes without him or a replacement regardless of whether the opposition score or not.
Offside is different in ice hockey to football. The p