Unique Half and Half Charity Auction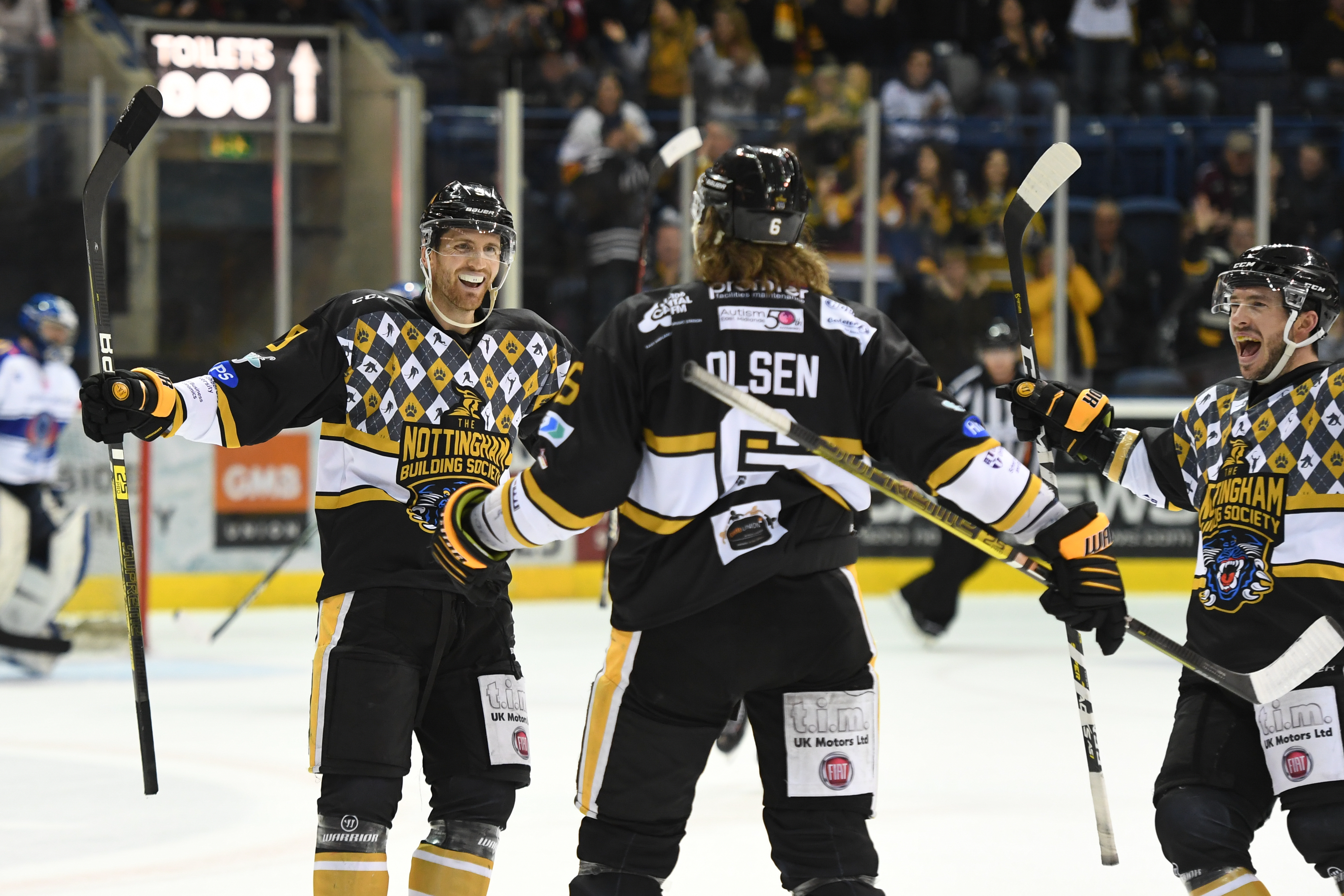 The Nottingham Panthers have devised a unique charity shirt sale to boost our fund-raising for AUTISM EAST MIDLANDS, our chosen charity for season 2018-19.
Designed by fan Josh Noy the brilliantly well-received festive match shirts were exclusively worn in the home games against Sheffield and Coventry at Christmas and New Year.
A club spokesperson said: "Normally we get together with the fans after a game early in the new year and auction off the jerseys. The limited edition replica shirts were sold before the holiday period and they've covered all the costs so every penny from the auction goes to the charity.
"But we've lost our auctioneer this year. GM Gary Moran is recovering from major surgery so instead of an auction at the arena we've devised a new shirt sales approach which we think opens it up to even more people.
"Half the shirts will be sold on a first come first served basis with FIXED PRICES. We've done fixed price shirt sales before and they've worked well. The prices are set and there's no way anyone can jump the queue, fans wanting to buy, maximum one shirt per caller, will have to follow the guidelines and 'phone the office on the given day at the given time.
"The other half of the shirts will be sold by telephone auction. Starting now, you can check the list and call the office on 0115 941 3103 to leave a bid, or e-mail us at info@panthers.co.uk
"Remember to leave your name and contact number too. Then on the day the staff will get back to the interested parties in the final hour, from 11am on February 27th, and see how far they want to go to get their hands on a unique piece of Panthers' memorabilia whilst helping a great cause at the same time."
The current players have all signed their shirts and they'll be available for collection straight after the sale/auction is complete.
FIXED PRICE SHIRT SALE FROM 11AM ON FEBRUARY 12TH
31 Gospel - £100
45 Lee - £175
28 Lepine - £200
93 Rissling - £200
54 Billingsley - £190
13 Hazeldine - £75
25 Tetlow - £125
86 Henderson - £175
67 Richard - £150
26 Rheault - £190
12 Biggs (not worn nor signed) - £100
7 Lachowicz - £190
20 VanKleef (not worn nor signed) - £75
15 Kovacs - £200
49 Bolduc - £200
71 Tvrdon (not worn nor signed) - £85
60 Munson - £120
AND WE HAVE ONE REPLICA CHILD'S SIZE (xxxs) SHIRT AVAILABLE WHICH HAS BEEN SIGNED BY THE CURRENT TEAM AND IS AVAILABLE FOR £100
LIVE TELEPHONE AUCTION LOTS AVAILABLE TO BID ON (AUCTION CLOSES AT 12PM ON FEBRUARY 27TH)
34 Garnett
52 Hughes
6 Olsen
81 Pither
19 Farmer
9 Perlini
74 Betteridge
27 Guptill
21 Hurtubise
1 Paws
Register your interest and your opening/maximum bids. We'll announce on the website how the bidding is going for each of the above named lots and then the fans still in the running on auction day will get a call. Please make sure you send you contact number with your bid and make sure too that that you are available to take a call on the day.
THANKS FOR YOUR SUPPORT!