Welcome Back Joe, Josh & Jordan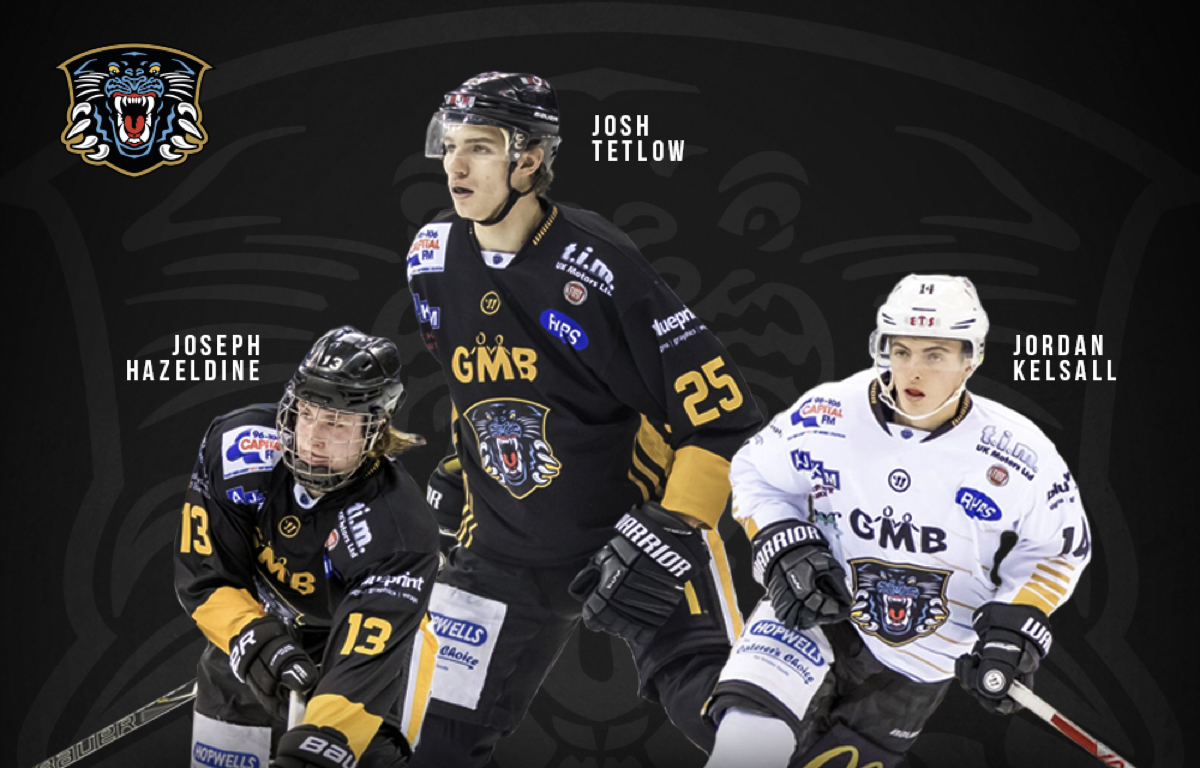 Last year saw the arrival of U23 roster spots in the EIHL and then Head Coach Corey Neilson already had his eye on three top prospects.
Enter Joseph Hazeldine, Josh Tetlow and Jordan Kelsall.
The youngsters enjoyed different first years with the club, with each of them sharing time with a partner in the NIHL: Jordan and Joseph worked with the Swindon Wildcats and Josh Tetlow with the Bracknell Bees.
Josh Tetlow had a prolonged spell with the squad last year, getting plenty of ice time and proving himself to not be out of his depth at the top tier of British hockey, coming in when Mathieu Gagnon received a suspension and earning his way to even more minutes throughout the rest of the season.
In total Josh took part in 74 games last season, 39 with the Panthers (including four CHL games), and five for the gold medal winning GB U20's in the D2A Worlds.
Kelsall and Hazeldine were called on more sparingly during the season but they did, however, receive some major minutes in particular games against the Manchester Storm, Edinburgh Capitals, Milton Keynes Lightning & Fife Flyers.
Richard Chernomaz got to see all the prospects at work in the third-fourth place playoff game and was impressed by the trio; so much so that they are all back next season and he can't wait to start working with them!
Jordan Kelsall, who spoke exclusively to Panthers.co.uk (click here), and Josh Tetlow, speaking on Panthers TV (see the link below), will enter pre-season training camp with a chance to stay with the squad for the whole season.
Due to an unfortunate lower body injury Jordan took part in 48 games last season, 11 (including three CHL games) with the Panthers registering two goals before adding a further 5 for the gold medal winning GB U20's in the D2A Worlds.
Joseph Hazeldine returns with a brand-new partnership in place, this time with the Telford Tigers, where he will spend most of his playing time in the 18-19 season.
Icing in 66 games last season Joseph took part in eight with the Panthers (including two in the Challenge Cup) before adding a further 5 for the gold medal winning GB U20's in the D2A Worlds.
Telford are excited to add Joseph and he's just as excited to work alongside a top NIHL club in the Tigers too.
Videos